With a feature-heavy design built around reliability and durability, the Gigabyte Z97X-UD5H-BK Black Edition motherboard is a competitive option in the upper-mid range market. Gigabyte packs the board with features that will appeal to a wide audience, from gamers to power users to semi-professionals who value reliability certifications.
Regarding test results and overclocking numbers, we have no issues to report, which is about as much as we can say for the performance of a functioning Z97 motherboard. Our 4770K was carried to its limit of 4.5GHz and test results were in the region that we would expect them to be for an LGA 1150-based board.
Performance of some of the motherboard's storage controllers wasn't up-to-scratch. The Marvell SE9172 SATA 6Gbps implementation delivers low transfer rates, while many Windows 7 users will also miss the 100+MBps of throughput that is lost with Gigabyte not providing a UASP-activating tool. Thankfully the 10Gbps M.2 connection and chipset-fed SATA 6Gbps ports had no problem hitting the speed limits of our test drives. SATA Express support is another positive.

Gigabyte's layout choices are almost excellent, it's just the poor fan header positioning that can still leave users with cable management problems. Distributing four fan headers along the board's bottom edge, leaving only two CPU headers in the entire upper half, is a bad decision.
Feature-wise, Gigabyte's Z97X-UD5H-BK motherboard scores highly. Gamers are catered for with a Killer E2201 NIC, Realtek ALC1150-based audio solution, and multi-VGA support, while general productivity people can also benefit from the Intel I217-V GbE controller, voltage reading points, and additional legacy connectors.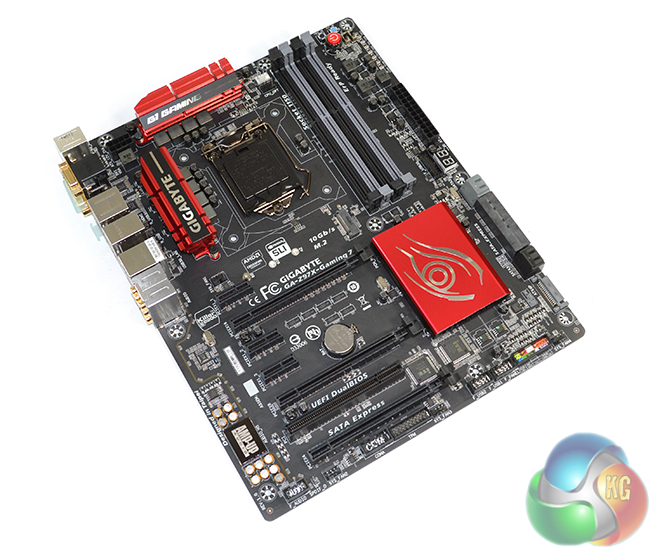 Subtle changes have been implemented into Gigabyte's UEFI BIOS to make its layout easier to work with. Highlight of Gigabyte's interface is undoubtedly the 1920 x 1080 resolution. The interface still has its niggles, but overall it is a well laid out, stable implementation.
Too bad the same cannot be said for Gigabyte's pre-set overclocking profiles. Quite simply, the profile settings are terrible, to the point where they simply aren't usable. A core voltage of around 1.40V for 4.3GHz is ludicrous, not to mention potentially unhealthy for one's processor.
Be it by coincidence or planning, the poor overclocking pre-sets are unlikely to be a problem for the Z97X-UD5H-BK board's knowledgeable target audience. And on a positive note, Gigabyte does include memory frequency pre-sets configured by some of the world's best overclockers, such as HiCookie.
Gigabyte makes bold claims that the Z97X-UD5H-BK Black Edition motherboard is designed for reliability and durability. Utilising 10K black capacitors, anti-surge ICs, International Rectifiers power controllers, onboard voltage reading points, and a pair of BIOS chips, I have no problem believing Gigabyte's claims. A five-year warranty proves that Gigabyte has faith in its board.
Priced at £174.95 from Overclockers UK, Gigabyte's Z97X-UD5H-BK Black Edition motherboard is a well-rounded choice for users who desire a stable, reliable motherboard with a host of onboard features. Asus' Sabertooth Z97 Mark 1 provides stiff competition in the same price range and with a similar target market, although Gigabyte's option also has its advantages over Asus' TUF series board and other competing options.
Discuss on our Facebook page, over HERE.
Pros:
10Gbps SATA Express and M.2 connections.
Built for reliability and durability – 10K black capacitors, DualBIOS, anti-surge ICs, sever-level stress tested.
Features for gamers – Killer NIC, multi-VGA support, Realtek ALC1150 audio solution.
Features for general usage – additional Intel NIC, extra SATA 6Gbps ports, legacy connectors.
5-year warranty.
Likeable styling.
Good UEFI implementation.
Cons:
Marvell-based SATA 6Gbps ports aren't as fast as ASMedia (or Z97) alternatives.
Distribution of fan headers is poor.
KitGuru says: An impressive, feature-heavy motherboard designed for reliability and backed up by a 5-year warranty. An excellent choice for users with a variety of functional demands.