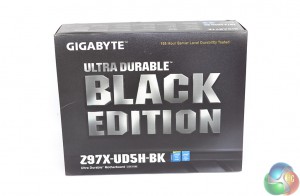 Sticking to the motherboard's Black Edition marketing, Gigabyte ships the Z97X-UD5H-BK in black packaging.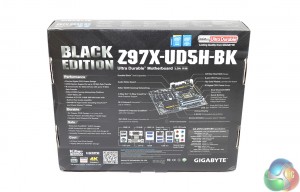 An annotated image featuring extensive information regarding the motherboard's specifications is found on the packaging's rear side.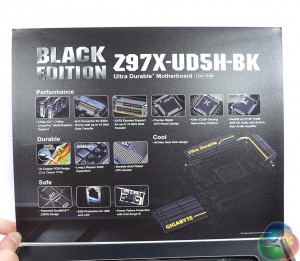 Opening the front flap reveals additional information regarding the Z97X-UD5H-BK motherboard. A plastic window also gives a glimpse at the motherboard inside.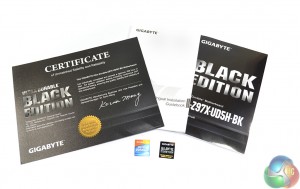 Documentation is supplied in the form of manuals, a drivers disk, two case badges, and a certificate. Gigabyte's included certificate of reliability and stability states that the Z97X-UD5H-BK motherboard has passed a week-long continuous operation test.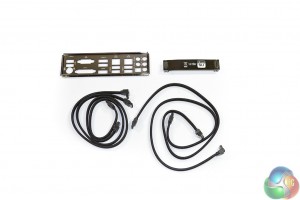 Despite the Z97X-UD5H-BK motherboard's upper-mid range price point, Gigabyte includes a bare accessory bundle. A black IO shield is accompanied by a dark black SLI bridge and four SATA cables.
Each SATA cable is contained within an attractive mesh material that provides a unique appearance over the conventional plastic coating.