The software MSI supplies is the same across its Gaming series motherboards (both Z97 and X99), feature dependent. As such, our analysis is the same and some of the images are taken from our review of MSI's Z97 Gaming 9 AC.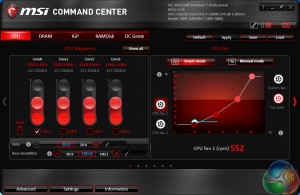 MSI's Command Center opens the CPU page during launch. The current multiplier and base clock levels can be viewed with ease in an eye-catching manner.
We did suffer some 'flaky' behaviour by Command Center – the software would regularly crash and close after a few seconds of usage. Future updates are highly likely to fix any bugs.
MSI's Command Center software is a comprehensive tool that can be used for a surprisingly diverse range of tasks. General overclocking and frequency-related duties can be handled via the software suite, and a RAM disk can also be created.
Even though the IGP section is left over from the software's Z97 past, there are no settings inside the section.
Additional sections at the bottom of each main page allow users to launch specific subsections. Some of the main subsections include windows for adjusting system voltages and fan speeds, as well as a segment dedicated to configuring one's computer as a media streamer.
We would strongly recommend using MSI's Command Center software for voltage readings. We have previously certified its recorded levels with a multimeter connected to a board's voltage reading points and found the software tool's accuracy to be excellent. Third party software (such as CPU-Z) can sometimes display incorrect readings on MSI's and other vendors' motherboards.
Eco Center allows users to switch off specific components to cut power usage. Intel's Extreme Tuning Utility gives a more in-depth set of voltage and power parameters than MSI's Command Center suite.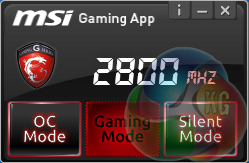 MSI's Gaming App can be used to rapidly switch between speed profiles that are tweaked to specific usage scenarios.
Killer Network manager is one of the key reasons that Killer's NICs are popular choices for gaming motherboards. The software allows users to control their system's network operations so that gaming, or other tasks, can be given priority. This can help to ensure that a sufficient level of network bandwidth is delivered where it is required.
Creative's Sound Blaster Cinema 2 software features a number of audio presets which allow users to quickly optimise their sound system's operation to the relevant task. Settings such as the virtual surround implementation can be adjusted.
One more piece of software that MSI supplies (well, sort of), is an XSplit license. MSI includes a 6-month premium license to the Gamecaster and Broadcaster streaming and recording software with its Gaming series motherboards.