M.2 connector
We use Plextor's fast M6e 256GB M.2 SSD to test the speed of a motherboard's M.2 connector. We reviewed the 512GB Plextor M6e (and its PCIe x2 adapter card) HERE. Unfortunately we do not have access to a PCIe 3.0-based SSD to fully test the M.2 connector's performance limits.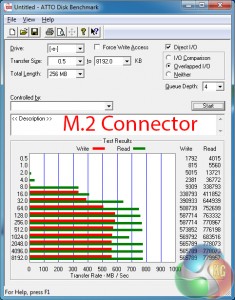 Plextor's M6e M.2 SSD is able to run at its full speed through MSI's Turbo M.2 connector.
SATA
For SATA 6Gb/s testing we use a Kingston HyperX 3K (SandForce SF-2281) SSD.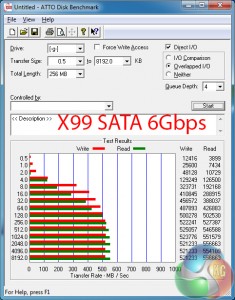 SATA 6Gbps ports act as we would expect them to on MSI's X99S Gaming 7. There should be no concerns about the X99-fed ports limiting the speed of a SATA 6Gbps SSD.
USB 3.0
We tested USB 3.0 performance using the Kingston HyperX 3K SSD connected to a SATA 6Gb/s to USB 3.0 adapter powered by an ASMedia ASM1053 controller.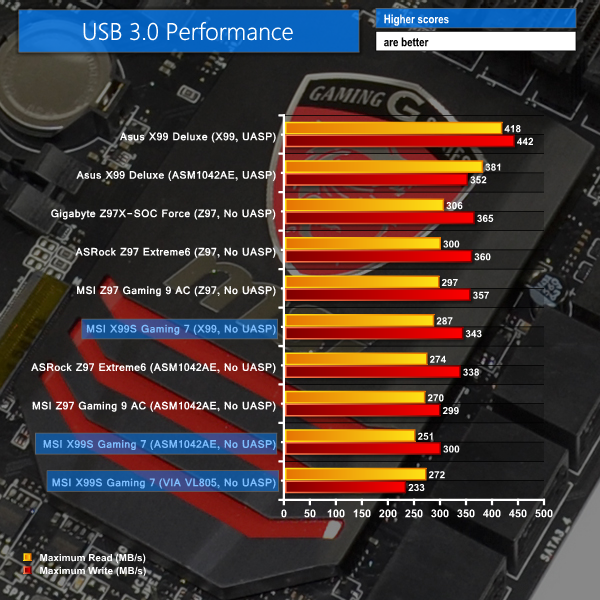 Intel's X99 USB 3.0 ports are the fastest ones equipped on MSI's X99S Gaming 7. Whether you're using them through the front panel of a case or the rear of a motherboard, MSI's X99 ports still aren't as fast as their Z97 counterparts.
Second place on the X99S Gaming 7 goes to ASMedia's ASM1042AE USB 3.0 ports. Using two lanes of PCIe 2.0 bandwidth, the ASMedia ports show an overall speed improvement over the VIA VL805-based quartet.
And on the topic of VIA's VL805 host controller, with four USB 3.0 ports being fed by a single 5Gbps PCIe 2.0 lane, the transfer speeds will only decrease as more devices are connected and eating into that bandwidth.
MSI does not offer support for UASP to Windows 7 users. While that clearly hurts its USB 3.0 ports' transfer rates, it is unlikely to cause major concern for users such as gamers who are unlikely to regularly transfer large amounts of data.
Audio

We use RightMark Audio Analyzer (RMAA) to analyse the performance of the motherboard's onboard audio solution. A sampling mode of 24-bit, 192 kHz was tested.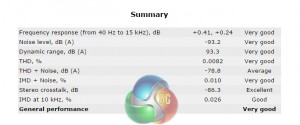 Based around the Realtek ALC1150 and its 115 dB Signal-to-Noise Ratio (SNR), MSI's Audio Boost 2 system also calls upon Nichicon power-smoothing capacitors and Texas Instruments' OPA1652 amplifier. We know that the TI OPA1652 is perceived as a particularly potent operational amplifier, capable of driving high – up to 600 Ohm – headphones.
According the RMAA, MSI's X99S Gaming 7 delivers 'Very Good' audio performance. The stereo crosstalk performance is particularly strong, which could be thanks to MSI's shielding and signal segregation measures.
We tested both with and without the discrete audio power connected and found it to have no difference on our test results. The difference may come from using high-end headphones that demand high impedance levels.