We will be outlining the MSI X99S Gaming 7 motherboard's performance with the Core i7 5960X CPU at its stock frequency (3.56GHz due to forced turbo and the XMP memory's adjusted base clock). Overclocked performance will be outlined later in the review.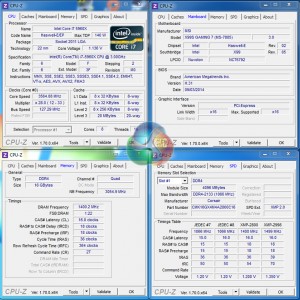 By default, the MSI X99S Gaming 7 motherboard applies multi-core turbo (MCT) and forces the 5960X to a constant 3.56GHz when the BCLK-adjusting XMP mode of our Corsair 2800MHz memory is enabled. This will be displayed as the 'stock' setting.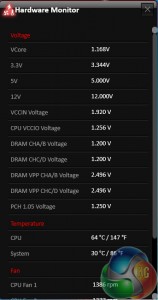 While all CPU cores operate at 3.56GHz with a maximum VCore of 1.168V under load, the CPU drops to 1.53GHz with 0.6-ish volts when idling. We recommend trusting MSI's Command Center readings over those displayed by CPU-Z or HWMonitor. We have tested Command Center's accuracy in the past and found it to be very close to readings from a multimeter.
Due to issues running G.Skill's 3000MHz Ripjaws4 memory at its rated XMP setting (as we will outline later in the review), we resorted to using a 16GB Corsair Vengeance LPX 2800MHz memory kit. This memory's 2800MHz XMP uses a base clock of 127.3MHz base clock which skews linked frequencies, such as the CPU and Cache (Ring) speed.
As such, the MSI-based system's 64MHz CPU frequency advantage and 55MHz greater Cache speed may give it an unfair advantage over Asus' X99 Deluxe. Conversely, the 3000MHz memory speed used by Asus' board may result in better benchmark results. We will outline areas where these subtle changes are having effect in our written analysis.
X99 Motherboard Test System:
Compared X99 Motherboards:
Software:
MSI X99S Gaming 7 BIOS v17.3B1 (latest at the start of testing).
Catalyst 14.4 VGA drivers.
Tests:

3DMark 1.3.708 – Fire Strike (System)
SiSoft Sandra 2014 SP2 – Processor arithmetic, memory bandwidth (System)
Cinebench R15 – All-core CPU benchmark (CPU)
WinRAR 5.10 – Built-in benchmark (CPU)
HandBrake 0.9.9 – Convert 4.36GB 720P MKV to MP4 (CPU)
ATTO – SATA 6Gbps, USB 3.0, M.2 transfer rates (Motherboard)
RightMark Audio Analyzer – General audio performance test (Motherboard)
Bioshock Infinite – 1920 x 1080, ultra quality (Gaming)
Metro: Last Light – 1920 x 1080, high quality (Gaming)
Tomb Raider – 1920 x 1080, ultimate quality (Gaming)