The CPU overclock achieved by ASRock was the same as other motherboards on test since, as far as we can observe, the maximum OC is CPU-limited. 4.9GHz is easily achievable with 1.375 volts though this did drop to around 1.36 with the default LLC behaviour.
3600MHz XMP Memory:
We test the motherboard's ability to run G.Skill's high-speed 16GB DDR4 Trident Z kit at a 3600MHz XMP setting. High-speed XMP settings can prove a challenge for motherboard designers when optimising the settings for stability at the intended DRAM frequency.
ASRock's Z270 Extreme4 executed the XMP 3600MHz profile of our G.Skill Trident Z 16GB (2 x 8GB) memory kit with no hesitation.
Overclocked Performance

As a performance comparison, we have included the results from two other Z270 motherboards. The maximum overclocked configuration achieved with each board was a 4900MHz (49 x 100MHz) processor frequency whilst using 3200MHz CL16 memory.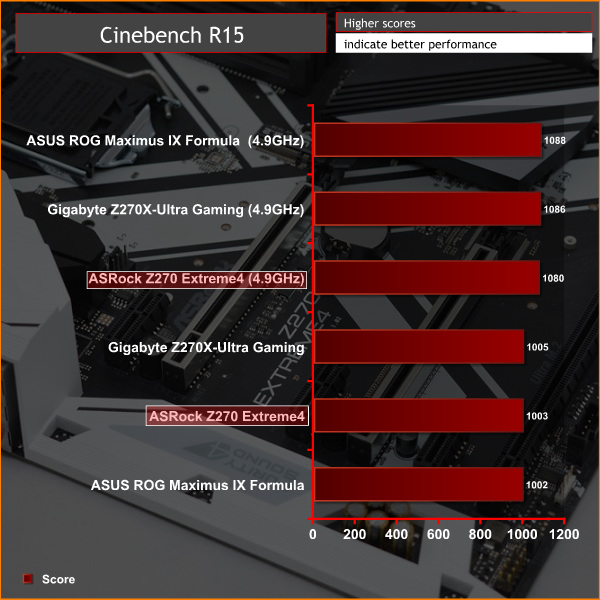 Power
We leave the system to idle on the Windows 10 desktop for 5 minutes before taking a reading. For CPU load results we run AIDA64 CPU, FPU, and Cache stress tests and take a reading. The power consumption of our entire test system (at the wall) is shown in the chart.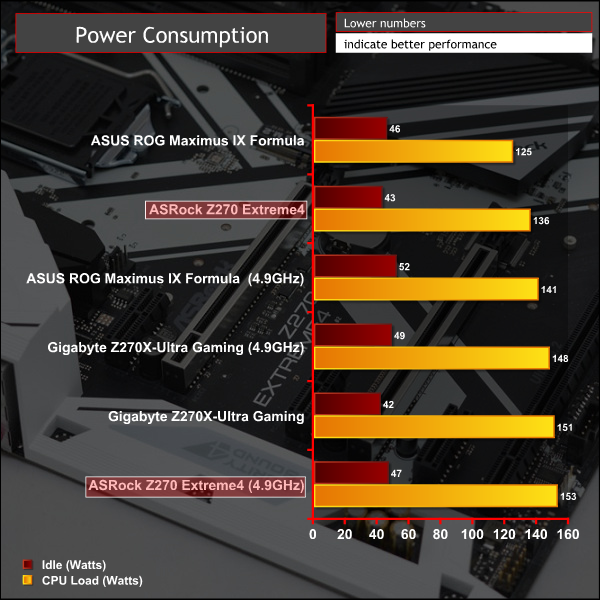 Power consumption was fairly typical for the ASRock motherboard, increasing around 15-watts with overclocking. Idle power consumption was the lowest among all motherboards on test which will likely have the most impact on power bills.