ATTO Disk Benchmark

The ATTO disk benchmark is a Windows-based utility for testing storage performance of any storage drive or controller. We use the default benchmark setup.
M.2 PCIe Performance
For M.2 testing we use a Toshiba OCZ RD400 256GB M.2 PCIe NVMe SSD.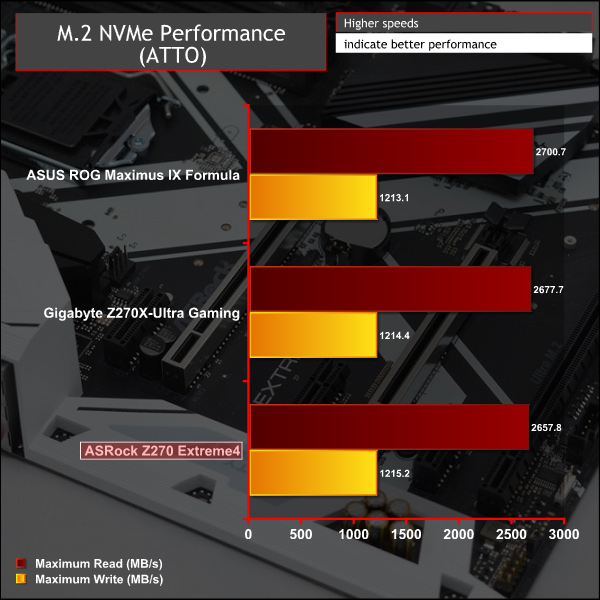 As with all Z270 motherboards we've tested so far the M.2 drive throttles in an environment with low airflow. Depending on the number of fans inside your case and the configuration of those fans you may be able to mitigate thermal throttling to an extent. However, ASRock provides no specific mechanisms for doing this and isn't alone – only MSI has thus far developed a thermal aid for the M.2 area on a motherboard in this price segment.
USB Performance
We test USB 3.0 and 3.1 performance using a pair of Transcend SSD370S 512GB SSDs in RAID 0 connected to an Icy Box RD2253-U31 2-bay USB 3.1 enclosure powered by an ASMedia ASM1352R controller.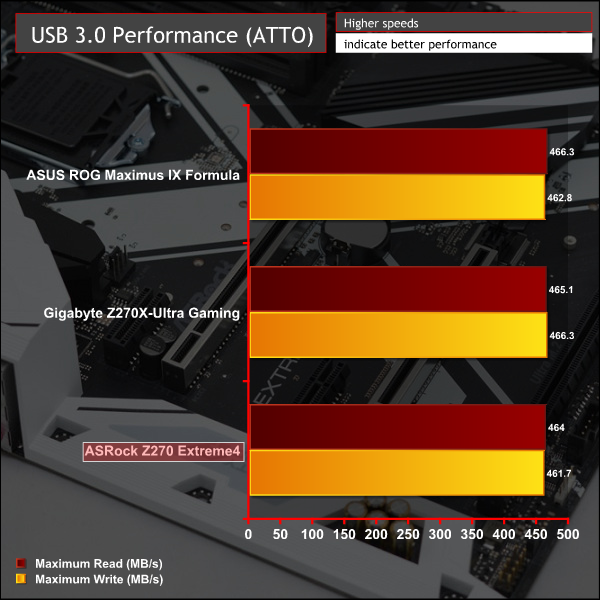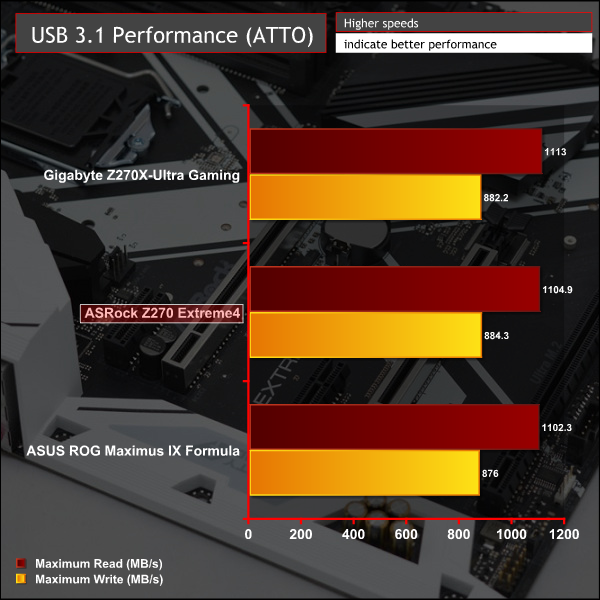 USB performance across both 3.0 and 3.1 interfaces falls in-line with expectations for the respective controllers, Z270 and ASM2142.
SATA 6Gbps Performance
For SATA 6Gbps testing we use an OCZ Trion 150 480GB SSD.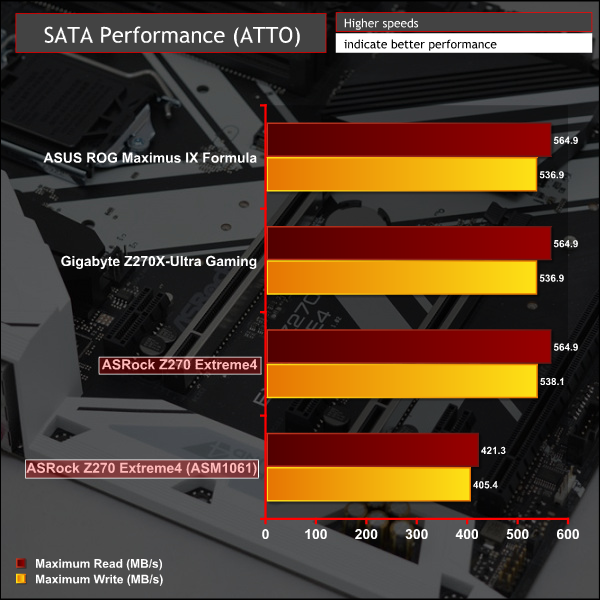 Chipset SATA performance is right where it should be while the third party chip ASRock includes is about 25% slower for SATA throughput.
Audio

Rightmark Audio Analyser is a freeware benchmarking utility designed to objectively test the performance characteristics of audio solutions. We setup a line-in line-out loop and execute the record/playback test before generating the results report you see below. A sampling mode of 24-bit, 192 kHz was tested.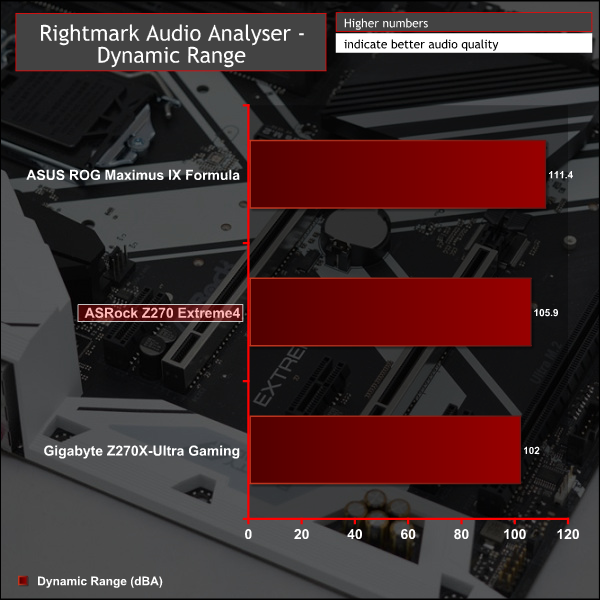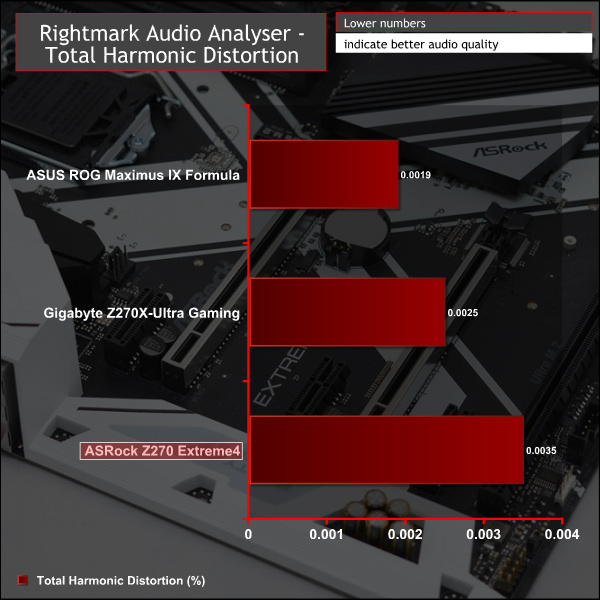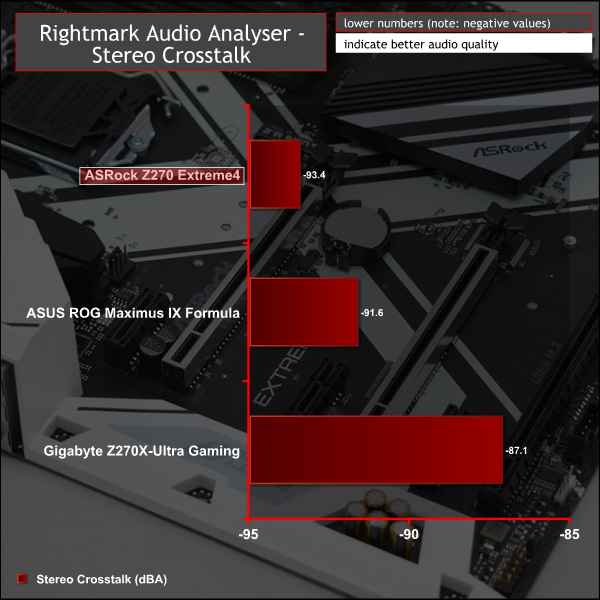 Audio performance is roughly in between the ASUS and Gigabyte boards in respect to the results recorded, but all three boards returned Very Good overall results from the Right Mark Audio Analyser test.
Differences in the synthetic tests struggle to play out in the real world nonetheless ASRock does very well with features like impedance detection and headset amplification.