The dust has long since settled on the Intel Kaby Lake launch of early January and now the marketplace is fully populated with a wide variety of motherboards from the major vendors to support Intel's new CPUs. ASUS has outed a top-to-bottom updated range of Republic of Gamers motherboards comprising of the Maximus IX Hero, Apex, Code, Formula and Extreme, in ascending price order.
The ASUS ROG Maximus IX Apex is a breath of fresh air in an otherwise predictable market of iterative and generational improvements unto long established motherboard models. The Apex doesn't conform to the usual entry, mid-range or high-end segmentation for gaming motherboards since, for the most part, it's not a typical gaming motherboard.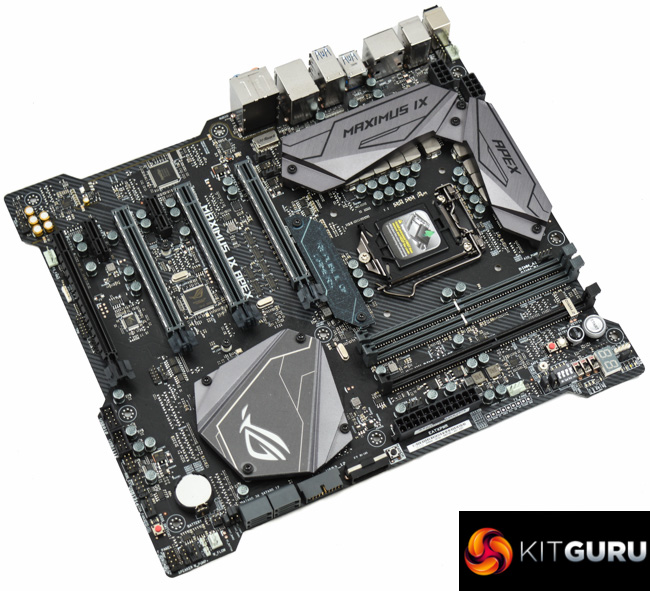 The Maximus IX Apex is an unusual hybrid of the totally overclocking-centric and ultra high-end Maximus Extreme, and the ROG entry-level – the Maximus IX Hero. At £284.99 it's still a premium motherboard in relative pricing terms, more expensive than most high-end gaming motherboards from ASRock, MSI and Gigabyte. Yet as is often the case with the ROG series the focus has been on delivering best-in-class innovation and novel features, with consideration for the price coming after.
With a focus on an overclocking and modding audience it's now hard to envision why you'd pay almost twice the price for the Maximus IX Extreme. We saw excellent overclocking results, better than usual, with a relatively simple overclocking methodology, someone with the time to tweak further will undoubtedly achieve great things with the Apex. It has a button, switch, jumper and UEFI setting for every eventuality and is very well tuned for a full liquid cooling setup or LN2.
It's also modding friendly out of the box with easy to configure LEDs, modifiable light bars and 3D printing software. The only obvious drawback from our testing is that the Aura software could do with further refinement.
The Apex doesn't escape without criticism though since there are obvious specification deficiencies to be wary of. At the very least prospective buyers will have to strongly consider if they can build their system with only two DDR4 memory slots and four SATA ports. The average user should be just fine as most system builders will not have more than two 8GB DDR4 modules, a couple of SATA hard drives, a SATA SSD and an M.2 SSD.
We imagine, to an extent, the design of the motherboard, with its irregular X-Type shape, will polarise consumers – one person's cool is another's crazy. However, on the basis that ASUS has done something radically different to the norm – its efforts deserve commendation. Even the implementation for the M.2 slots pushes the boundaries – trust ASUS ROG to think up mounting M.2 drives to an LED lit DDR-shaped PCB adapter.
Whether or not the Maximus IX Apex is worth buying will ultimately depend on the buyer's preferences. Consumers who are after a well-equipped and strong performing gaming motherboard capable of a typical overclock and similar levels of LED-trickery and customisation, may well be better off looking elsewhere at more affordable or better spec'd options.
However, buyers looking for a top-end Kaby Lake overclock in a full liquid cooled system, or a board to take to overclocking events and compete on HWBOT with, will be delighted by what the Apex has to offer. The Maximus IX Apex will also appeal to a niche of system builders looking to stand out from the crowd.

The ASUS ROG Maximus IX Apex is available at Overclockers UK for £284.99. ASUS's standard warranty duration for this product is 3 years.
Discuss on our Facebook page, over HERE.
Pros:
Best-in-class OC features – buttons, switches, sensors and more.
Watercooling specific features
Unique shape and aesthetic
Customisation options – 3D printing, LEDs and light bars
Cons:
Relatively expensive
Short on SATA ports and DDR4 slots
AURA software needs refinement
KitGuru says: Innovative to the very core, the ASUS ROG Maximus IX Apex is a well-executed overclocking motherboard that stands out from the crowd.