The ASUS ROG Maximus IX Apex has a cut-out rectangular shape which loosely resembles an "X" shape. ASUS claims the "X-Shape PCB" illustrates the motherboard's "extreme overclocking ability", it has also been suggested the cut-out will improve the ability to grip the motherboard when removing it off test benches. Whatever the reason for the unique design it is certainly a novel point that gets people talking, polarising or not.
ASUS continues with its long running RGB lighting theme for the Apex including lighting all around the perimeter of the motherboard, the CPU VRM heatsink, chipset heatsink, two Light Plates and on the DIMM.2 expansion card. There are also two RGB headers, located by the DIMM.2 slot and the last PCIe 16X lane, for additional customisation.

ASUS provisions support for 3D printing and customisation of the main ROG Light Plate and optional second so the Apex is modder friendly for all ability levels.
Firstly, there are only two DDR4 memory slots while the third slot is not actually for memory, but the ASUS DIMM.2 connector which can support two M.2 drives. ASUS puts a DIMM.2 metal bar across the slot so you cannot accidentally install a memory module here. Even if you were able to, it wouldn't work anyway.
In this area you will find a raft of OC-friendly tools including safe boot, retry, PCIe lane dip switches, memory slot disable jumpers, voltage read-off points, debug LEDs and a code reader, LN2 slow mode, condensation detection LEDs, a MemOK! button and more. For anyone who likes to dabble in serious overclocking with custom water cooling, phase change or LN2 – the Maximus IX Apex has plenty of tools to make life easier and more productive.
The DIMM.2 PCB can have one M.2 drive on either side up to 22110 form factors (110mm) in length. These can be two PCIe NVMe devices or 1 PCIe and 1 SATA. This PCB has LEDs on the side which has M2 slot 1 on it, facing the CPU socket, which is individually configurable within the ASUS AURA software.
The idea is that with its location being alongside the memory you could use a memory fan module to keep your M.2 drives cool and thus prevent throttling which is quite a common occurrence on high-end M.2 drives.

Around the PCH is another raft of extras – you will find a water pump header (operating at up to 3 amps, all the other fan headers supply 1 amp), water flow meter and two water temperature sensors aimed at users of custom water cooling setups, similar to the Maximus IX Formula. The CMOS battery is also located down here, for easy access, as well as a couple of jumpers for disabling the light bars and M.2 lights.
There is another set of LEDs for a second light bar after the second PCIe x16 lane. You can see the screw holes for it and ASUS provides the accessory pieces to create another name plate. Simply screw in the provided plastic, add any preferred customisation and enable the light bar two jumper (LIGHT_BAR2) jumper which is disabled by default.
In the way of storage the Apex is light, just four SATA ports and a single USB 3.0 front panel header. Clearly this motherboard isn't aimed at storage junkies but four SATA ports and two M.2 connectors should be enough to satisfy most high-end storage configurations. It isn't all it appears to be either – many motherboards share the bandwidth of two SATA ports with the second M.2 slot so in reality you're not actually any worse off if you have two M.2 drives.

Along the bottom edge of the Apex is nothing unusual – front panel connections, some fan headers (including a full speed one), an RGB LED header and three USB 2.0 headers (one header is shared with the ROG_EXT connection).
Around the CPU socket is a 10 phase VRM cooled by a single heatsink. There are three fans headers located near the socket for up to three fans, or two fans and one AIO pump. There are two 8 pin EPS connectors for the CPU for the purposes of higher current under extreme overclocking, normal users will only need to plug one in.
The audio solution is driven by the ALC1220, like most motherboards of the Z270 generation. ASUS implements the codec on an isolated PCB with Nichicon Gold series audio capacitors. ASUS doesn't add a headphone amplifier since it's implemented into the codec by default.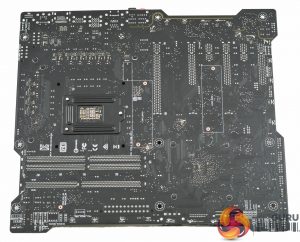 Most of the screws for the Maximus IX Apex screw in from the top, not the bottom, and use hex-type heads so it looks like general maintenance and modification will be a little more tricky than normal.
From underneath it's possible to see each of the 10 CPU VRM phases as well as how each of the PCIe slots are wired. The full-sized PCIe slots are wired to 16X/8X/8X/8X despite the last two being only 4X according to the ASUS specifications.