The main software utility for the ASUS motherboard range is the multi-function AI Suite III. It contains within it a significant number of utilities including the EPU and TPU profiles, the Turbo App for core and application specific turbo behaviour, Fan Xpert 4 and on-the-fly overclocking support. One of the relatively new additions is a Windows cleaning utility dubbed PC Cleaner. Users are likely better off with CCleaner, or some similar alternative, and we believe ASUS would be better off focusing resources into core motherboard utilities rather than trying to branch out even further.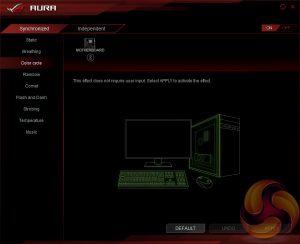 Some of those manpower resources should reach the team that develops the ASUS AURA software since it is often slow to respond and doesn't always function as you might expect. Fundamentally, it does work and you can edit LED zones but it is not intuitive. LEDs often appear to be on and have a colour but in reality the inner triangle is set to a black colour thus the LEDs do not display despite it displaying as red in the software.
What's more there wasn't an individual control option for each of the LED strip headers – LED Header 1 is synced with the two light bars and LED header 2 is synced with the VRM zone. That isn't enough granularity for a premium product since the LED header 1 and two light bars means three discrete LED objects cannot be changed independently.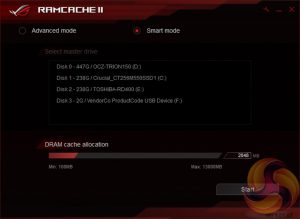 RamCache II is a handy ROG-specific utility in that it allocates a user-chosen amount of RAM to be used as a system storage cache and it will speed up file transfer, program installations and application load times. The only down side with this particular board is that there is less RAM available to you since there are only two DIMM slots available, thus RamCache II is less effective as it has less memory to work with.