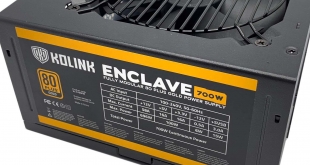 Today we take a look at a new 80 Plus Gold Series power supply from Kolink. The company told us that the three power supplies in this family are strictly focused on competitive pricing while still delivering high quality power. These new supplies are fully modular, single rail, 80 Plus Gold rated and are equipped with a rifle bearing fan.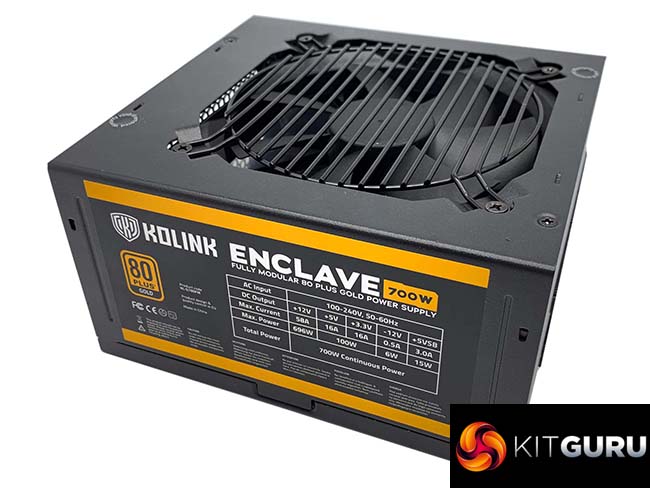 Kolink have released three models in this family, a 500 watt, 600 watt and 700 watt model, the latter of which we review today. There is a limited 3 year warranty with the units, rather than the more substantial 10 or 12 year warranties offered by companies such as Corsair and Seasonic.

Kolink told us that these power supplies are a custom made, newly designed platform, based around an LLC resonant converter with DC-DC secondary. This is rather unusual as most companies would work with an OEM such as FSP or Great Wall and use an already developed design then make minor modifications to suit their own desires and price points.
Technical Details:
Dimensions: 150 x 86 x 160 mm (W x H x D)
Fan: 120 mm (automatic regulation, rifle-bearing fan)
Colour: Black (PSU, fan)
Efficiency: min 90/87/87 percent at 50/20/100 percent load on European 230 Volt network. Meets requirements for 80 PLUS Gold.
Active PFC
Form factor: ATX 12V V2.31
Output: 700W
+3,3V: 16 A
+5V: 16 A
+3,3V and +5V combined: 100 W
+12V: 696 W / 58 A
-12V: 6 W / 0,5 A
+5Vsb: 15 W / 3 A
Safety:
OVP/UVP (protection against over- and undervoltage)
SCP (short circuit)
OPP (overload)
OCP (over-current protection on +12, +3,3 and +5 Volt rails)
Manufacturer's guarantee: 3 Years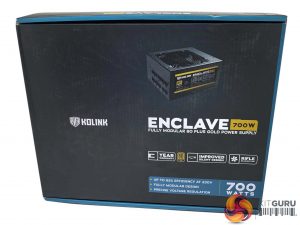 The Kolink box artwork for the Enclave is quite effective and rather subdued. They have opted for a nice selection of fonts, and some key selling points on the front of the box – such as the 3 year warranty, improved rifle design fan and the 92% efficiency rating at 230V. We think the image of the power supply could be a little larger perhaps, as it seems almost lost in the space at the top of the box.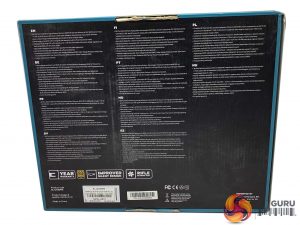 The rear of the box has a bullet point list of key specifications in multiple languages.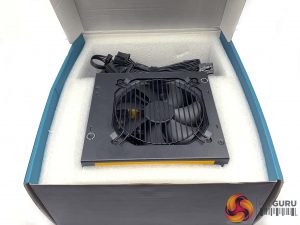 Kolink do not bundle power cables with their supplies, nor do they supply any printed materials such as user manuals or install guides. This is purely a cost saving exercise which they say helps them reduce the price point for the consumer. I did ask them about the lack of IEC power cable and they said that most people already have a PC power cable at hand.
I can't say I agree with Kolinks 'no power cable' strategy myself – I know plenty of people building their first system (which would be a key audience for this power supply) will be rather miffed to find out they have no means of powering their system until they go online to make another purchase. We would love to hear your thoughts on this in the comments below.
Connectors (removable):
1x 20+4-Pin ATX12V/EPS12V
1x 4+4-Pin ATX12V/EPS12V
4x 6+2-Pin PCIe
8x SATA
4x 4-Pin Molex
The cables are all ribbon style, for ease of routing during the build phase. There are four PCIe connectors to cater for multiple graphics card configurations.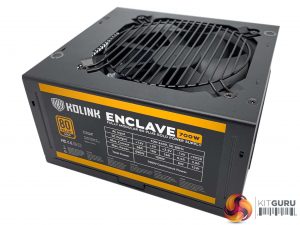 The Kolink Enclave is actually quite nicely finished. The paintwork is reasonably good, and there are no sharp or scuffed edges around the chassis as might be expected considering the budget price point. The yellow sticker isn't going to conflict too much with a coloured system build. Although we expect many users will be hiding the power supply under a shroud in 2019. This sticker can be removed anyway if desired.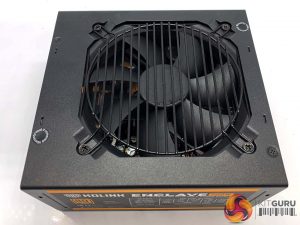 A large fan is hidden behind a metal grille on the top – we will take a closer look at the fan later in the review when we open the chassis.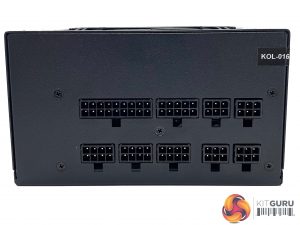 One side of the power supply is home to the modular bay, which is not labelled or very attractively finished compared to some of the higher end units we have tested recently, It is however pretty fool proof considering the pin layouts are different depending on the cables you want to attach.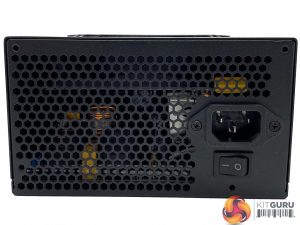 The other end of the chassis has the power connector and switch in position, alongside a big honeycomb panel to aid air flow.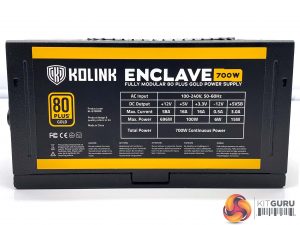 Kolink Enclave 700W Power Supply

DC Output

+3.3V

+5V

+12V

-12V

+5Vsb

Max Output

16A

16A

58A

0.5A

3A

Total Power
100W
696W
6W
15W
700 watts
The Kolink Enclave 80 Plus Gold 700W is able to deliver 696W / 58A to the +12V rail. We noticed the +3.3V and +5V rails seem a bit weaker than other power supplies with a similar power output, delivering only 16A to both. The bequiet! U9 Pure Power 700W for instance which we reviewed earlier this year can deliver 24A to the 3.3V and 18A to the 5V (130W total compared to 100W for this unit).
The FSP Dagger Pro 650W which I reviewed back in July, can deliver 20A to the +3.3V and 22A to the +5V – despite having a 50w lower power output rating than the Kolink.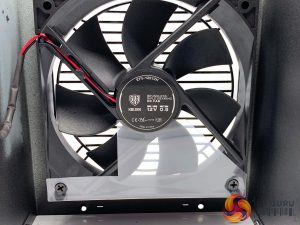 Kolink are using a brushless rifle bearing fan (Model EFS-12E12H). I have actually seen this fan before and while its not clear in the picture, its actually made by Chinese company EVERCOOL.
The fan in the other power supply I tested failed after 2 months of use and I spoke with industry contacts from Taiwan and they told me these fans cost $0.80 to produce and have very high fail rates. I can't confirm or deny this, but my own experience of a failure would give me some caution.
This Kolink developed design is using Teapo capacitors, a cost effective Chinese brand I have had bad experiences with in the past. Some people have told me their engineering processes are improving all the time, and to be honest at this price point I had certainly not expected to see Japanese capacitors inside the power supply. The primary hold up capacitor is at least rated 105c (rather than 85c) – 420v 560uF. Kolink told me that may rotate between Teapo and Elite capacitors with 'no guarantee between the two'.
Enclave uses solid state capacitors for output filtering for +3.3V, +5v and +12V. While the 8 Pin Sitronix ST9S313-DAG IC only offers housekeeping (timings) and basic protections, Kolink adapted its circuit design (DC-DC VRM) so there is also OCP for +3.3V and +5V. I would have expected a few more heatsinks populated across the PCB, but we will test it shortly to see if we run into any problems.
Correctly testing power supplies is a complex procedure and KitGuru have configured a test bench which can deliver up to a 2,000 watt DC load. Due to public requests we have changed our temperature settings recently – previously we rated with ambient temperatures at 25C, we have increased ambient temperatures by 10c (to 35c) in our environment to greater reflect warmer internal chassis conditions.
We use combinations of the following hardware:
• SunMoon SM-268
• CSI3710A Programmable DC load (+3.3V and +5V outputs)
• CSI3711A Programmable DC load (+12V1, +12V2, +12V3, and +12V4)
• Extech Power Analyzer
• Extech MultiMaster MM570 digital multimeter
• Extech digital sound level meter
• Digital oscilloscope (20M S/s with 12 Bit ADC)
• Variable Autotransformer, 1.4 KVA
DC Output Load Regulation

+3.3V

+5V

+12V

+5VSB

-12V

A

V

A

V

A

V

A

V

A
V

70W

0.90

3.34

0.85

5.02

4.80

12.04

0.50

5.01

0.20
-12.03

140W

1.60

3.34

1.60

5.02

9.90

12.03

1.00

5.01

0.20
-12.03

350W

2.90

3.34

2.98

5.01

26.60

12.02

1.50

5.01

0.30
-12.04

525W

4.00

3.33

4.00

5.00

41.15

11.98

2.00

5.01

0.30
-12.05

700W

5.10

3.32

5.11

4.99

54.00

11.94

2.50

5.00

0.30
-12.05
Load regulation seems quite good.
Kolink Enclave 80 Plus Gold 700W
Maximum Load
734W
We managed to squeeze 734W from the power supply before it shut down safely.
Next we want to try Cross Loading. This basically means loads which are not balanced. If a PC for instance needs 500W on the +12V outputs but something like 30W via the combined 3.3V and +5V outputs then the voltage regulation can fluctuate badly.
Combined DC Load
+3.3V
+5V
+12V
-12V
+5VSB
A
V
A
V
A
V
A
V
A
V
590W
1.0
3.36
1.0
5.02
48.0
11.93
0.2
-12.02
0.5
5.02
190W
14.2
3.31
14.1
4.97
10.0
12.02
0.2
-12.03
0.5
5.01
Cross load results rate as reasonably good, with the +12V rail dropping from 12.02V to 11.93V when hit with 48A.
We then used an oscilloscope to measure AC ripple and noise present on the DC outputs. We set the oscilloscope time base to check for AC ripple at both high and low ends of the spectrum.
ATX12V V2.2 specification for DC output ripple and noise is defined in the ATX 12V power supply design guide.
ATX12V Ver 2.2 Noise/Ripple Tolerance

Output

Ripple (mV p-p)

+3.3V

50

+5V

50

+12V1

120

+12V2

120

-12V

120

+5VSB

50
Obviously when measuring AC noise and ripple on the DC outputs the cleaner (less recorded) means we have a better end result. We measured this AC signal amplitude to see how closely the unit complied with the ATX standard.
AC Ripple (mV p-p)
DC Load
+3.3V
+5V
+12V
5VSB
174W
15
10
25
10
352W
20
10
40
10
525W
20
10
60
15
700W
25
15
70
15
The Kolink Enclave 700W model does not product class leading results, however all rails fall within the tolerance guidelines set out by the industry. At full load, we see 70mV via the +12V rail.
Efficiency (%) 240V

174W

88.86

352W

91.88

525W

90.57

700W

89.78
Efficiency is pretty good, peaking at 91.9% at around 50 percent load. At full load this drops to just under 90% efficiency. Pretty solid results for an 80 Plus Gold rated unit.
We take the issue of noise very seriously at KitGuru and this is why we have built a special home brew system as a reference point when we test noise levels of various components. Why do this? Well this means we can eliminate secondary noise pollution in the test room and concentrate on components we are testing. It also brings us slightly closer to industry standards, such as DIN 45635.
Today to test the power supply we have taken it into our acoustics room environment and have set our Digital Sound Level Noise Decibel Meter Style 2 one meter away from the unit. We have no other fans running so we can effectively measure just the noise from the unit itself.
As this can be a little confusing for people, here are various dBa ratings in with real world situations to help describe the various levels.
KitGuru noise guide
10dBA – Normal Breathing/Rustling Leaves
20-25dBA – Whisper
30dBA – High Quality Computer fan
40dBA – A Bubbling Brook, or a Refrigerator
50dBA – Normal Conversation
60dBA – Laughter
70dBA – Vacuum Cleaner or Hairdryer
80dBA – City Traffic or a Garbage Disposal
90dBA – Motorcycle or Lawnmower
100dBA – MP3 Player at maximum output
110dBA – Orchestra
120dBA – Front row rock concert/Jet Engine
130dBA – Threshold of Pain
140dBA – Military Jet takeoff/Gunshot (close range)
160dBA – Instant Perforation of eardrum
Noise (dBA)

174W

29.4

352W

525W

700W

36.8
The rifle bearing fan in this power supply isn't too intrusive when powering a system around 400 watts. It becomes more audible in the last 150 watts of total power delivery. At close to full load it is clearly audible and rather intrusive.
Temperature (c)

Intake

Exhaust

174W

36

40

352W

38

49

525W

42

56

700W

47

62
At full load the exhaust temperatures rise to 62c – around 15c above intake.
| | |
| --- | --- |
| Maximum load | Efficiency |
| 734W | 89.2 |
We measured the efficiency beyond the rated limits of the supply and recorded 89.2% at 734W. Its not a real world everyday rating, but interesting regardless.
The Kolink Enclave 80 Plus Gold 700W has been designed from the ground up to offer good quality power at a very cost effective price point. All considered, we feel its a good option for people on a strict budget.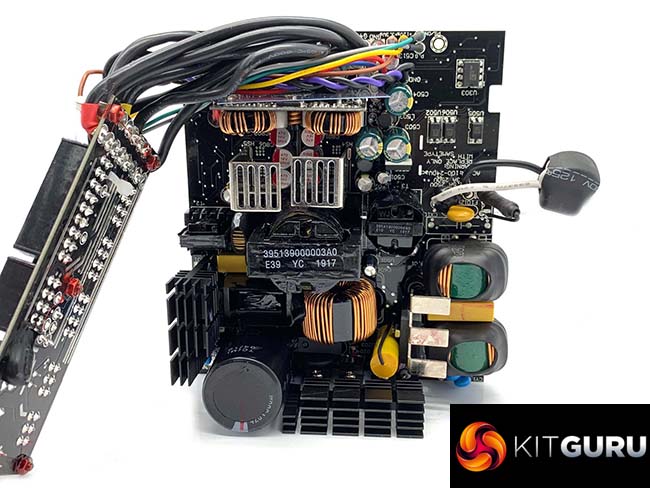 As we mentioned earlier in the review today, there are three supplies in this range – a 500 Watt, 600 Watt and 700 Watt unit. They are priced at £59.99, £64.99 and £74.99 respectively. When we look at other (750W) Gold rated units from companies such as Seasonic they are around £30-£50 more expensive. There is no doubt these are some of the most inexpensive power supplies you can buy today.
Technically the 700W model is solid enough, if somewhat uninspiring. Kolink are using cheaper capacitors from the likes of Teapo and Elite – although at least they are 105c rated rather than the even cheaper 85c caps they could have used.
Load regulation seems fine, and efficiency falls in line with what we would expect from a budget 80 Plus Gold unit. We didn't run into any issues during testing, or weird and unusual failures. The power supply was able to sustain a 700 watt load for an extended period of time without shut down.
Ripple suppression also fell in line with industry tolerance levels, although at full load we did record around 70mV from the +12V rail, which is higher than any other power supply we have tested this year. Its not indicative to a failure mind you, so we won't flag it as a concern.
To keep costs down Kolink have opted not to include any literature or user manual with the power supply. There is also no fancy bundle, cable ties, or stickers. You don't even get a power cable. It is only the latter point that gives me a little concern. In my mind this power supply (or even the less expensive 500W or 600W model) would be ideal for a very budget, first system build. Those people will buy the power supply, build their system and likely realise they have no way to power it up. They will need to go online and buy an IEC power cable. OCUK have a Kolink C13 power cable in stock for £2.99 HERE.
The fully modular design will appeal to a wide audience wanting to build a compact, cost effective system, perhaps even with a windowed panel. Although I mentioned my personal concerns over the choice of cheap Evercool Rifle bearing fan, this Kolink power supply isn't very loud under most load situations. I would have some concerns over fan longevity having had one fail before in another power supply I tested some time ago.
You can buy the range of Kolink Enclave power supplies from OCUK over HERE. The 700 Watt model I reviewed today is available HERE for £74.99. Just remember to buy the IEC C13 power cable as well, if you don't have one on hand.
Pros:
Quality of finish is good.
Fully modular.
Not too loud under load.
load regulation.
105c capacitors.
Cons:
No power cable supplied.
no literature, cable ties, or any extras.
cheap rifle bearing fan.
+3.3V and +5V rails are quite weak by competitors standards.
no Japanese capacitors.
3 year warranty.
KitGuru says: This is a no frills power supply targeting the budget audience. Technically it is a solid design and offers good value for money for those on a tight budget.