CrystalDiskMark is a useful benchmark to measure theoretical performance levels of hard drives and SSDs. We are using V3.0.3.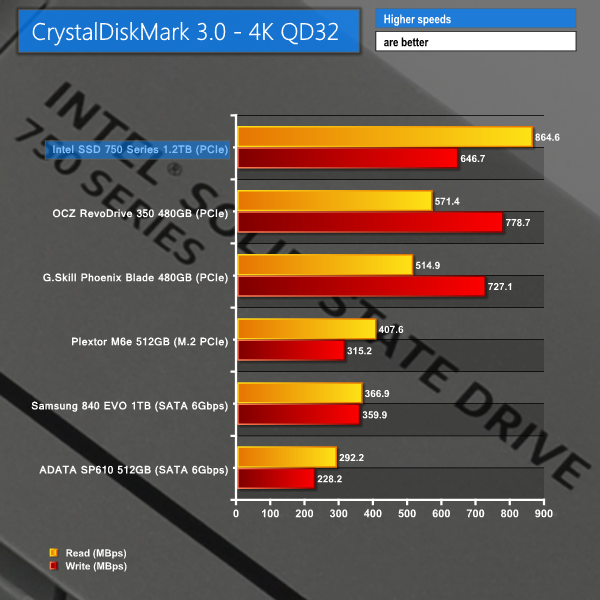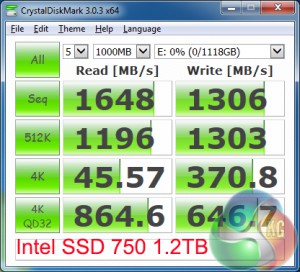 Intel's SSD 750 drive makes a positive start in the CrystalDiskMark test. Sequential read and write numbers are highly impressive, as are those for 512KB transfers.
All-important 4K read performance is where the SSD 750 truly shines. While 45.57MBps 4K read is higher than a typical SATA 6Gbps SSD, 4K read with a queue depth of 32 shows superb performance for the NVMe-based solution. Supply the SSD 750 with enough work and it will show strong results.
The PCIe-fed, NVMe-compatible SSD 750 is typically outperforming (in 4K workloads) four-drive RAID 0 solutions such as G.Skill's Phoenix Blade and the OCZ RevoDrive 350.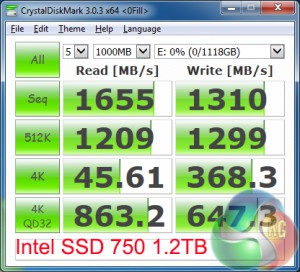 Intel's PCIe, NVMe controller handles incompressible and compressible workloads equally well. This is always good to see as it means that you are likely to be getting full drive speed, irrelevant of your specific workload.