The Intel SSD 750 Series drive is a particularly high performance solution that brings an ultra-fast PCIe connection and the NVMe specification to consumer markets.
Intel's focus on read performance indicates their consumer target audience. Sequential read speeds were as high as 2.6GBps for large file transfers, while 4K random read performance with a large queue depth delivered more than 460,000 IOPS. Even with a smaller queue depth, the SSD 750's 4K random read performance neared 200,000 IOPS.
Write speeds are not as aggressive as those for read. Large transfers showed sequential write speeds as high as 1300MBps, while 4K random write testing with a large queue depth showed just over 310,000 IOPS. A smaller queue depth pulled random write performance down to a 143,000 IOPS level, at which point multi-drive RAID 0 SSD solutions are quicker.

We tested out Battlefield 4 launch and loading times and found very little (too small to accurately differentiate with a stopwatch) advantage for the SSD 750 drive. The benefits of significantly higher-speed storage devices are unlikely to show widespread advantages in games until the developers start making better use of the speed.
On the consumer market, there is nothing that matches the read performance of Intel's SSD 750 1.2TB drive. Whether your data is compressible or not, or if your workload consists of varied file sizes, the drive's read performance is superb. Write performance, however, is typically bettered by the PCIe SSDs that we are used to seeing – which consist of multiple SATA-based drives in RAID 0.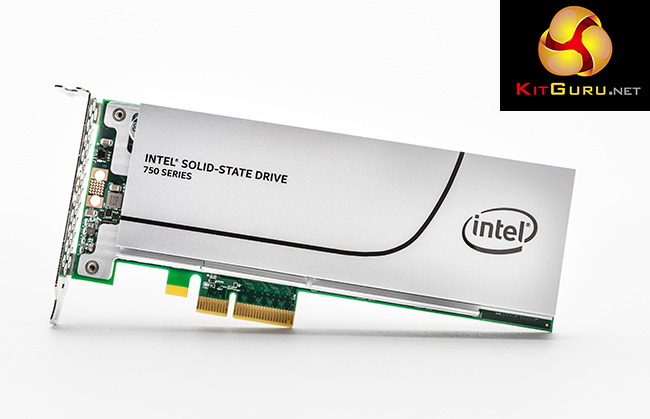 With its read performance levels, the Intel SSD 750 drive could be useful for users whose working requirements include high-resolution content editing or manipulating large engineering models. Put simply, the Intel SSD 750 is an excellent drive for users who need high read performance to cash their end-of-month pay-cheque. If your workload is based around writing, Intel's SSD 750 may not be the outright best solution.
Intel tells us that suggested pricing for the SSD 750 drives is $389 (probably around £300-350) for the 400GB version and $1029 (probably around £800-900) for the 1.2TB capacity. There should not be a price difference between the 2.5″ or AIC form factors.
Edit: Overclockers UK have the 400GB version on pre-order for £369.98 and the 1.2TB version at £969.98.
At just under $1/GB for the 400GB drive and around $0.84/GB for the 1.2TB version, these drives certainly aren't cheap. That said, many of the multi-drive RAID 0 PCIe SSDs have long dictated price points towards and above the $1/GB level, but Intel's SSD 750 comfortably outperforms them in read-heavy workloads. And the SSD 750's pricing is significantly lower than professional solutions.
Intel's SSD 750 Series drive shows levels of performance that we have yet to see on the consumer storage market at a somewhat affordable price point. While it may not be the fastest consumer drive for write operations, read performance is outstanding. And Intel's adoption of the PCIe interface and NVMe specification is also worthy of credit.
Discuss on our Facebook page, over HERE.
Pros:
Ultra-fast sequential speeds, especially for reads.
Very high 4K random performance, especially for reads.
Support for boot with X99 and Z97 motherboards.
High endurance rating and 5 year warranty.
Can be considered competitively-priced, given the performance levels.
Cons:
Some other drives offer higher write performance in certain workloads.
Give enthusiasts a capacity between 400GB and 1.2TB, as well as a black PCB/backplate.
KitGuru says: A performance king for the consumer SSD market. If your workloads demand serious read performance, Intel's NVMe-based SSD 750 Series drives are a strong choice.