The ATTO Disk Benchmark performance measurement tool is compatible with Microsoft Windows. Measure your storage systems performance with various transfer sizes and test lengths for reads and writes. Several options are available to customize your performance measurement including queue depth, overlapped I/O and even a comparison mode with the option to run continuously. Use ATTO Disk Benchmark to test any manufacturer's RAID controllers, storage controllers, host adapters, hard drives and SSD drives and notice that ATTO products will consistently provide the highest level of performance to your storage.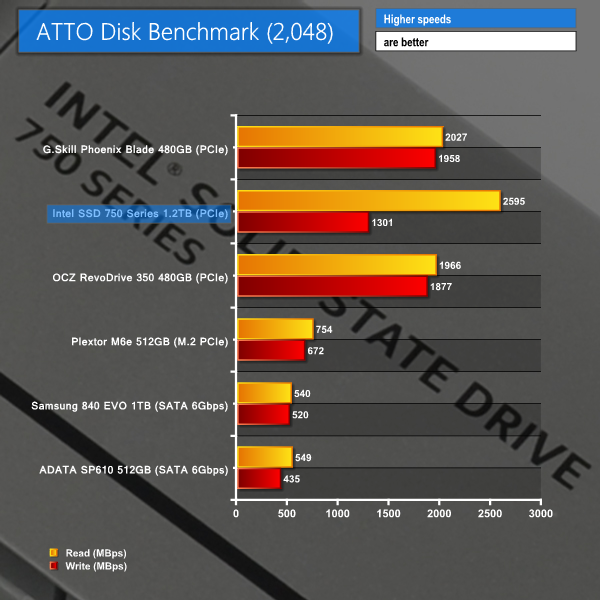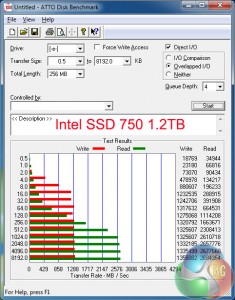 ATTO shows off the SSD 750 1.2TB variant's strong sequential read numbers. This is important to users who are regularly transferring large files from the drive – perhaps in a video editing environment with the content is shifted off the SSD onto a backup RAID array solution.
Intel made it clear that overwhelming write performance was not the company's aim. With just over 1300MBps sequential write speeds, the SSD 750 may not be ideal for users whose workload forces them to transfer large files to the drive on a regular basis. G.Skill's and OCZ's multi-drive RAID 0 solutions confidently outperform the SSD 750 on the sequential write front.
To put it into perspective, a sequential read speed of almost 2600MBps is about four-and-a-half times as fast as the SATA 6Gbps limit, while sequential writes of 1301MBps are more than two times faster. Even a four-drive RAID array connected to the chipset will be unable to near 2600MBps due to the DMI link's ~1.8GBps limit.