The reversible USB type-C connector is something that the industry has been waiting for since the introduction of the original USB bus in 1997. This year PCs, computer components and mobile devices finally started to incorporate USB-C receptacles, but not all implementations necessarily support all features introduced by the latest version of the USB specification. Apparently, there are nine possible implementations of USB-C ports with different functionality.
The latest Universal Serial Bus 3.1 specification introduces the new reversible 24-pin type-C receptacle as well as a number of innovative features that greatly expand usage of the USB bus, but retain full compatibility with previous versions of the standard. Key improvements of the USB 3.1 and the USB type-C are higher performance, improved power delivery, universal connector and vendor-specific capabilities. The key idea behind the USB 3.1 type-C is to create one interconnection that does everything.
The USB 3.1 not only increases physical data signaling rate to 10Gb/s, but it also changes its encoding scheme to 128b/132b (inherited from PCI Express 3.0), which greatly lowers line encoding overhead to 3 or 4 per cent. In theory, peak bandwidth of a perfect USB 3.1 implementation could be as high as 1.2GB – 1.25GB/s. In addition, the USB 3.1 supports USB power delivery 2.0 specification, which allows one cable to transfer up to 100W of power to a device. Finally, USB type-C and USB 3.1 allow IHVs [independent hardware vendors] to implement their own functional extensions via Alternate and Accessory Modes to differentiate their products. Unfortunately, far not all features are compulsory for implementation.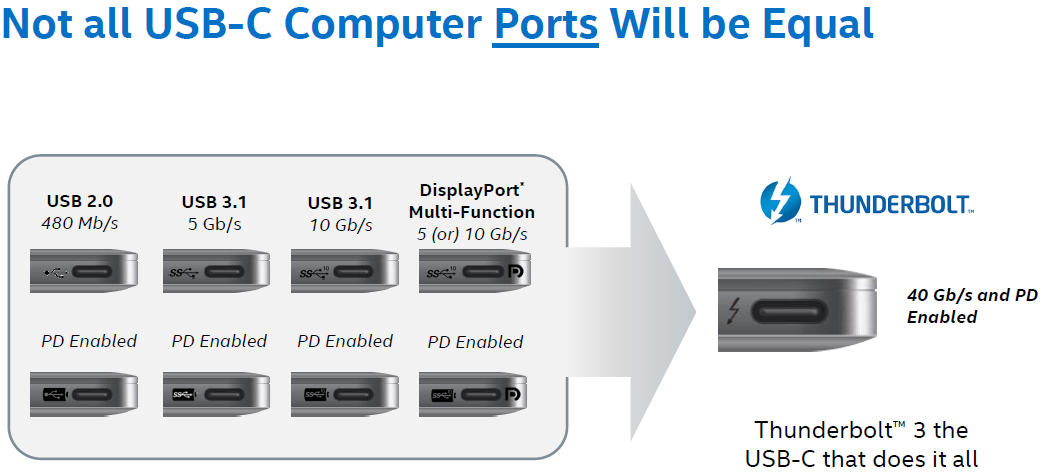 As it turns out, the USB-C receptacle can be used with virtually any USB 2.0, USB 3.0, USB 3.1 or Thunderbolt 3 controller. This allows various vendors to build new devices without using of advanced, expensive and power hungry USB 3.1 controllers as well as appropriate power and signal management ICs. However, this means that different devices with the exact same connector will support different (480Mb/s, 5Gb/s or 10Gb/s) data-rates. Moreover, vendors may or may not add support for DisplayPort functionality via USB-C port, which means that select devices will feature display output, whereas others with the same port will not. Finally, some devices will support USB Power Delivery technology, whereas others will not. A good news is that the USB implementers forum has designed eight distinguished labels that describe capabilities of different USB-C ports. A bad news is that the presence of a USB 3.1 type-C connector does not automatically mean anything.
At present the only implementation of the USB 3.1 type-C connector that fully supports all features of the standard can be built using Intel Corp.'s "Alpine Ridge" controller, which also supports the company's 40Gb/s Thunderbolt 3 technology. Ironically, to support all the capabilities of the USB 3.1 spec, IHVs have to use a controller that supports competing Thunderbolt 3 interconnection bus. At present Gigabyte Technology is the only maker of mainboards, which uses Intel's "Alpine Ridge" on its Intel Z170-based platforms and supports all the features that the USB 3.1 has to offer with Thunderbolt 3 on top of that.
In addition to different kinds of USB type-C ports, there are different types of USB type-C cables, including USB 3.1 type-C to type-C cable assemblies with 15 wires inside as well as USB 2.0 type-C to type-C cables with 5 wires inside. A fully-fledged USB type-C cable is active, electronically marked cable, with an ID chip that contains vendor-defined messages (VDMs) from the USB Power Delivery 2.0 specification as well as other information necessary to support additional functionality. To make things even more complicated, there will be a host of legacy cable assemblies and adapters that will help to connect new devices to old systems as well as old devices to new systems.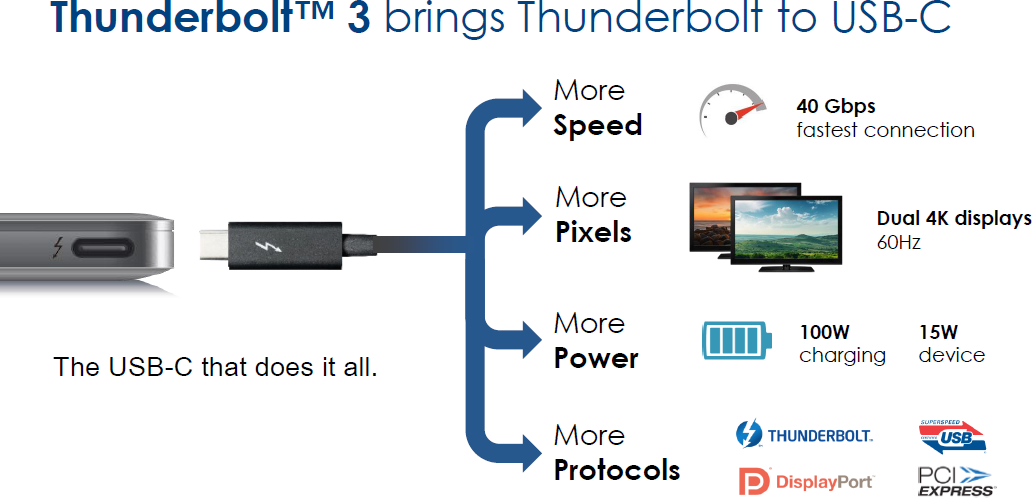 Over time, all implementations of the USB type-C receptacles will support 10Gb/s data-rates as well as power delivery capabilities. However, nowadays there is a clear mess with different USB-C versions. The only way to get a device with a USB 3.1 type-C port done right is to get a product that supports Intel's Thunderbolt 3, the port that truly does it all.
Discuss on our Facebook page, HERE.
KitGuru Says: Different implementations of USB-C allow to build cheaper devices and make the new connector more widespread. However, such approach creates an incredible mess and confuses a lot of potential buyers and greatly devalues the USB 3.1 type-C technology in general.