All-in-all, the Gladiator SuperNova is an impressive system with a lot going for it.
For starters, it is very well-built. Cable management is excellent and the monochromatic colour scheme ensures the SuperNova looks exceptionally clean.
Component choice is also very solid, with an i5-7600K and GTX 1060 providing the necessary grunt for 1080p and 1440p gaming. 4K is possible but only if you play less-demanding games – the latest AAA titles will struggle at 4K.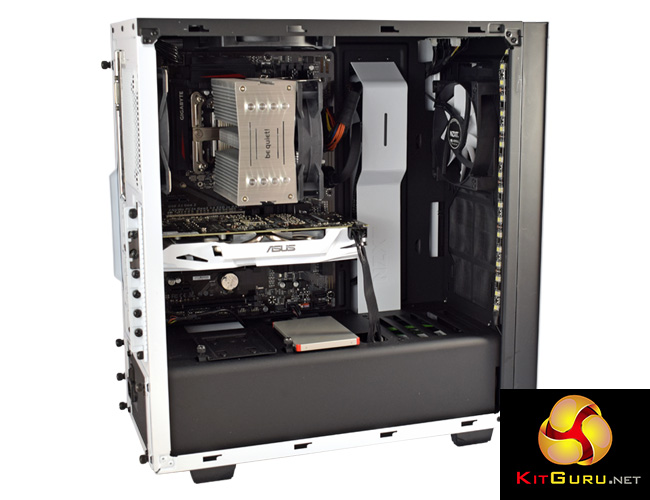 That being said, I cannot help but feel Gladiator have missed a trick by not overclocking the CPU. As we mentioned in our comprehensive i5-7600K and i7-7700K review (HERE), the only real advantage Kaby Lake has over Skylake is that it can overclock further. As such, it is disappointing to see Gladiator include one of these new chips but leave it at stock clocks.
As for pricing, there is an introductory offer of £1175 inc. VAT. I priced up the cost of building this system myself and came to a figure of £1031 at the time of writing. This means you are paying about a £140 premium for the SuperNova, which I think is decent value considering you get the system built, shipped and covered by a 4-year warranty.
All-in-all, then, we can definitely recommend the Gladiator SuperNova – it is a well-built, good-looking and quiet machine. The only real issue I have with it is the lack of CPU overclock, though I would also prefer a motherboard with a black PCB instead of the ugly brown PCB used here.
These may seem like minor issues but they do prevent the system from winning our coveted 'must have' award. Nonetheless, if you are not fussed about either of those points, the SuperNova is definitely a solid gaming machine. You can pick one up from Gladiator for £1175 inc. VAT HERE.
Discuss on our Facebook page, over HERE.
Pros
Good-looking.
Great cable-management.
Quiet and cool under load.
Solid performance at 1080p and 1440p.
Decent price.
Cons
Motherboard has a brown PCB.
CPU is not overclocked, despite being a new Kaby Lake chip with an unlocked multiplier.
KitGuru says: While it may seem like a bit of waste to use an i5-7600K and not overclock it, the SuperNova is a well-built and good-looking machine capable of smooth gaming at both 1080p and 1440p resolutions.