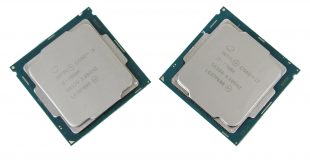 Kaby Lake is upon us. With Intel killing off its Tick-Tock product cycle in 2016, Kaby Lake ushers in the new 'Optimisation' phase of a Process-Architecture-Optimisation strategy. What does that mean? Kaby Lake is effectively a barely tweaked version of Skylake which uses Intel's optimised 14nm+ process technology resulting in improved frequencies.

Reading between the lines, this means that significant performance improvements are not Kaby Lake's goal (spoiler: that's effectively how the performance is). What the optimised 14nm+ process node brings to the table is improved frequency performance which sees the Kaby Lake Core i7-7700K shipping as Intel's fastest out-of-the-box consumer chip. And that improved frequency ability stays when overclocking the chips past their rated speeds and voltages.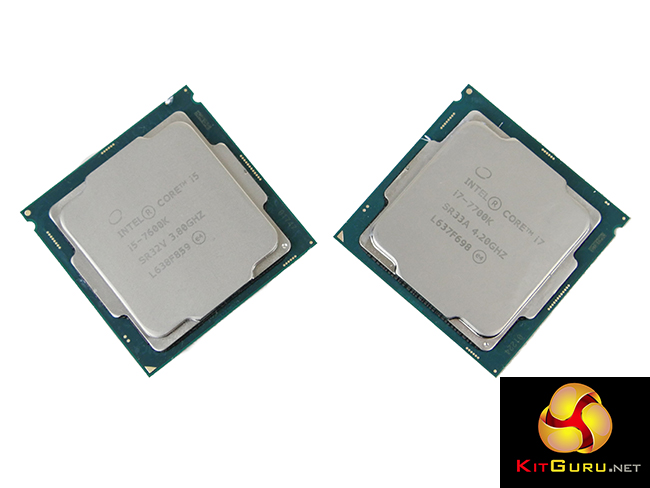 The Skylake Core i5-6600K and Core i7-6700K have generally been received well by the enthusiast market since their launch in August 2015. Aided by a feature-rich platform that offered temptation for users interested in high-speed storage and connectivity pipelines, Skylake adoption rates seemed very good, anecdotally speaking.
Kaby Lake's 3.8GHz (4.2GHz turbo) Core i5-7600K and 4.2GHz (4.4GHz turbo) Core i7-7700K basically aim to pick up where the Skylake predecessors have left off. The CPUs are joined by the new Z270 chipset which brings with it additional IO lanes and support for Intel Optane Memory but the same LGA 1151 socket is used so Skylake works with Z270 and Kaby Lake works on Z170 (with a BIOS update). Oh, and there's Intel 's new HD 630 iGPU under-the-hood which runs up to 1150MHz for the unlocked i5 and i7 (not that gamers or discrete GPU users will care).
So, to be brutally honest, there's little for desktop enthusiasts to get particularly excited about with Kaby Lake from a CPU perspective. The exception to that statement is a hoped increase to upper-end frequencies achievable via overclocking thanks to the optimised process technology. On the desktop side of things, this is basically a case of making the fastest architecture faster simply because the process node optimisations are there for the taking.
Note: Please ignore the pricing numbers in the above images as they are incorrect.
Core i7-7700K and Core i5-7600K represent the multiplier-unlocked launch party for Kaby Lake. There's an unlocked dual-core, hyper-threaded Core i3-7350K on the horizon but that part is unlikely to show up for another few weeks.
The 7700K and 7600K are both rated as 91W TDP parts due to their multiplier-unlocked statuses. The i7-7700K is a 4 core, 8 thread part that operates at 4.2GHz base frequency and boosts as high as 4.5GHz. Hyper-threading is not enabled with the i5-7600K, making it a 4 core, 4 thread part that runs at 3.8GHz base and 4.2GHz maximum turbo boost speed. Those boost speeds are using Turbo Boost 2.0, not 3.0 as seen on Broadwell-E CPUs. 8MB of Intel Smart Cache (L3) is used for the i7-7700K while the i5-7600K chip gets that cut down to 6MB.
Both CPUs use Intel's new up-to-1150MHz HD 630 integrated GPU which we will discuss in further detail shortly (and test). The same dual-channel DDR3L/DDR4 memory capability seen on Skylake is present with Kaby Lake but this time DDR4 frequency support is increased to 2400MHz natively.
The highlighted pricing for the 7700K and 7600K is lower than that of both Skylake predecessors; the Core i7-7700K is $305 (vs the 6700K's $350) while the Core i5-7600K is $217 (vs the 6600K's $243). Update 03/01/2017: it has come to our attention that pricing information in the above images is for 1ku tray pricing, which is not comparable to the retail pricing numbers for Skylake. Suggested retailer pricing for the Core i7-7700K is $339 and the i5-7600K is $242. The Great British Pound has depreciated significantly since Skylake's August 2015 launch so don't expect to see much difference in the pricing for Kaby Lake compared to Skylake (there'll probably be a slight increase, in fact).
We expect the i7-7700K to retail towards the £350 mark and the Core i5-7600K to sell towards £240. Update 05/01/2017: the Core i7-7700K is now available for £349.99 and the Core i5-7600K is £239.99 from Overclockers UK.

Jumping through the ages (from left to right): Devil's Canyon i7-4790K, Skylake i5-6600K & i7-6700K, Broadwell-E i7-6800K, Kaby Lake i5-7600K & i7-7700K.
Features (Core i7-7700K):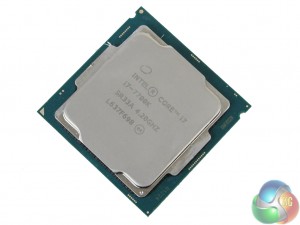 4.2GHz base frequency (up to 4.5GHz turbo frequency).
Unlocked core ratio multiplier.
BCLK overclocking capability.
4 cores, 8 threads.
8MB Intel Smart Cache.
Dual-channel DDR4-2400MHz and DDR3L-1600MHz native memory support.
16 PCIe 3.0 lanes.
Intel HD 630 GPU (up to 1150MHz).
91W TDP.
LGA 1151 socket.
$339 pricing.
Features (Core i5-7600K):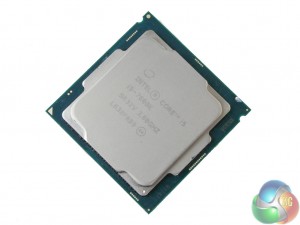 3.8GHz base frequency (up to 4.2GHz turbo frequency).
Unlocked core ratio multiplier.
BCLK overclocking capability.
4 cores, 4 threads.
6MB Intel Smart Cache.
Dual-channel DDR4-2400MHz and DDR3L-1600MHz native memory support.
16 PCIe 3.0 lanes.
Intel HD 630 GPU (up to 1150MHz).
91W TDP.
LGA 1151 socket.
$242 pricing.
Be sure to check out our sponsors store EKWB here