Included within the phone is a non-removable 2100 mAh battery. We prefer non-removable batteries as it helps keep the phones slimmer – demonstrated by the 7.5mm thickness here. You can always use an external battery pack if you're on the go and the battery is draining fast.
For a 720p phone 2100 mAh seems to do the job OK. Acer have cleverly fitted a battery saving feature which means when the phone is idle, battery consumption is absolutely minimised. Whilst this means retention levels are good when it's just sitting in your pocket, we found in actual use, the battery levels dropped, and fast.

For instance, when we ran the 3DMark test, which lasts 5 minutes, the battery fell 5% – and brightness was only 50%.
If you use your phone sparingly, the Liquid Jade will last you a full day. However, most users will find they need to top up the phone on the go, if not go for a second full charge. Charging to 100% took just over 2.5 hours, too, so it's not ideal if you're out and about.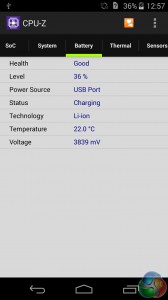 'Quick Charge 2.0' technology – as used by Motorola with the Nexus 6, which reportedly can get up to 60% capacity in 15 minutes – would really help here, but it's unlikely we'll see this technology featured in cheaper phones. As it is, the Liquid Jade may let you down when trying to last a full day.