The battery is definitely the weakest aspect of the phone. Powering things is a 1200 mAh battery, which ASUS have made removable, so you could carry a second one around – you would need it.
This is because the phone won't last you a day's use, not even close. As we used it, with auto-sync and WiFi or data always on, we needed a recharge just after lunch else the battery would've run dry. Heavy users probably wouldn't even last that long.

If you use your phone for a couple of minutes every hour or two, it'll last you. But nobody does that with a smartphone in 2015, and ASUS really should've given the device a better battery. The simple fact of the matter is you will have to recharge or swap in a second battery, so if that's a problem for you we'd advise you to stay away.

Charging speeds, to make up for it, are half-way decent. In half-an-hour, using the accompanying ASUS charger, the device gained 31% of battery – which may just be enough to see you through until you can give the phone a full charge.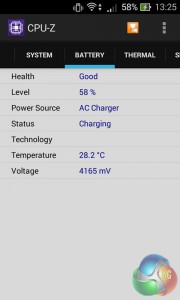 As it is, the battery is far from good, and it sadly ruins the overall experience, which is generally good.