The Vodafone Smart Tab 4G seems an interesting option to go with if you are looking for a tablet at the cheaper end of the market.
Its simple design draws comparisons with the iPad Mini, but is not as premium as the iPad due to the plastic construction. Still, the tablet does not feel cheap, and the textured finish means it is satisfying to hold.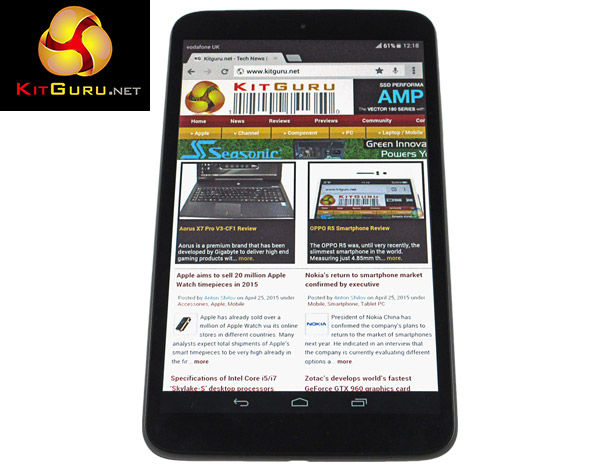 The display is perhaps the weakest point, with the resolution meaning the Smart Tab 4G has just 184 PPI – meaning the display is not very crisp. This is partially remedied by strong viewing angles though, and the brightness levels are decent.

Android KitKat has been left well alone, which is something we always like to see. The OS is clean and snappy, giving you the full Android experience on a budget.
Performance, too, is solid. It works just fine with everyday use, though the Smart Tab 4G does pale in comparison to the Hudl 2 when it comes to the benchmarks.
The included 5MP camera is another nice surprise – we did not have high hopes. However, colours and lighting are good, with only the lack of detail letting the images down. However, for the price it is hard to ask for more from this camera unit.
Battery life is also very good, lasting us two full days before needing a recharge. More regular users may just get one full day, but that is almost guaranteed.
The question does remain, though, if this is the best option to go with. The Hudl 2 may be a better bet – as it has a faster processor and a FHD display. However, it lacks the 4G connectivity, and the design is not as clean looking as the Vodafone model. Substance or style? you have a choice…
You can buy the Smart Tab 4G directly from Vodafone for £125 inc VAT – and this even includes 6GB of mobile data with the tablet.
Discuss on our Facebook page, over HERE.
Pros
Clean design.
Good battery life.
Decent camera.
Affordable.
Cons
Poor screen resolution.
Performance lacking when compared to the Hudl 2.
KitGuru says: The Vodafone Smart Tab 4G seems good value and is a decent all-round tablet. You may want to think about the Tesco Hudl 2 at this price point, but the Smart Tab is not a bad choice.