Given the price of this laptop, it's notable just how basic the unboxing experience is here. There's none of the careful presentation of the laptop nor meticulous wrapping of accessories that you get when unboxing an Apple or Razer product.
It comes in a basic box and everything's rather stuffed in in there. It's all well protected but a thrilling experience, it isn't.
What's more, the laptop itself is fairly uninspiring too. The top and keyboard surround has a brushed aluminium finish, there are a few red highlights and there's plenty of jaunty angles on show but there's no real panache or sense of cohesion.
The bulk of the machine is plastic and although perfectly sturdy, there's none of the heft and sense of quality you get with more typical premium laptops.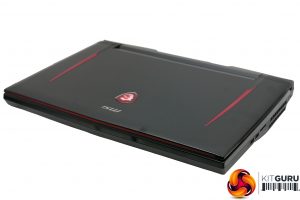 Of course, it doesn't help that this is a huge beast of a machine that is up to 58mm thick and weighs 4.5kg. Any concession to style or slimness, such as the tapered front edge pales in comparison to the sheer bulk of the rest of the machine.
None of this is unique to the GT75VR – such gaming laptops are all about compromising everything else in the name of performance – but it's worth noting just how not special this machine feels in terms of design and build, considering its price.