MSI has teamed up with SteelSeries to create the keyboard for this laptop. It uses a form of low-profile mechanical keyswitch for a clickarific typing experience, plus of course it's RGB backlit and you get a full set of keys including a numpad.
However, all is not well with the key layout. It's great to see full-size cursor keys but the numpad is a strange layout that's missing the fourth column of keys, so those used to rapidly typing in calculations on a normal numpad will find it takes a bit of getting used to.

Moreover, the layout isn't a proper UK style one with a large Enter key and small left Shift key. You still get UK labelling – so there's a pound sign, and the @ sign is in the right place – but for touch typists, the slightly different feel will again take some getting used to.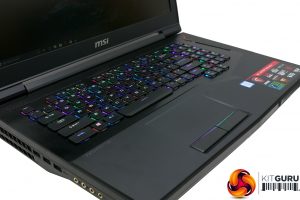 Then there's the action of the keyswitches. The keys have an impressively sharp, light yet defined action with a very pronounced click but the action is almost too short. You have to be very precise and careful in order not to make typos – it's a far cry from the somewhat forgiving, heavy-handed feel of a desktop mechanical keyboard.
All of which isn't to say it's a bad keyboard by any stretch. It just didn't feel as immediately comfortable and easy to use as expected.
Also, having the default colour scheme for the backlighting be an ever-changing array of random colours didn't strike us as the best way to sell it, but the lighting effects can be tailored to your liking using SteelSeries' Engine software.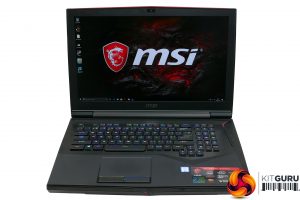 As for the screen, this will perhaps be the make or break moment for this laptop, for many people. Largely it delivers decent image quality. A maximum brightness of 276nits is a little low but the anti-glare finish means it still works reasonably well in bright environments.
What's more, a contrast ratio of 1265:1 is impressive and sure enough the image has the sort of depth and richness that a strong contrast provides. It also arrives with reasonably accurate colour reproduction. A gamma setting of 2.11 is close enough to the ideal of 2.2 and while a white point colour temperature of 7275K is technically a little high, in use there's no obvious colour cast to the image.
Meanwhile, the 120Hz refresh rate is of course fantastic for gaming. Sure, desktop monitors can hit 144Hz, or even 240Hz, but the jump up to 120Hz is still enough to get you a really snappy feeling display that's good enough for competitive eSports gaming.
The problems, then, are two-fold. The first is that a resolution of 1920 x 1080 may be ideal for competitive gaming and entirely adequate for most uses but it's not exactly cutting edge and, moreover, it hardly means the GTX 1080 graphics card is being used to its full potential.
Then there's the use of a TN panel. It means you're again getting the best possible gaming performance but for everything else – including non-eSports gaming – the better viewing angles and image stability of an IPS screen would've been welcome.
All told, if you're after a laptop purely for competitive gaming then this display fits the bill, but it's less of an all-rounder.
When it comes to audio, MSI has fitted the GT757VR with a hefty-looking speaker configuration. You get an extra sub woofer as well as the two conventional drivers, for a 2.1 configuration.
It gets reasonably loud too, though the sub isn't exactly room-rumbling. It's a nice step up from more typical laptop speakers but it's maybe not as hefty a sound as you might expect from such a large machine.