To measure idle temperatures, a reading was taken after having Windows open on the desktop for 30 minutes. A CPU reading under load was taken with Prime 95's SmallFFt test running while a GPU-load reading was taken with 3DMark Fire Strike running.
Noise levels were tested using a decibel meter held 30cm from the front and centre of the laptop.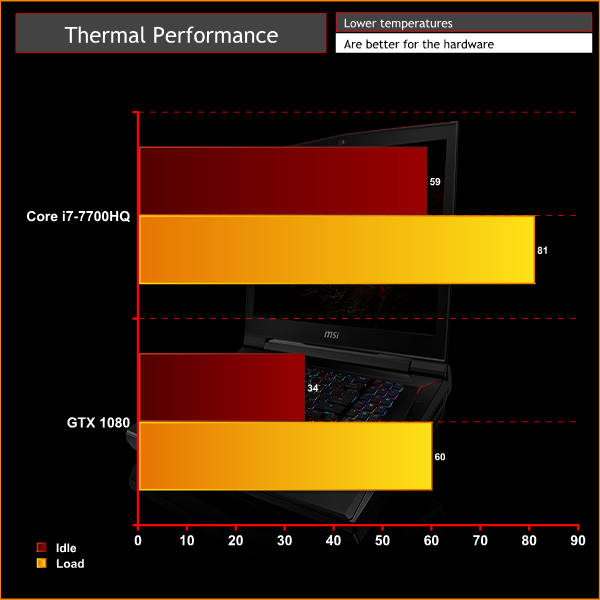 You'd certainly hope a machine as large as this can keep its innards running nice and cool, and sure enough, it hardly breaks a sweat. That said, at idle the CPU is a little hotter than expected, sitting at 59C, but the GPU is as cool as a cucumber, at just 34C.
Meanwhile, under load, the CPU again gets a little hotter than you might expect but is still well below a level that would cause concern, at 81C. As for the GPU, it hit a mere 60C.
All told, they're good results that mean you should be able to game comfortably for hours on end.
However, when it comes to acoustics, this laptop is less accomplished. The 48dB fan noise under load is certainly quite loud and noticeable, but is largely forgivable given the amount of work that's being done.
Instead it's the idle noise that's a concern. Not only does the fan never seem to shut off completely but while in its lower speeds it emits an electric buzzing, humming noise. By no means is it particularly loud – just a couple of dB above ambient – but if you're just working or watching video without headphones on, it's a bit distracting.
It's not a deal-breaker but it's a small thing we'd like to see improved upon.