So a design icon it isn't, but boy does this machine have a lot else going for it. The core specs are mouth-watering.
An Intel Core i7-7700HQ leads the way. This quad-core, hyper-threaded chip runs at between 2.8GHz and 3.8GHz. That's quite a bit slower than the desktop 7700K but it's still plenty powerful enough for any gaming needs.

Taking care of graphics duties is an Nvidia GeForce GTX 1080 8GB. With Nvidia's latest mobile graphics chips being the same as their desktop counterparts, you get true GTX 1080 performance too.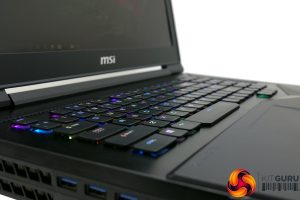 For RAM, you get 32GB of 2400MHz DDR4 in a two-stick configuration. Meanwhile storage is taken care of by two 256GB Samsung SM961 SSDs. These are TLC NVMe M.2 drives with rated read and write speeds of 3100MB/s and 1400MB/s. However, MSI has bumped things up another notch by running them in RAID 0.
This makes for potentially even greater performance but also runs the risk of complete data loss if there's a problem with the drive. Data can be recovered from corrupted RAID arrays but not easily so with a system like this you'll want to be sure you have a water-tight backup regime.
Making all these tasty treats even more delectable is that it's easy to do some upgrades yourself. As ever with laptops, the CPU and GPU are basically off limits but the hard drive and SSDs are all easily accessed thanks to the entire bottom section of the laptop being removable. There are also two more memory slots and you can access the wireless module, speakers and comprehensive cooling system.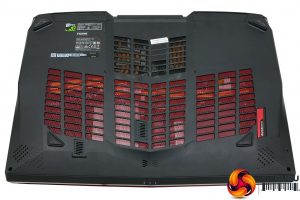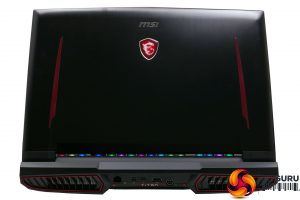 It's interesting to note, though, that the use of space isn't the most efficient we've seen. It certainly seems like MSI could've slimmed things down a little bit with some slightly more inventive cooling placements and the like. But, given the laptop would still have been gargantuan, we can see why it didn't bother.
Moving on to connectivity and it's as ample as you'd expect for a machine this size. Round the back is the power input – a hefty four pronged thing that leads to an enormous power brick – an HDMI socket, a Thunderbolt port, a mini DisplayPort and a gigabit Ethernet socket.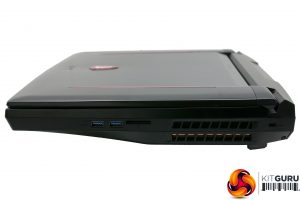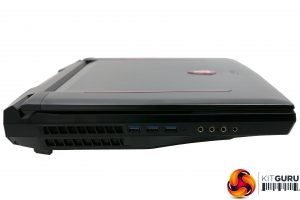 On the left are three full-size USB 3.0 ports as well as four jack sockets for surround sound audio output. Finishing things off is the right side that has another couple of USB 3.0 ports, an SD card reader and a Kensington lock slot. Both sides and the back also have huge openings for all the cooling ventilation.