The tests were performed in a controlled air conditioned room with temperatures maintained at a constant 23c – a comfortable environment for the majority of people reading this.Idle temperatures were measured after sitting at the desktop for 30 minutes. Load measurements were acquired by playing Tomb Raider for 30 minutes and measuring the peak temperature. All fan settings were left on automatic.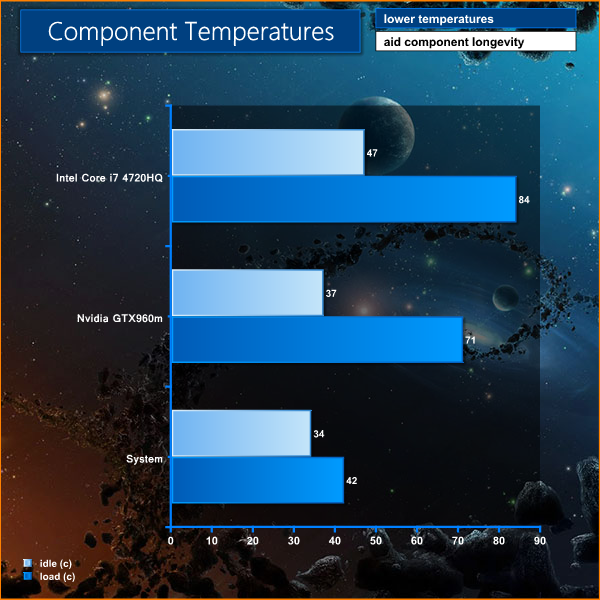 The MSI GE62 2QD doesn't suffer from thermal throttling and generally it runs reasonably cool. The processor peaks at around 84c, although this was after a 100% load test for some time – not a situation you would find yourself in often, unless you are performing intensive 3D rendering duties on the move.
To test the real world impact of heat I looped 3DMark and measured temperatures on the keyboard of the laptop with our Fluke Visual IR Thermometer/Infrared Thermal Camera. This is a real world running environment.
Details on each test are shown below. (To compare, head to THIS page to see thermal testing of the Razer Blade 14 (2015).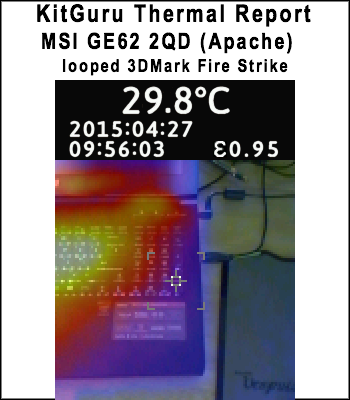 The hot spots are in the central areas of the keyboard, the outer areas hold steady between 28c and 31c.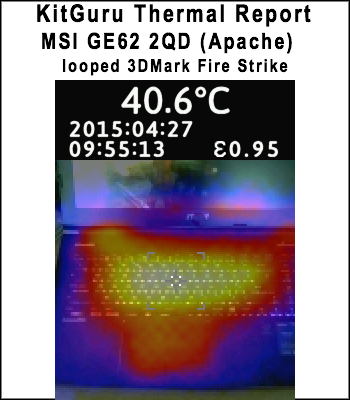 Peak temperatures in the central keyboard area peak around 41c. There are two exhaust vents at the rear of the laptop which expel hot air out and backwards. The thermal image above shows a little escaped heat along the bottom of the screen area.