It has been a very active year for MSI so far – they have been releasing a steady stream of award winning laptops, including the mighty GT80 Titan which despite the hefty price tag is still sold out in many countries. UK punters will be pleased to hear that GT80 stocks have recently reached Overclockers UK and Scan.
The MSI GE62 2QD (Apache) targets a more modest audience. The gamer who demands portability, but enough grunt to tackle the latest game engines at 1080p. The combination of Core i7 4720HQ and GTX960M has proven successful in our testing over recent weeks, and many of the latest game engines run perfectly fine at 1920×1080. Even Grand Theft Auto V is playable, as long as you keep the engine at more realistic image quality settings.
The GE62 2QD is a fine looking laptop – we like the beveled lid design accented with red racing strip. It is light enough (2.4kg) to carry with you all the time, and it is small enough to use effectively on a train or plane.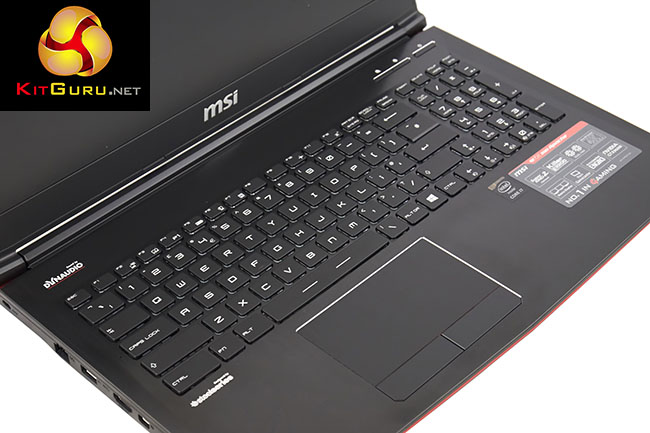 The Steelseries keyboard is a stand out point for me. It is one of the better designs we have tested in recent years with reasonably deep key travel. The keyboard will suit not only gamers, but fast touch typists who thrive on feedback through their fingers. I was able to hold a constant 120wpm typing rate using this keyboard. MSI have also managed to cram in a numpad on the right, which earns them a little bonus point.

Another stand out point is the 15.6 inch IPS screen. The light matt finish and super wide viewing angles mean it is a pleasure to use in a variety of situations. Colour rendition is first class, photographs are beautifully saturated and text is clean and crisp.
The touchpad is decent, although not at the same level as the keyboard. Ideally we wouldn't want to use any touchpad more than a few minutes at a time, but in a pinch, this one is perfectly serviceable.
Onboard audio is a little disappointing, especially with DynAudio speakers incorporated into the laptop, but i am constantly disappointed with the speakers fitted into a laptop anyway – realistically there is only so much they can do. Headphones or external speakers are recommended for the full media and gaming experience.
Battery life is surprisingly good, and we managed to squeeze 5 and a half hours out of the system under lighter loads, before the system shut down. With a little care and attention to the screen brightness settings 5+ hours is easy enough.
The MSI GE62 2QD doesn't disappoint when dealing with more intensive tasks such as 3D rendering and video editing … well with a minor caveat. The use of a single 8GB memory stick means that people can easily upgrade the system without having to bin the installed memory, but it does negatively impact performance in key areas, as a single channel configuration is somewhat bandwidth restricted. I think MSI should have kitted this laptop out with either 2x4GB sticks, or offered 16GB of memory (2x8GB) with a very minor price increase.
Some of our readers have been quick to dismiss the GTX960M as a worthless solution, but I couldn't disagree more. Certainly,  the GTX970M is beefier, but if you want to lower the cost by a couple of hundred pounds and reduce heat, and subsequent fan noise – then the GTX960M is perfectly capable – especially at 1080p. I have been testing many laptops recently featuring this modest Nvidia solution and it has constantly impressed me. It actually performs at a similar level to the desktop Maxwell GTX750ti.


You can buy this configuration of MSI GE62 2QD direct from Overclockers UK for £1,149,95 inc vat.
Discuss on our Facebook page HERE.
Pros:
GTX960M is very capable at 1080p.
runs cool under load.
Responsive at all times, thanks to Intel i7 processor and fast SSD.
reasonable fan emissions.
fantastic backlit keyboard.
lovely IPS screen.
solid battery life.
Cons:
single channel memory.
frontmost USB 3.0 port failed to power our custom external Samsung SSD.
KitGuru says: An excellent gaming laptop, which, thanks to the inclusion of a first rate Steelseries keyboard and IPS screen also doubles up a powerful work machine on the move.