The fact that the Razer Blade Pro is not officially sold or supported in the United Kingdom hasn't stopped enthusiast users importing it. As we discussed earlier in the review, Amazon are now working with a select group of partners, offering various configurations for sale HERE.
These dealers are also offering 1 year technical support and warranty terms, via local UK repair stations. Of course without official support there is an extra risk involved, but hardcore UK Razer gamers wanting these distinctive and attractive laptops may be likely to take the chance.
The Razer Blade Pro presents a confusing proposition. The smaller 14 inch Blade is more powerful, shipping with an Nvidia GTX970M – while the larger 'Pro' version has to make do with the weaker GTX960M. Razer could argue the smaller model gets the better GPU to help power games via the 3K screen, however as we have already reported the 14 inch Blade runs very hot, and sounds like a helicopter on takeoff under heavy load. A 1080p screen and GTX960M would have made more sense for that diminutive chassis and it would certainly have helped mitigate thermal throttling issues.

Within a 17 inch chassis, a GTX970M or GTX980M would surely have been possible. Yes, the Blade Pro is a sleek, sexy, slimline laptop, but if Razer are willing to wedge a GTX970M into a much smaller 14 inch Blade, why not at least use the same graphics solution in the bigger chassis? The GTX980M might also have been an option, albeit with a slightly larger power brick.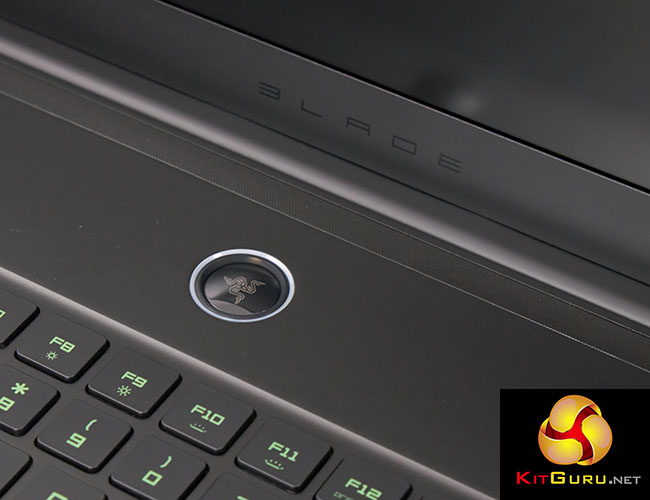 While we could argue the point for a more powerful graphics card inside the Blade Pro, the upside is that the 2015 model runs relatively quiet and cool under load. Fans at either side will spin reasonably fast, but the pitch is dull and noise emissions are never a problem. The cooling system in the Blade Pro has less to do, and with greater physical space inside, the air expelled is generally quite cool.
The addition of M.2 boot SSD means that the 2.5 inch bay slot can be used for a large mechanical drive. Dual drive options are standard, up to 1TB – as in our review sample today. No doubt that a percentage of the potential audience may want to remove this mechanical drive completely and refit with a high capacity solid state drive. We used the mechanical drive for large STEAM game installs and it performed at a respectable level.
The Switchblade UI is a rather inspired design, and while MSI may have used a similar system for their GT80 Titan laptop, there is no doubt that the Razer implemention is infinity more sophisticated and capable.
The all important question needs answered. Why would I want the Razer Blade Pro model, over the more powerful, compact 14 inch version?
Heat and noise are two of the primary reasons I found myself gravitating towards the 17 inch model. The larger laptop runs much cooler and typing on it is not uncomfortable due to built up, radiated heat. Noise levels are dramatically lower, especially when gaming.
There is also the topic of the 'real world user experience' with a 14 inch 3K and 4K panel. Windows 8.1 scaling is much better than Windows 7, but there are still issues. Some applications just don't scale at all. Electronic Arts Origin on the Razer 14 inch screen is so small it makes it almost unusable.
A 3K panel on a 14 inch laptop is certainly a talking point, but the refresh rate of the IGZO screen is much slower than the TN panel in the Blade Pro. I am not someone who is prone to noticing ghosting , but many gamers demand a 1ms refresh for the best experience.
As a pure gaming machine the Blade Pro is not as powerful, but the GTX960 is actually very capable at 1080p. It delivers a similar level of performance as a desktop GTX750Ti. Most titles run well at 1080p with the image quality settings set high but in another year this may not be the case.
Discuss on our Facebook page, over HERE.
Pros:
Not as hot running as Blade 14 (2015).
black anodized aluminum looks fantastic.
USB 3.0 performance.
good keyboard.
thin.
802.11AC Wifi performance is excellent.
Switchblade UI is excellent.
fast panel refresh.
Cons:
Expensive.
GTX970M would have been nice.
Switchblade UI can task the CPU.
no official UK support by Razer.
Not an IPS panel.
All the USB 3.0 ports are on the left side.
Kitguru says: The Razer Blade Pro is a stunning looking laptop and thinner than competitor products. It runs cooler than the 14 inch version, but Razer should have included a GTX970M, as the GTX960M while capable at 1080p today, isn't very future proofed.