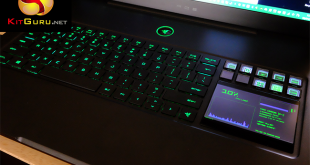 Even knowing there are heat and throttling issues, it is difficult not to be impressed with the diminutive Razer Blade 14 inch laptop. Consider it the more powerful, evil twin to the 13 inch MacBook Pro, equipped with serious gaming capabilities. Today we take a look at the 'big brother', the Blade Pro version – with 17 inch screen. This larger model features a rather sophisticated backlit touch screen interface, which can be controlled by dedicated software. As we would expect, it costs a significant amount of money, but can it justify the cost?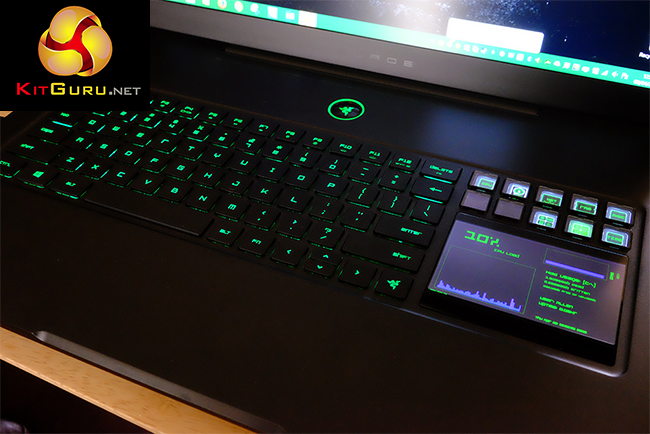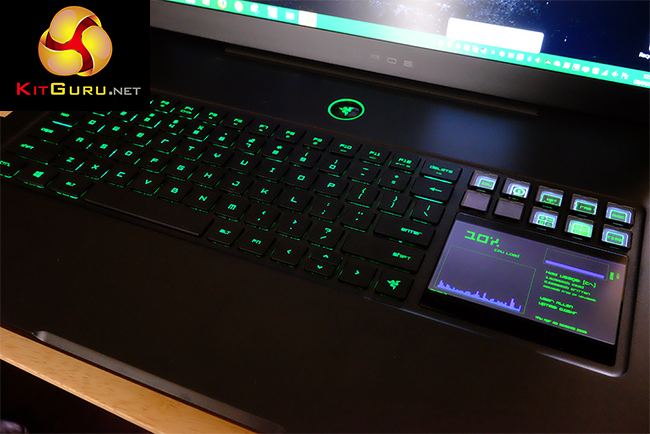 The 17 inch Razer Blade Pro poses a conundrum. The (2015) 14 inch model ships with the excellent Nvidia GTX970M discrete graphics card, but the physically larger version on test today is equipped with the somewhat castrated GTX960M. We had hoped for a GTX980M, or even the excellent GTX970M, but sadly Razer decided against it.
The GTX960M is basically the same GM107 chip used in the Nvidia 850M/860M – which were announced more than a year ago. GTX960M performance would therefore be expected to fall in line with the older chip, although there is a 6.5% increase in core clock speeds. This should translate to a minor increase in frame rate.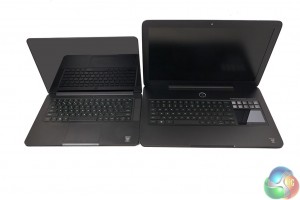 Above, the 2015 versions of the Razer Blade 14 inch (left) and Razer Blade Pro 17 inch (right).
Read our review of the 14 inch model HERE.
The two Razer Blade machines are dramatically different. The Pro we test today is equipped with a 17.3 inch screen – featuring a 1920×1080 resolution (1080p). Right now we are not aware of any 3K or 4K 17.3 inch panels on the market. While this may be seen as a downside, the GTX960M would be completely incapable of powering games at such resolutions anyway. There is some logic in the pairing.
The main talking point of the Razer Blade Pro is the integrated touch screen. This doubles up as a 'control point' and trackpad on the laptop, fully controllable via software applications. Razer call it the Switchblade UI and we look at it in more detail later in the review.
The 2015 version of the Blade Pro has three flavours on offer. The lowest cost model incorporates a 128GB SSD with 500GB HDD. The mid range model has a 256GB SSD with 500GB HDD, and the highest cost model has a 512GB SSD with 1TB HDD. Windows 8.1 is supplied installed on the Solid State Drive.
None of these models are officially supported by Razer in the United Kingdom. You can however buy them via several verified Amazon dealers in the United Kingdom (they are imported). The 512GB/1TB model we test today can be bought from Amazon partner High-end Laptops for £2,789.00 inc vat. It is a lot of cash, but this model is specifically targeting a niche audience who want something very different.
Our sample shipped directly from America for our review today.