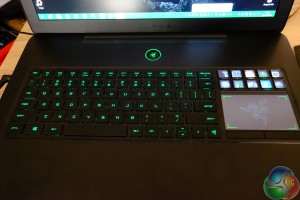 Out of the photographic studio and into a living room – The Razer Blade Pro in action. In 'default' mode, the touchpad operates as a traditional trackpad. It works perfectly fine but falls short of the best trackpads on the market. Most people will be turning it off and using a gaming mouse anyway.
Specific applications allow videos to be watched on the small touch screen although the 480p screen is somewhat grainy.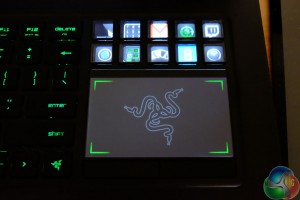 Above, the touchpad in trackpad mode – indicated by the Razer logo. If you look at the image above, there is a little RAZER logo key bottom right of the keyboard. Pressing this will effectively quit any open application and return to the home screen. A three finger swipe on the touch screen will cycle to another row of 10 icons.
In this mode, the two buttons under the touch screen act as a traditional 'left' and 'right' mouse press. When you trace your finger on the touchpad, a little green afterglow will be seen –  this looks cool, although you can turn if off completely if you wish.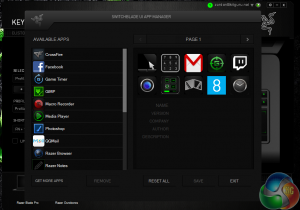 The ten keys above the touchscreen can be programmed to load specific (Razer approved) apps, available via their proprietary software. Some of them are genuinely useful and support games, and some even software such as Adobe Photoshop.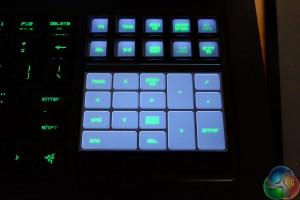 This visual pad shown above, is actually running via an application – extending the keyboard to the right. It just works like a normal keypad too.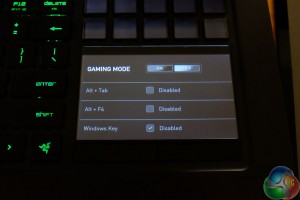 Gaming Mode, shown above gives the user options to disable and enable specific keys which can sometimes get in the way.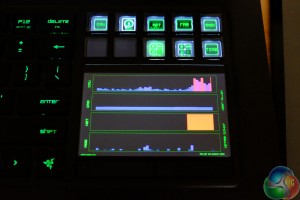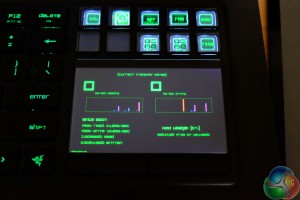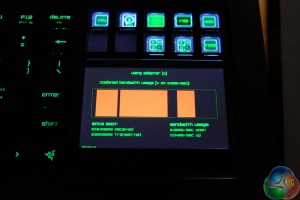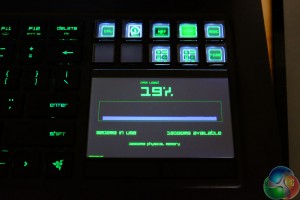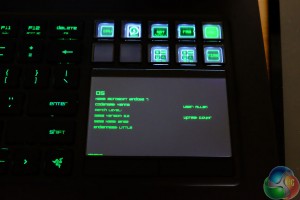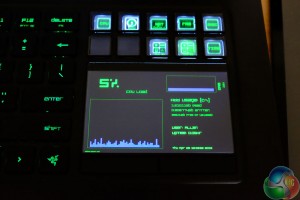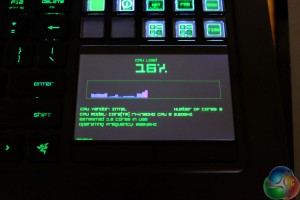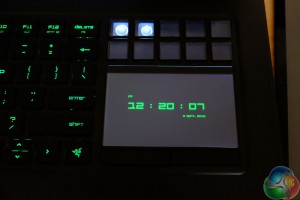 Other real time displays are available – showing CPU, RAM, HDD and network activity (or a mixture). The screen update is almost real time and it looks great.

We did notice that having specific apps running while benchmarking would drop the CPU scores a little. Some apps can demand 2%-5% CPU time. The simple clock read out is actually one of my favourites and it had no impact on performance.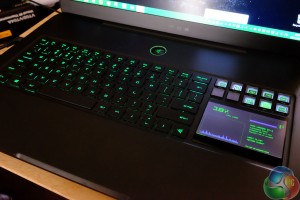 I tried this laptop one day in our local Starbucks (in Ireland) around lunch time, and I have to say it did draw a lot of attention when it was turned on. I try to keep a low profile so after at least 5 separate conversations with strangers about the laptop, I decided to turn it off and put it back in my bag before escaping to a more peaceful environment as I wrote up this review.
The Blade Pro is extremely easy to carry around, due to the slim profile and relatively low weight – so it is somewhat ironic that I didn't want to bring it with me at all. Fielding questions from the public is not how I want to spend my time.
If Apple made this and it was available in the United Kingdom at all their stores, no one would bat an eyelid. As it stands, even though this Razer design has been on the market for many years, it still proves somewhat of a curiosity for the average punter. The difficulty in actually buying one in the United Kingdom just raises the exclusivity factor.