This has been a long and fiddly test to complete, and the focus on performance means that you may want to temper our assessment if there is a feature you need from one of this article's contenders that isn't quite as quick as the others. For example, if you use Google's home automation products, the Google WiFi option might be preferable as it's designed to work with these and has support in its configuration app.
But in pure performance terms, there are some clear winners from our tests. So here are our conclusions on each of the systems we have assessed.
It's very clear that if you want high performance and maximum range at the same time, the NETGEAR Orbi is the clear winner. It blows away the competition, including Google WiFi, at most ranges with most protocols. The RBK50 is usually the fastest in 802.11ac, as you might expect, although the RBK40 seems to have the lead with 802.11n. Considering the £80 price difference, the RBK40 is the best balance of performance and value. The RBK30 is almost as good, but the £20 saving means it's only worth considering if you really need the convenience of the all-in-one satellite to suit your house configuration, because it is generally behind RBK40 and RBK50 in performance. Overall, the NETGEAR Orbi provides the widest coverage and most consistent performance of any mesh WiFi option on the market.
The BT Smart Hub is a real revelation, at least in performance terms. BT claims wide coverage for this router, and our tests confirm that it fulfils this marketing expectation, keeping up with mesh options surprisingly well in terms of range, if not in performance at that range. In the past, BT was offering the Smart Hub to its customers for £50, and you can still buy it for £60-70 from some vendors, making it an absolute bargain. However, it can only be used with BT broadband, and if you read the reviews on Amazon, there is a significant problem with reliability. When it works, it's great, but be sure you can replace it on warranty if it breaks.
The BT Whole Home Wi-Fi also has plenty to commend it. It's not very fast at any distance, but is the only mesh that can keep up with NETGEAR's Orbi in terms of range. It's also great value at under £200. However, this is not a system that could replace your existing router, more of a complementary add-on – perhaps connected to a Smart Hub. The necessity of an Internet connection for it to work at all is a massive annoyance, and the single Ethernet port on each unit will make it less useful as a bridge. The lack of router software features also cements its add-on status. If you've got a decent existing router, it could be worth considering if you just want WiFi down the garden.
The Google WiFi options are a bit of a contrast, despite just being one or two of the same piece of hardware. We would really avoid the one-pack, as it really isn't that poweful as standalone routers go, and lacks features, with just one Ethernet port other than the one intended for broadband. The two-unit bundle has a lot more going for it, as the mesh works well at extending range. Like the BT Whole Home Wi-Fi, it's not very fast overall, although it can reach almost as decent a distance. But it's also a bit more expensive than the Whole Home Wi-Fi, so if you do want just an add-on, the BT option is better value. The only other thing that might sway your choice is the support for Google peripherals in the app we mentioned before.
In this company, the Linksys Velop fares a little better than it did when we looked at it on its own, with just the previous NETGEAR Orbi review as comparison. The single unit, like a single Google WiFi, is a relatively puny router without enough features to be worth considering on its own. On the other hand, as we concluded before, if your range needs are middling, the two-unit option is not a bad one, and if you need wide area coverage, the three-unit version does very well. However, in a straight choice we'd still opt for the NETGEAR Orbi RBK50 or RBK40. The two-pack Velop is quite good value, but the Orbi alternatives give you much faster performance, and in the case of the RBK40 for only £20 more.
Discuss on our Facebook page, over HERE.
Kitguru Says: The NETGEAR Orbi remains the king of mesh WiFi, although there are some other decent options out there that are worth considering depending on your needs.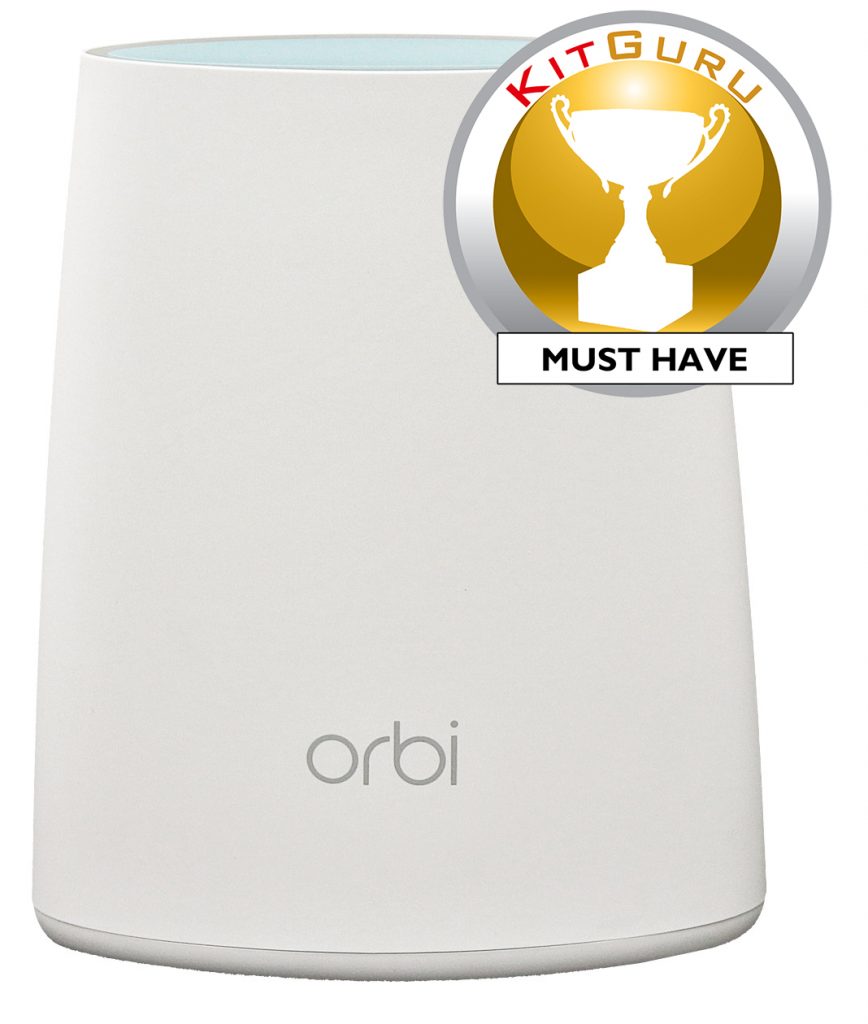 Save
Save
Save
Save
Save
Save
Save
Save
Save
Save
Save
Save
Save
Save
Save
Save
Save
Save