Setup Comparison
Going through every single software detail for each of the router systems on test in this article would not make for particularly interesting reading, and our focus is on performance. So we're just going to concentrate on the initial setup, with just a cursory mention of whether the system has comprehensive router functions or is more of an add-on to an existing router.
NETGEAR Orbi
In the case of all three options, the NETGEAR Orbi router and satellite come pre-paired, so you don't need to set this up yourself, although the configuration wizard will take you through a process of ensuring they are talking to each other. It will only be necessary to follow a more involved process if you add another satellite in the future. You can almost plug the starter kit in and get started straight away.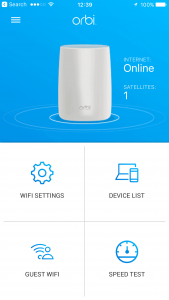 There are Basic and Advanced options in the Web-based management interface, and a comprehensive set of controls over the various routing and firewall features. There's a smartphone app, too, although this doesn't have all the options of the Web interface. All three Orbi packages could entirely replace your existing router, and with four Ethernet ports on the main unit, it can act as the hub of a small wired network too.
BT Smart Hub
 
You don't really need to do anything to the Smart Hub to set it up – just plug it into your broadband and wired devices. A wizard will confirm Internet connectivity, but then you're ready to go. It will also work just fine without Internet connectivity.
There's a much more attractive menu presented by the admin interface than some previous BT Home Hubs, and as this is a fully fledged router, there are advanced options for firewall, access control, and so on. The Smart Hub could replace your existing router because that's what it's meant to do.
BT Whole Home Wi-Fi
The BT Whole Home Wi-Fi uses a smartphone app to set up the mesh. Annoyingly, it seems as if the first unit MUST be connected to working broadband for the configuration process to work at all. However, once you have set up the initial unit, the app will then let you test locations for WiFi signal so that you can place each one optimally, which is a useful feature. Our test configuration was considered "good" if not the best possible.
As you can see from the diagrams above, the system will check for updates and update all attached units. It also creates a daisy-chain of units, so each new one connects to the unit with the best signal in the mesh. In theory, you could keep adding units to create a really huge coverage area. However, what you don't get is much in the way of router management options. The BT Whole Home Wi-Fi is meant to add onto your existing BT Home Hub or Smart Hub, which will be providing things like access control and firewall protection.
Google WiFi
Unlike the BT Whole Home Wi-Fi, the Google WiFi system does present a Web page if you point a browser at its IP address – but all this does is insist you get the smartphone app. The app follows a similar system to BT's asking you to add the primary unit, then attach the secondary unit to the mesh. You also must have a working Internet connection to do this.
Once the system is set up, the software will be updated, which takes 5-10 minutes. There are more features to the admin interface than BT Whole Home Wi-Fi, however, so you could use Google WiFi as your only router, although you can also plug the primary unit's broadband Ethernet port to an existing router and just use the Google mesh as an add-on.
A key feature that might tempt you to the Google solution over others is the Home control option. This allows you to detect and integrate things like Google Home light control, Nest, Chromecast and a huge range of third-party products into one control interface, although you can of course control these using other means with other WiFi options.
Linksys Velop
The Velop is yet another mesh designed exclusively to be set up via smartphone. The wizard process is exhaustive and takes you through every step of the process in great detail, so that even very non-technical people could successfully configure the system. You set up the first node, then add the second (and third) node so that each is part of the same network. All nodes are physically identical, unlike with NETGEAR's Orbi, so it doesn't matter which one is used to connect to your broadband.
Despite the Velop using a smartphone app, if you delve into the menu (accessible via the three-line "burger" icon in the top-left-hand corner), more advanced settings are available, including administrating your Velop nodes, and detailed WiFi control such as port forwarding and Wi-Fi MAC address filtering. The features aren't as extensive as the best standalone routers, or the NETGEAR Orbi, but the app design is attractive and straightforward. You could replace your router with the Velop, apart from the limited number of Ethernet ports.