In sum, the AOC AG251FZ2E is a bit of a mixed bag. Or rather, it does one thing very, very well, with a few other areas that are less successful.
What I mean by this, is the AG251FZ2E is a terrific gaming display in terms of its speed and motion handling. A large part of this is thanks to the 240Hz TN panel, and coming from a 144Hz display, I definitely felt the difference in responsiveness. Some gamers may not be able to tell the difference, but for me at least, the jump to 240Hz was a welcome one.
AOC has ensured there is essentially no visible ghosting too, as its overdrive settings work incredibly well. Coming from a VA panel, the difference is again very noticeable – even with overdrive turned off, the AG251FZ2E handled motion better than my personal VA monitor with its overdrive cranked to the max. If all you care about is having a fast, responsive gaming monitor, the AG251FZ2E will serve you very well.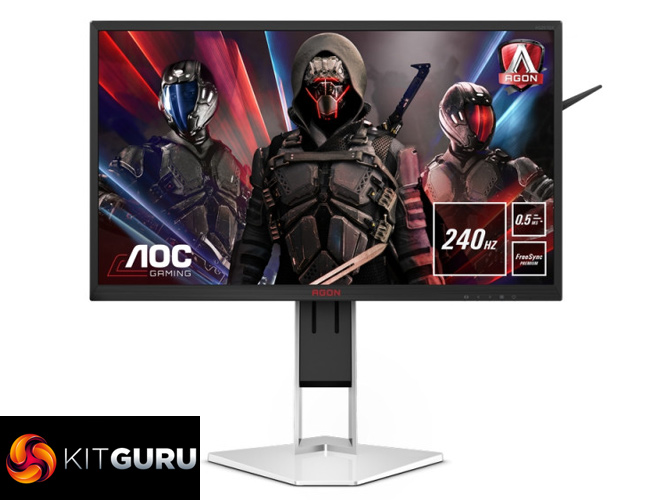 Unfortunately, there are a number of drawbacks elsewhere. For one, I think the overall design is perhaps a little uninspired, to me it looks more like a screen from 2015 than something I'd expect to see in 2020. Additionally, the TN panel has a number of weaknesses, including particularly poor luminance uniformity, mediocre out of the box colour accuracy, and some strange gamma settings too.
For £309, there are a number of impressive monitors around this price-point which offer stiff competition. We've already mentioned the ASUS TUF VG25/VG279QM, which offer 280Hz refresh rates and IPS panels, while there are several 1440p panels – albeit 'only' 165Hz – available, including the MSI Optix MAG272CQR. AOC's own IPS 24G2U is tempting at £200 if you don't mind dropping down to 144Hz.
Ultimately, if you are considering a 240Hz 1080p display, there is a good chance you only care about speed, in which case the AG251FZ2E will still appeal. For many other gamers, however, we feel there are other screens to consider around this price point which can deliver a more well-rounded experience.

You can pre-order the AOC AG251FZ2E from Overclockers UK for £308.99 HERE.
Discuss on our Facebook page HERE.
Pros
Very fast 240Hz refresh rate.
Superb motion handling.
Hits almost 450 nits peak brightness.
Compact stand base.
Range of ergonomic adjustments.
Cons
Poor luminance uniformity.
Strange gamma settings.
Colour accuracy is mediocre.
Design feels outdated.
Contrast is typical of a TN panel – it isn't very high.
KitGuru says: The AG251FZ2E is a very fast gaming monitor, but it is let down in one too many areas to earn a stronger recommendation.