The PG27UQ arrives with just its base to attach, which is done via a single captive thumbscrew, and a basic selection of accessories in the box. You get a DisplayPort cable, HDMI cable, USB cable, the power brick, a little bag with extra filters for the downward facing light and a cover for the rear ports.
Attaching the base is a simple process and once done you're faced with a striking looking display. Asus's recent flagship gaming monitors have all featured fairly bold, and at times divisive, designs that include extra flashing lights, off-piste colour choices and lots of jaunty angles, and that's the case again here. In fact, when it comes to the lights, Asus has really kicked things up a notch.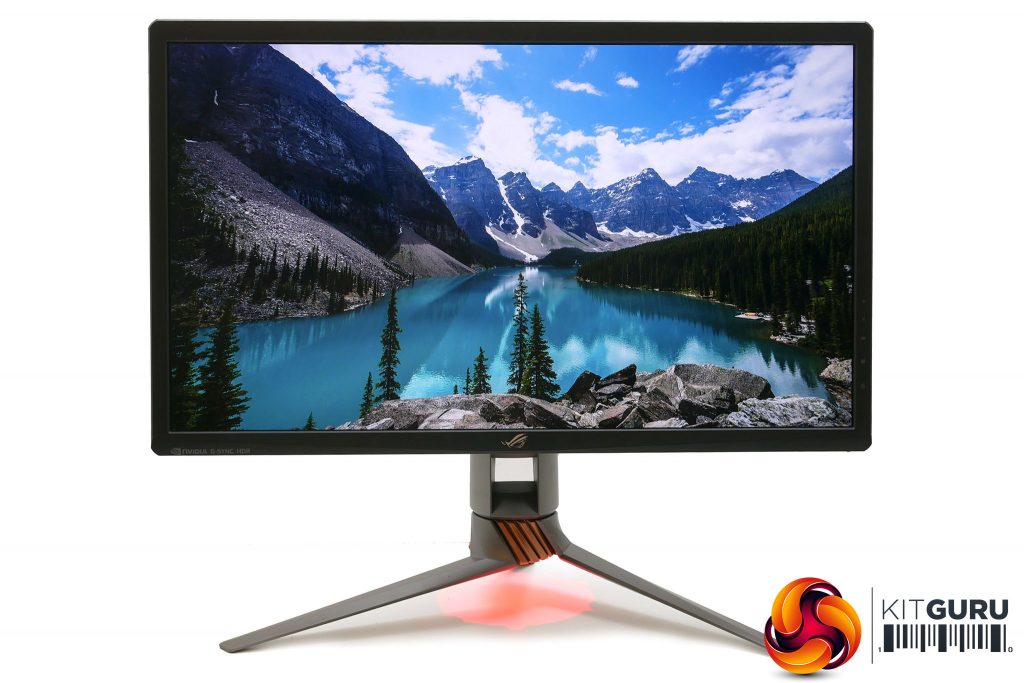 You get no less than four light-up sections on this display. One of these will be familiar to those that have seen other recent high-end Asus monitors, which is the downlight. This bright red light projects from the base of the stand onto your desk. You can then draw on the included clear plastic covers so that you project a pattern instead.
This has been joined by two lights on the top of the stand. One is just a backlit ROG logo and the other projects an ROG logo. You can adjust the angle so that it projects on a wall behind or ceiling above.
Finally there's the RGB backlit ROG logo on the back of the display. This features several RGB elements so that it can show multiple different patterns and colour combinations.
Design considerations aside, in all likelihood the two projected lights will be too much of a distraction to have on all the time but the two backlit logos are understated enough.
As for the overall design, it's certainly not subtle but neither is it too garish. From the front it looks positively classy with no overly bright paints or plastics used anywhere. The display itself is mostly matt black plastic while the stand has a grey/silver finish with just one subtle copper highlighted section.
Place this display next to the likes of the PG278Q, though, and you do notice just how chunky this display is. Not only is the whole display much thicker but you also miss out on a low-profile or hidden bezel, giving a slightly more old-school vibe to the whole thing.
There's good reason for this, though, as the display simply requires more depth to fit all its backlit trickery in. With 384 separate lighting zones it can't simply rely on thin reflective films to distribute the backlight, like with normal LCD monitors. Likewise, the edges of the display no doubt require a more robust frame to ensure lighting is properly controlled.
In terms of extra features, you get very little here. There are a couple of USB 3.0 ports and a headphone jack round the back but otherwise that's your lot – no headphone stand, audio pass-through or speakers here.
Meanwhile, for video connectivity, this display's use of G-Sync means you're limited to just one DisplayPort 1.4 and one HDMI 2.0. That's enough to get going but means this display won't be ideal as a hub for all your media and gaming devices.
That inclusion of DisplayPort 1.4 is all important, though, as it's only with the latest version of DisplayPort that you can achieve the throughput required for 4K at 144Hz.
As for the stand, it offers a full range of adjustments. It can move 120mm up and down, 35° left and right, tilt forward 5° and back 20° and the display can be pivoted 90° into a portrait orientation, which makes plugging in all your cables much easier.
The controls for the OSD are placed down the right side of the back of the display. You get a mini-joystick for navigating the main menu plus four extra buttons for power, exiting the menu and bringing up a couple of extra gaming menus.
The controls are actually a little bit wobbly and indistinct compared to some previous Asus models we've reviewed, which is a little disappointing. They're still perfectly usable but don't have that satisfying well-engineered feel.
Thankfully the menus themselves are far more satisfying, as you'll find out on the next page.