We'll be exploring the extra features of this display over on the next page, where we'll look at the use of 4K on a 27-inch screen, what 4K at 144Hz feels like and of course we'll dive into this display's HDR capabilities. For this page, though, we'll be concentrating on its core image quality in terms of viewing angles, uniformity and colour reproduction.
Even within the confines of just exploring these factors, there are still three key modes in which to judge the display. The first is with it set to its most standard monitor-like settings, with its variable backlight turned off and its colour gamut fixed to sRGB, rather than wide gamut.
Next we'll assess the display again in its sRGB colour mode but with the variable backlight turned on. This will give us a sense of how much the contrast of the display improves and whether it provides as consistent a colour performance in this mode.

Finally, we'll turn on the extended colour gamut and test whether it lives up to the display's claimed 97% DCI-P3 colour coverage, which is crucial for it truly hitting the mark for HDR content.
As per usual, we've tested the display with a DataColor Spyder Elite colorimeter and its accompanying software along with an Xrite iDisplay Pro and DisplayCal software. We find the former is better for providing easier to understand results but it tends to under report contrast so we use the iDisplay Pro and DisplayCal to correctly measure this.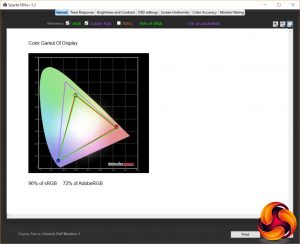 In its "basic monitor" state, the PG27UQ puts in as impressive a performance as you'd hope considering its astronomical price.
The first test that the colorimeter performs checks for how much of the various standard colour spaces the monitor can cover and the PG27UQ falls a touch short of 100% of the sRGB colour space and hits 77% of the AdobeRGB space. We'd expect this display to hit 100% sRGB in this test but 96% is definitely close enough to not be a concern.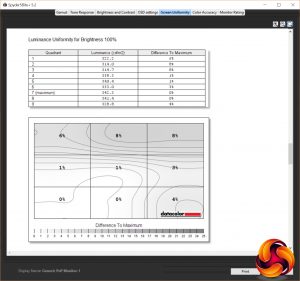 Brightness uniformity is up next and the PG27UQ put in a decent performance. At 100% brightness it showed just a 3.4% average variation in brightness across the area of the screen – not bad considering you've got 384 separate LEDs lighting it up.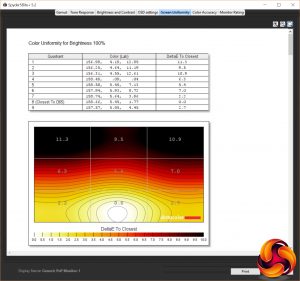 Meanwhile, colour uniformity is less impressive. An average of 6.1% at 100% brightness is a touch above the best standard IPS displays. It's still low enough that you're unlikely to ever notice but technically it's there.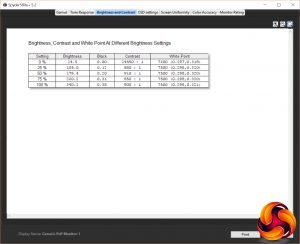 In terms of the overall brightness range, this monitor maxes out at 340nits in non-HDR mode (it will peak at 1000nits in HDR). Meanwhile its black level registered at 0.38nits, giving a contrast figure of 900:1. Using our iDisplay Pro we checked contrast again and it registered at 1076:1 with a black level of 0.3392nits.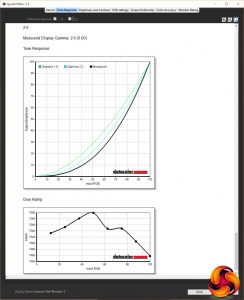 As for its gamma performance, you get five settings on this display: 1.8, 2.0, 2.2, 2.4 and 2.6. Measuring these with the Spyder Elite, every single one was spot on.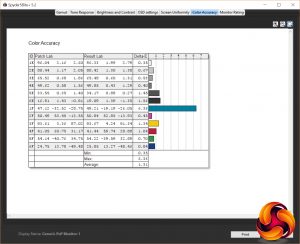 Colour accuracy is also top notch for a panel of this type, with an average Delta E of just 1.31, and a maximum of 6.36. Anything below three is considered all but imperceptible.
All told, this display would rank highly among standard IPS displays regardless of all of its other extra modes. For just knuckling down and getting on with some work – especially anything that will involve image or video editing – you can be safe in the knowledge you can turn all the tricks off and get excellent image quality and accuracy.
For those moments where you do want things to look a bit more dynamic, though, you can turn on the variable backlight. In our tests this boosted the contrast of the display to 6424:1, with a black level of just 0.1087 at 100% brightness.
This also didn't significantly affect colour performance, with the Spyder's tests showing gamma and colour temperature remaining accurate.
Finally, cranking up the colour gamut, the PG27UQ again impresses. The gamut test shows Adobe RGB coverage (the Spyder software doesn't test for DCI-P3) has increased from 77% to 96%. We also tested coverage with the iDisplay Pro and sure enough it hit 91.6% DCI-P3 – a little shy of the claimed 97% but still a marked improvement over the 70% coverage in sRGB mode.
And again, other aspects of the display's performance weren't negatively affected.
So, whether you're using this display as a conventional sRGB monitor, bumping up its contrast for watching movies or going full high-gamut HDR, this display delivers the goods. Contrast is high, colours are accurate and its gamma response is just as it should be.
As for viewing angles, this being an IPS display it retains very good colour reproduction from almost all angles. The only thing to look out for is IPS glow. This is where some of the white backlight bleeds through the image when viewed from off axis. It can tend to make an image look a bit washed out and can create a distracting grey glow effect from the corners of the screen, though this is generally only noticeable when viewing dark images, such as video with black bars above and below the main frame.
IPS Glow without dynamic backlight and with
Here, the IPS glow is similar to most IPS displays when using the static backlight mode but turning on variable backlight greatly reduces the perceived impact of IPS glow. This is because the darker backlights behind darker areas of the image means there's less light to leak through.