The Asus ROG Swift PG27UQ is undoubtedly the single finest 27-inch gaming monitor you can buy right now (upcoming direct competitors such as the Acer X27 notwithstanding). Whether you're after gaming performance, top image quality for desktop work, the utmost in 4K detail or the dazzling display of HDR, it delivers on every front.
In many ways, it's the sheer versatility that's on offer here that's so compelling. You can reliably edit images and video to a professional standard, you can watch fantastic looking standard dynamic range video, you can play games to a competitive level, you can indulge in fantastic HDR games and video and of course you can just rely on the great viewing angles and overall image quality to sit and work at this display for hours on end.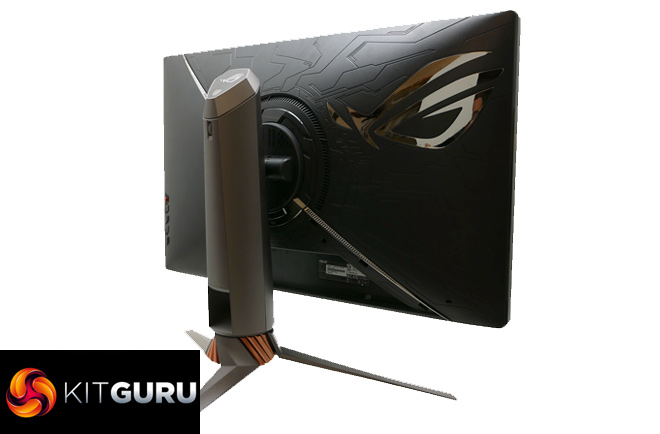 However, there are a couple of stumbling blocks. The first is simply the price. Sure, if you've got the money going completely spare then have at it. But, if spending even £1000 on the likes of the PG348Q seemed like a stretch for you, saving more than double that amount for this display is probably a stretch too far.
There's also not enough HDR content out there at the moment and there are still occasions where running a high resolution on Windows is frustrating enough that it would take the shine off your new purchase. When you're spending this much you want to feel the benefits everyday, not just on the odd occasion.
Then there's the size of the display. Again, when you're spending this amount, for many of us the expectation would be for a size as well as a performance upgrade. As such, a 34-inch ultrawide may still be the more tempting upgrade if you've already got a conventional 27-inch display.
Those points aside, however, we cannot get over the basic fact that this is a fantastic screen most of us would count ourselves lucky to own.
You can buy the PG27UQ for £2299.99 HERE.
Discuss on our Facebook page, over HERE.
Pros:
Stunning image quality.
Great gaming performance.
4K gaming at 144Hz is special.
HDR looks fantastic.
Fully adjustable stand.
Cons:
Very, very expensive.
Windows resolution scaling can be iffy.
Hugely powerful PC needed for 4K gaming.
Not enough HDR content.
KitGuru says: It's best 27-inch gaming monitor you can get, but it's super expensive and not without some compromise.