Controlling the onscreen menu of the PG27UQ is nice and easy thanks to the intuitive control system that has a mini-joystick providing up, down, left and right movement, and you can click it in for item selection.
Tap the joystick button and the main menu opens up, with six sub menus providing all the options.
First up is the Over Clocking menu, which provides the option to boost the display's refresh rate from its default maximum of 120Hz up to 144Hz. We largely didn't feel the need to enable this as 120Hz felt sufficiently fast, but at least the option's there.
Next up is the blue light filter menu which is where you can reduce the overall blue light level of the display. This can help reduce eye strain, especially when using a display late at night.
The Color menu is where you'll find all the core settings for tweaking the overall image quality of the display with controls for brightness, contrast, colour temperature and gamma.
Meanwhile, the Image menu includes several key and useful options. OD is a standard LCD overdrive setting while Dark Boost provides a quick and easy way to boost the brightness of the darkest parts of the image, which is great for helping to see enemies hiding in the dark when gaming.
Variable Backlight is a crucial setting as this is what controls whether those 384 backlight zones act independently or as one. Turn this off and the display is much more akin to a standard IPS display, with a more typical 1000:1 contrast ratio. Turn it on and the dynamic backlight control boosts contrast to essentially infinite levels (Asus gives a typical figure of 50,000:1).
Next up is Auto Black Level, which automatically boosts the black level according to ambient lighting conditions. Finally, Aspect Control lets you control whether the display shows non-native resolutions at full screen stretched, at 1:1 resolution or a stretched version but at the same aspect ratio.
The Input Select menu is as basic as you'd expect for a display with just two inputs.
System Setup, which is often the part of an OSD where you'll find the more mundane settings like Language, Eco mode and Sleep Timer, is actually home to a few key additions here. Light In Motion and Light Signal are the two projected lights. The former can be adjusted to different brightness levels while the latter can only be fully on or off.
Aura RGB lets you control the RGB logo on the back of the display, with options for Rainbow, Color Cycle, Static, Breathing and Strobing effects, as well as the option to turn it off.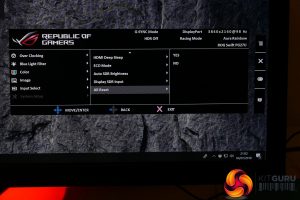 Another key setting is the Display SDR Input option. This enables you to engage the display's wider colour gamut for non-HDR content. In day to day use, this isn't particularly useful but it enables to you clearly see the wider colour gamut in action – turn it on for normal desktop work and everything looks radioactive due to the vibrant colours – making it easier to potential troubleshoot any issues you might be having with HDR. Plus, it allows us to test the wide gamut colour performance, which wouldn't otherwise be possible in HDR mode.
That's it for the main menu but you also get two further game-oriented menus that should be familiar to those with existing Asus gaming monitors. The GameVisual menu provides a number of presets supposedly tailored for different games. As ever the default is Racing Mode, which seems rather random, but it's basically the one with the least number of other options enabled.
Opt for FPS Mode and the Dark Boost and Over Drive settings are cranked up. RTS reduces the Dark Boost, sRGB Mode enables a pre-calibrated sRGB mode where the brightness and colour settings are all locked out and fixed. All told, we saw no reason not to stick with Racing Mode.
The GamePlus menu provides four extras. There's a crosshair, that could potentially be useful for shooting games where you don't actually get a crosshair otherwise, a timer, a FPS counter and a display alignment tool. None are exactly essential but we're not going to complain about a few extra features.