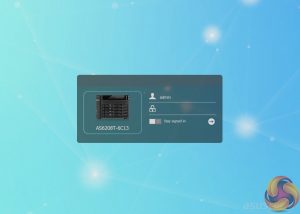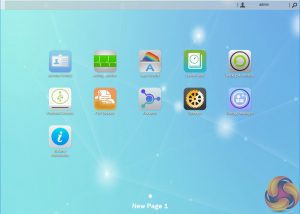 Asustor's ADM (Asustor Data Master) OS remains one of the best NAS OS around and is constantly upgraded by Asustor to try and keep it one step ahead of the competition. Easy to install, ADM is graphically rich and easy to navigate through.  Once you have logged into the NAS you see the main ADM page.
Here you will see icons for all the major sections of the OS and whilst the icons take you to general pages, if you want to perform a more precise search, then Asustor's Searchlight advanced search software is the thing to use.

At the top right-hand side of the main ADM page is a magnifying glass icon, this is the shortcut to the Searchlight tool.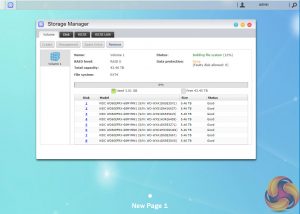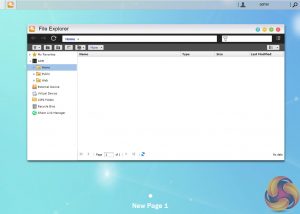 Storage Manager is where you create disk volumes and RAID arrays. The manager also lets you check the status of any disks in the NAS, displays S.M.A.R.T info as well as the setup and managing of iSCSI volumes.
With File Explorer, you can manage the files on the NAS as well as on the local PC and any external drive that may be plugged in. It also allows the mounting of a .iso file as a virtual drive so its contents can be browsed.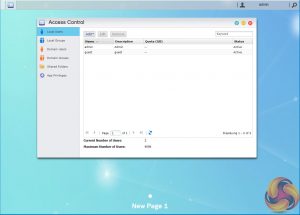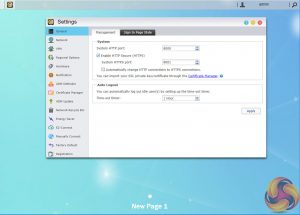 Access control is the management page where users and groups access rights to shared folders are set up and managed.
The Settings page as you might imagine has a whole host of options to configure the AS6208T exactly how you want from changing network and VPN settings to power usage and fan settings. There's even a page that looks after changing the appearance of the login page.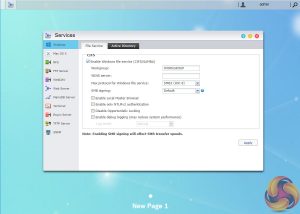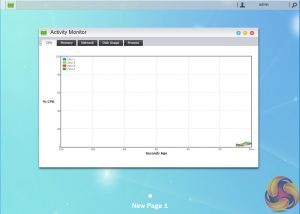 Configuring network servers such as FTP, Web and MySQL is done through the Services page. Windows (CIFS/SAMBA), Mac OS (AFP & Bonjour) and Linux (NFS) file services are supported and are also setup via this section.
The Activity Monitor is a dynamic service that monitors the NAS displaying CPU, memory and storage space usage as well as network activity.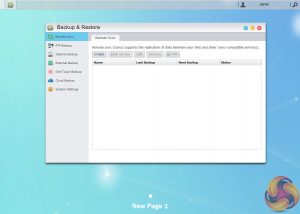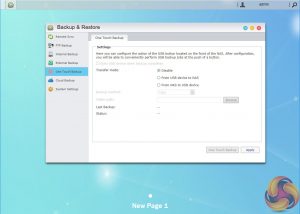 The one thing that ADM does very well is backup support. Over a dozen different backup options are supported either via hardware such as external drives, other devices on the network or the MyArchive technology or via a variety of public cloud services.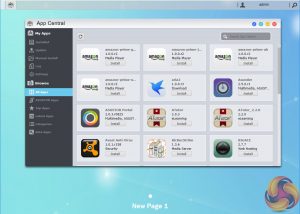 App support has always been one of ADM's strong points, as one glance at the App Central menu confirms. App Central is the control centre for app management and shows installed apps, all available apps and updates. At the time of writing, the list of available apps to choose from for the AS6 series of devices stretches to a mightily impressive 264 apps.
MyArchive
One very clever backup solution that ADM brings to the table is called MyArchive. This allows hard drives to be used as removable drives so you can swap between different collections of data as and when you need it. Recently upgraded, MyArchive now supports EX4, NTFS and HFS+ file systems.
Data security, particularly in an office environment is paramount and MyArchive drives have AES 256-bit encryption support (EXT4 file system only at present) and to add another layer of protection a USB device can be used as a physical encryption key.
Asustor Portal
The Asustor Portal allows the AS6204T to become the central hub of any media collection. The software comes with Google Chrome/Chromium, Netflix and YouTube apps and it also supports Boxee and Kodi.
Adding the URL-Pack gives even more streaming options. Connect the AS6204T to a HDMI ready display and you can use it to watch videos or browse the internet without the need to fire up your PC.
ADM Highlights
Asustor Portal
MyArchive
Searchlight
iSCI Lun Snapshots
Cloud Backup
Web-based file access.
VPN server
Virtual Storage – supports VMware, Citrix and Hyper-V storage environments.
Mail server
Built-in FTP server.
BitTorrent client.
iTunes, UPnP, MiniDLNA, and Plex Media servers.
Surveillance Center – 4 free camera channels (expandable up to 36 by buying more camera licenses).
Mobile control and media streaming via AiData, AiMaster, AiRemote, AiMusic, AiCast and AiVideos.