Many of the leading graphics manufacturers have been working hard on developing new coolers and fan technology to reduce noise emissions as much as possible. This is never more important than when building a media center for a living room or bedroom. If you are unwilling to accept any noise at all, then why not bypass the use of fans completely and opt for a totally silent solution? Sapphire have just released their latest silent R7 250 Ultimate, a fan less design to target the high definition television audience. Is it worth the modest £70 asking price?

We have no confirmed pricing at time of article publication, however we can make some educated guesses. Current R7 250 pricing indicates 2GB models around £80 and 1GB models for a little less. The Sapphire R7 250 Ultimate ships with 1GB of GDDR5 so we would factor in the final retail cost, close to the £70 mark.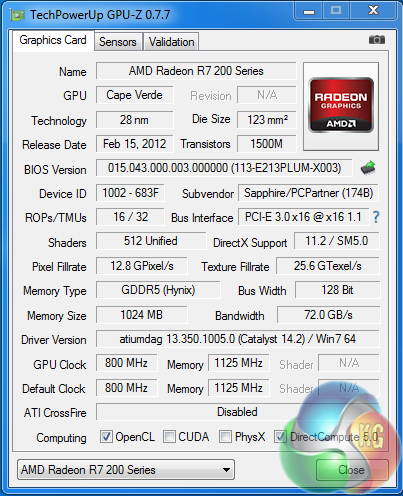 Above, an overview of the Sapphire R7 250 Ultimate. The core is modestly clocked at 800mhz and the memory 1,125mhz (4.5Gbps effective) – connected via a 128 bit memory interface. The 28nm Cape Verde core is equipped with 16 ROP's, 32 Texture units and 512 shaders.