Motherboard manufacturers have produced a comprehensive range of products for Intel's latest-generation Z270 chipset, spanning a wide spectrum of prices. Yet it's the mid-range Intel motherboards, like ASRock's new Z270 Extreme4, that consumers typically end up buying. The Z270 Extreme4 is, on paper specification, a true all-rounder; a competitive price, plentiful connectivity options and a varied feature set, but can it keep up with its competition?

ASRock, like other motherboard companies, runs multiple different product lines for Intel's mainstream platform. The Fatal1ty series specifically targets a gaming audience while the Extreme Series is more generic in purpose. As such the Z270 Extreme4 is not Gamer-esque in appearance, though it certainly possesses an aesthetic that stands out from the ordinary. ASRock's own website describes this product as being aimed at animators, artists, designers and editors, which might be optimistic.
The headline feature for the Extreme4, and with many motherboards of this class, is RGB lighting. ASRock delivers this is two ways; onboard lighting and support for external RGB strips through a header. Rather uniquely, ASRock deploys the RGB controls through both software and the UEFI environment.
Another notable attribute of the Extreme4 that will catch the attention of consumers is the provision of dual M.2 ports, both capable of running at PCI Express Generation 3.0 4X speeds. While NVMe M.2 drives are still expensive per GB compared to traditional SATA III SSDs, the cost is coming down with each subsequent release from SSD manufacturers.
The default connectivity provisioned with Intel's mainstream Z-series chipsets has been generous for a while now so the fact ASRock has USB 3.1 Type-A and C is a tick on the checklist rather than a unique selling point. ASRock does, however, attempt to differentiate itself by throwing in an additional two SATA ports, taking the total to 8, for users with a larger-than-average storage array.
ASRock includes a number of other in-fashion features for motherboards of the current moment including PCIe slot shielding and improved audio based on the Realtek ALC1220 codec.
A good start then for the Z270 Extreme4 which finds itself priced in-line with motherboards such as the ASUS Prime Z270-A,  Gigabyte Z270-X Ultra Gaming and MSI Z270 Gaming Pro.
ASRock Z270 Extreme4
Form Factor
ATX, 30.5 cm x 24.4 cm
CPU Socket
 LGA 1151, 10-phase VRM
Chipset
Intel Z270
Memory
 DDR4, 4 DIMMs, up to 64GB, up to 3866MHz+ (with OC)
Onboard Graphics
 Intel HD Graphics (supported CPUs), up to 1024MB of video memory
Discrete Graphics
 Up to Nvidia 2-way/Quad SLI, AMD 3-way/Quad CrossFireX
Expansion Slots
2 x PCIe 3.0 x16 (x16/x0 or x8/x8, from CPU)
1 x PCIe 3.0 x16 (x4 electrical, from PCH)
3 x PCIe 3.0 x1 (from PCH)
Storage
8 x SATA III (6 from PCH, 2 from ASM1061)
2 x M.2 NVMe or SATA*
(M2_1 shares bandwidth with SATA3_0, SATA3_1 and M2_2 shares bandwidth with SATA3_4, SATA3_5_
USB
6 x USB 2.0 (6 Front, via PCH)
8 x USB 3.0 (4 Rear, 4 Front, 6 via PCH, 2 Front via ASM1074)
2 x USB 3.1 (2 Rear [Type-A and C], via ASM2142)
Networking
Intel I219-V Gigabit LAN
Audio
 Realtek ALC 1220, 7.1 Channel
Fan Headers
 5, all support 3/4pin fans (2 x CPU, 1 x W_PUMP, 2 x CHA)
Rear I/O
 2 x Antenna Ports
1 x PS/2 Mouse/Keyboard Port
1 x D-Sub Port
1 x DVI-D Port
1 x HDMI Port
1 x USB 3.1 Type-A Port (ASMedia ASM2142)
1 x USB 3.1 Type-C Port (ASMedia ASM2142)
4 x USB 3.0 Ports (Intel Z270)
1 x RJ-45 LAN Port with LED
1 x Optical SPDIF Out Port
5 x Audio Jacks
UEFI
2 x 128Mb AMI UEFI BIOS chips
ASRock's Z270 Extreme4 is presented in a large retail package complete with convenient carry handle. The company's marketing is well-executed as the box gives a clear and concise summary of the main selling points for this motherboard.
The documentation and accessory bundle is adequate and reflects the price point. ASRock provides the following:
quick start guide
software setup guide
driver & utility DVD
case sticker
rear I/O shield
4 x SATA cables
2-way non-flexible SLI bridge
three M.2 screws
The large white X that cuts through the matte-black PCB is an interesting look that certainly sets the ASRock Z270 Extreme4 apart from many rivals. Overall styling and presentation is sharp and when enhanced with the RGB lighting this ASRock motherboard will suit a wide variety of tastes.
Said RGB lighting is located in a number of areas including the:
PCH/Chipset heatsink
Audio section
I/O shield
There's also the option to use the optional RGB header which uses the 12v, G, R, B pin-out. LED strips, such as the one we tested from CableMod, will need to be used with a 12v, B, R, G adapter.
ASRock offers two CPU fan headers around the CPU heatsinks though these are slightly awkward to access when the motherboard is installed in a case. The CPU draws power from an 8 pin EPS connection which is routed through the quoted 10-phase CPU VRM. This is split into 6 phases for the CPU, 4 for the iGPU and 2 more for system controllers.
The VRM is blended with 45A power chokes and Nichicon 12K Black Caps.
The memory lanes draw power from 2 VRM phases. In the same section of the motherboard you'll also find the motherboard 24pin, two USB 3.0 headers, a fan header and 8 SATA ports. Unfortunately there are no power, reset or debug utilities in this area of the board.
ASRock provides two M.2 ports, one that aligns with the first PCIe 1X slot and another tucked up next to the PCH heatsink. Both provide up to 32Gb/s through a PCIe 3.0 X4 interface but each M.2 port shares bandwidth with two SATA ports. Populating both M.2 connectors reduces available SATA outputs to 4 ports. U.2 can be achieved through an ASRock adapter but for this price point it is highly unlikely to be used and the fact ASRock has made it an optional extra is agreeable.
Along the base of the motherboard you'll find the front panel audio connection, a clear CMOS jumper (as there is no switch), RGB header (12v, G, R, B), Thunderbolt add-in card headers, three USB 2.0 headers, a TPM header, COM port, fan header and the front panel connectors. The two BIOS chips are located next to the front panel connectors and unlike previous generation ASRock motherboards these are soldered on and not removable.
The PCIe lanes are configured to easily facilitate 1- or 2 -way GPU configurations with both CPU-derived PCIe 16X slots having PCIe slot shielding. ASRock places a 1X slot between the first 16X slot and the CPU area to account for larger CPU heatsinks. Unfortunately, any graphics card placed in the first PCIe slot effectively blocks the audio RGB LED.
The audio segment is largely covered up by the plastic shrouding but ASRock has packed in a large amount of audio hardware. This includes the new Realtek ALC1220 codec with a Texas Instruments NE5532 amplifier and Nichicon Fine Gold Series audience capacitors. All connections are gold-plated plus there's PCB isolation and separate PCB layers for the left and right audio channels.
Rear I/O connectivity is adequate but like the Gigabyte Z270X-Ultra Gaming it could benefit from more USB ports or more up to date display connectivity. ASRock includes one additional display output, a semi-redundant VGA, while the empty shell where a WiFi add-in card would be on higher models gives the illusion the rear I/O is more fleshed out than it actually is.
ASRock uses Phillips-head screws all-around for the Z270 Extreme4 which is good for watercooling and general maintenance. The underside view also gives a clearer look at the PCI-Express electrical configuration which is 1X/16X/1X/8X/1X/4X.
ASRock's UEFI environment launches to its EZ Mode splash screen with commonly used settings like boot order, XMP and fan speeds. The F6 key carries you into the advanced mode, starting with the Main page, where the full complement of UEFI adjustment options are available.
OC Tweaker is the primary performance tab and where any overclocking will have to take place if not done within the operating system through the A-Tuning utility. ASRock splits off the adjustment options into CPU, DRAM and Voltage as well as offering a number of pre-defined OC profiles for certain CPUs.
These profiles were as follows for our i7 7700K:
5GHz (50 x 100) – 1.45 volts
4.9GHz (49 x 100) – 1.42 volts
4.8GHz (48 x 100) – 1.38 volts
4.7GHz (47 x 100) – 1.35 volts
4.6GHz (46 x 100) – 1.35 volts
In general the overclocking options use too much voltage and aggressive fan profiles so users are better off making their own adjustments. Not all CPUs will be capable of 5GHz, even at 1.45 volts, though anything beyond 1.4 volts may bring difficulty when it comes to cooling and longevity.
The Advanced section contains an almost endless number of parameters to configure the various elements of the system including more parameters for the CPU, DRAM and iGPU not found in the OC Tweaker tab. These options are too extensive to go through individually, and some are incredibly obscure, but you can go through a number of them in the images below.
The pick of the settings in the Advanced section include the CPU Power Management Controls, which may come in useful for certain overclocking scenarios, and the graphics configuration options for anyone using the onboard graphics of Intel's CPUs.
The Tools section holds a number of handy utilities such as for updating the UEFI (including via the internet) and managing the RGB LEDs, among other things.
The RGB controls are available through the AURA RGB LED option, and mirrors the software interface, or through the Project AURA tab (enabled by Ctrl+Shift+F4). The AURA RGB LED section is easier to use and visually simpler so most users should use this unless they want to create very specific colours and lighting patterns.
H/W Monitor contains fan controls and a number of temperature readouts for monitoring. The fan options are plentiful with a variety of fan profiles, temperature input options and hysteresis options (time delays between fan speed changes).
Security, Boot and Exit make up the last three tabs. There aren't many interesting options within these but the boot tab does contain a number of useful options for boot order and changing how quickly the motherboard goes through the POST procedure.
ASRock's App Shop provides the dual role of serving out ASRock's own software and approved third party software, but also includes a Live Update function which scans for certain BIOS and driver versions and informs when a newer version is available. It's reasonably useful for both of its provided functions and isn't too intrusive.
A-Tuning, ASRock's equivalent to ASUS AI Suite, Gigabyte EasyTune and MSI Command Centre, allows you to overclock on the fly and tune the fan speeds with the ASRock FanTastic tuning. It's a reasonably well polished piece of software, is light on system resources and not very intrusive.
The ASRock AURA RGB LED software allows you to individually tune the four main LED regions of the motherboard. It works by selecting the colour on the outer ring first, then the inner ring second and then you can pick the style from the drop down menu. Each zone can be set individually or you can apply the same setting to all four zones.
There is no compatibility provided with RGB-enabled products from other brands which means syncing in an AIO, graphics card, memory modules or anything else is not possible. We tested ASRock's RGB LED system with CableMod strips and it functioned without issue.
We initially encountered problems with getting the ASRock AURA RGB to work in either UEFI or Windows environments. However, after applying the latest firmware update in the AURA RGB download from the ASRock website we were able to get everything up and running smoothly.
We will be outlining the ASRock Z270 Extreme4 motherboard's performance with the Core i7 7700K CPU and 32GB of 3200MHz G.Skill Trident Z DDR4 memory.
By default the ASRock Z270 Extreme4 motherboard applies a multi-core turbo (MCT) state and forces the 7700K to a constant 4.5GHz when XMP is enabled. Overclocked performance will be outlined later in the review.
Z270 Motherboard Test System:
Comparison Z270 Motherboards:
ASRock Z270 Extreme4
ASUS ROG Maximus IX Formula
Gigabyte Z270X-Ultra Gaming
Drivers and UEFI:
Intel Chipset 10.1.1.38
Nvidia GeForce 376.33 VGA drivers.
ASRock UEFI 1.33A
Tests:

Cinebench R15 – All-core CPU benchmark (CPU)
HandBrake 1.0.0 – Convert 6.27GB 4K video recording using the Normal Profile setting and MP4 container (CPU)
SiSoft Sandra 2016 SP1 – Processor Arithmetic Test (CPU) and Memory Bandwidth Test (Memory)
7-Zip 16.04 x64 – Built-in 7-Zip benchmark test (CPU)
AIDA64 Engineer 5.80.4000 – System stress test and cache & memory benchmark (Memory and Power)
3DMark Fire Strike v1.1 – Fire Strike (1080p) test (Gaming)
Ashes of the Singularity – Built-in benchmark tool CPU-Focused test, 1920 x 1080, Extreme quality preset, DX12 version (Gaming)
Metro: Last Light Redux – Built-in benchmark tool, 1920 x 1080, Very High quality, SSAA, AF 16X, Tessellation: High (Gaming)
ATTO – M.2, USB 3.0, USB 3.1, and SATA 6Gbps transfer rates (Motherboard)
RightMark Audio Analyzer – Record and playback test using a line-in to line-out loopback with a 3.5mm audio cable (Motherboard)
7-Zip
7-Zip is an open source Windows utility for manipulating archives. We measure the Total Rating performance using the built-in benchmark tool. The test stresses all CPU cores to 100% and shows an affinity for memory bandwidth.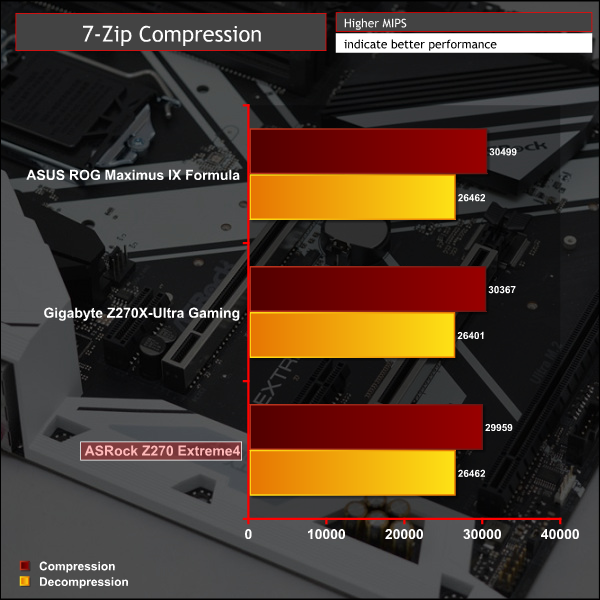 Cinebench R15

Cinebench is an application which renders a photorealistic 3D scene to benchmark a computer's rendering performance, on one CPU core, all CPU cores or using the GPU. We run the test using the all core CPU mode.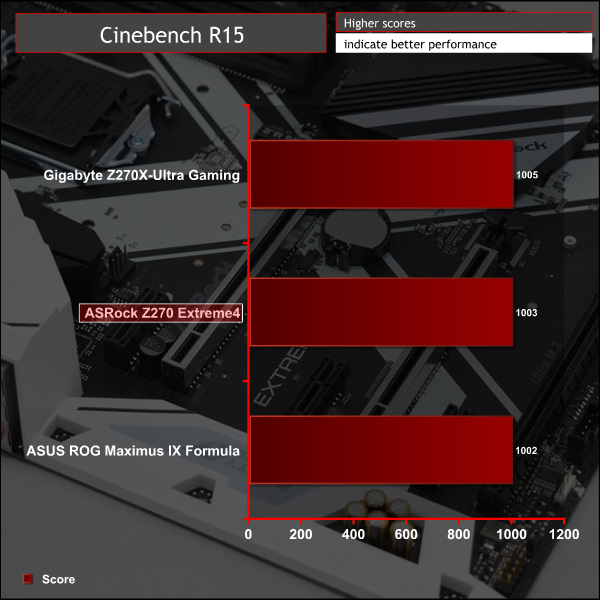 Handbrake Conversion
Handbrake is a free and open-source video transcoding tool that can be used to convert video files between different codecs, formats and resolutions. We measured the average frame rate achieved for a task of converting a 6.27GB 4K video using the Normal Profile setting and MP4 container. The test stresses all CPU cores to 100% and shows an affinity for memory bandwidth.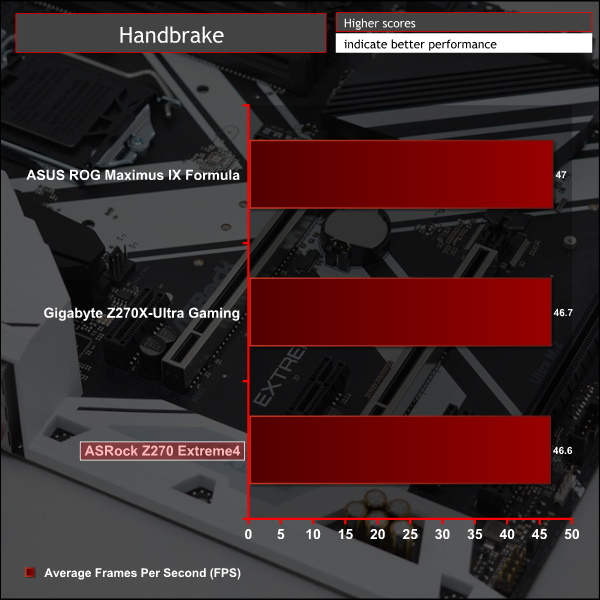 Sandra Processor Arithmetic

SiSoft Sandra 2016 is a multi-function utility program that supports remote analysis, benchmarking and diagnostic features for PCs, servers, mobile devices and networks. We run the application's processor arithmetic test to gauge the CPU performance on each tested motherboard.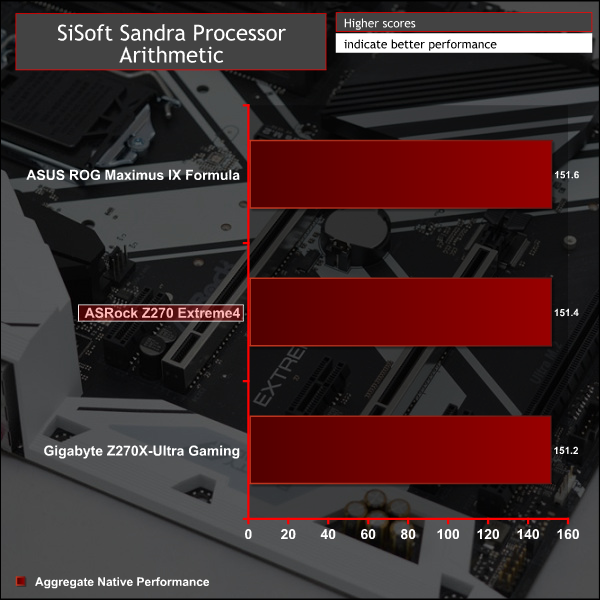 CPU performance is consistent for all Z270 motherboards on test.
AIDA64 Engineer
AIDA64 Engineer is a multi-featured software suite for diagnostics, stress testing, benchmarking, software auditing and various other measurement parameters. We use AIDA64 Engineer to benchmark memory throughput and latency.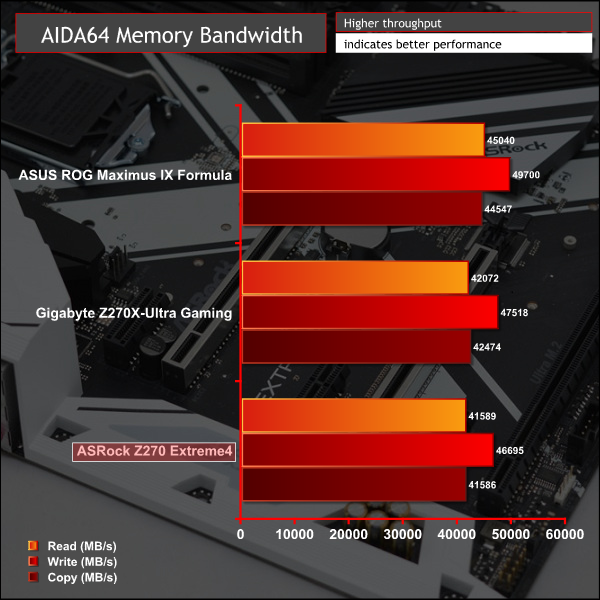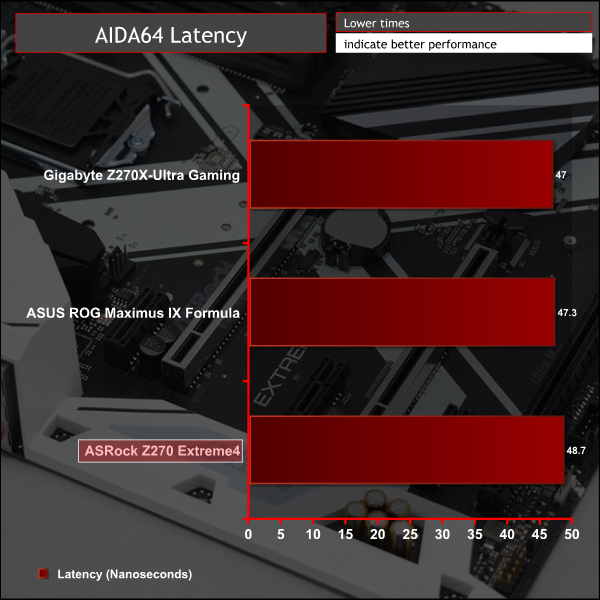 Sandra Memory Bandwidth

SiSoft Sandra 2016 is a multi-function utility program that supports remote analysis, benchmarking and diagnostic features for PCs, servers, mobile devices and networks. We use the SiSoft Sandra memory bandwidth test to provide a set of memory bandwidth results.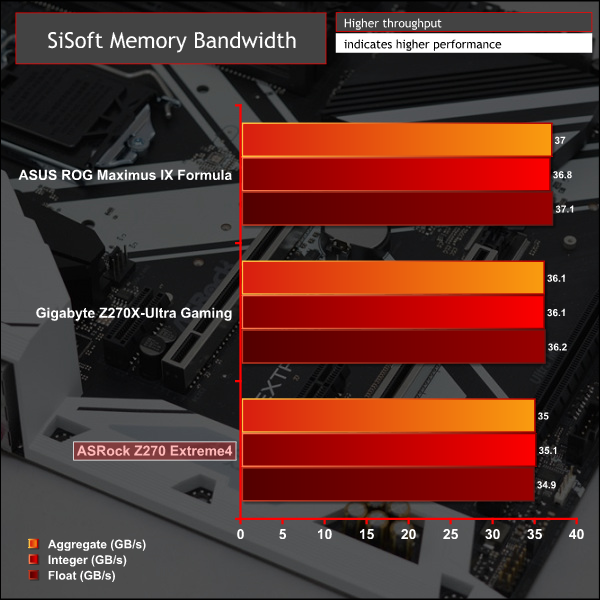 ASRock's memory performance is the slowest of the bunch for all synthetic memory tests despite having the same CPU, DRAM and Cache clock speeds. It doesn't seem to play out in the real world but it's still measurable and repeatable.
3DMark

3DMark is a multi-platform hardware benchmark designed to test varying resolutions and detail levels of 3D gaming performance. We run the Windows platform test and in particular the Fire Strike benchmark, which is indicative of high-end 1080p PC Gaming.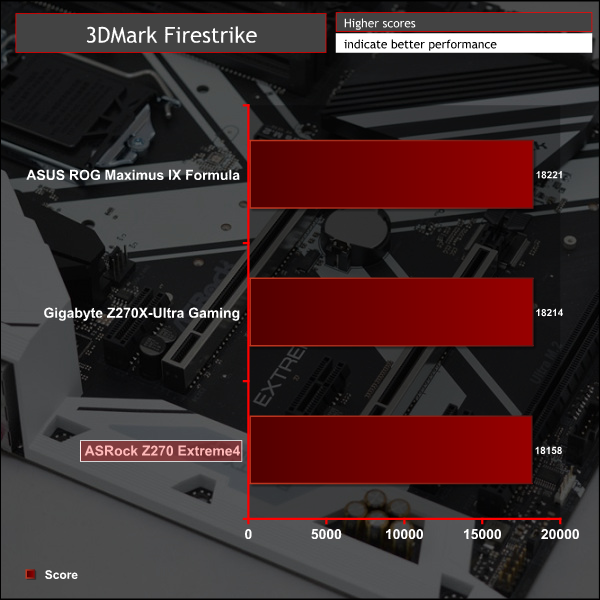 Ashes of the Singularity

Ashes of the Singularity is a Sci-Fi real-time strategy game built for the PC platform. The game includes a built-in benchmark tool and was one of the first available DirectX 12 benchmarks. We run the CPU-focused benchmark using DirectX 12, a 1080p resolution and the Extreme quality preset.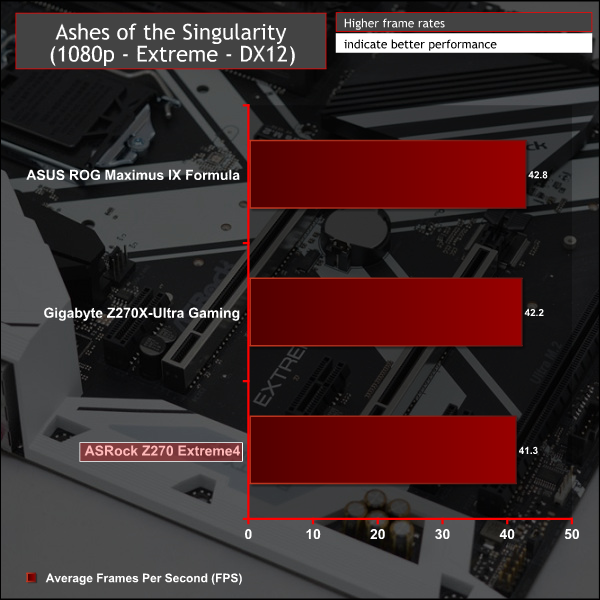 Metro: Last Light Redux

Despite its age, Metro: Last Light Redux remains a punishing title for modern computer hardware. We use the game's built-in benchmark with quality set to Very High, SSAA enabled, AF 16X, and High tessellation.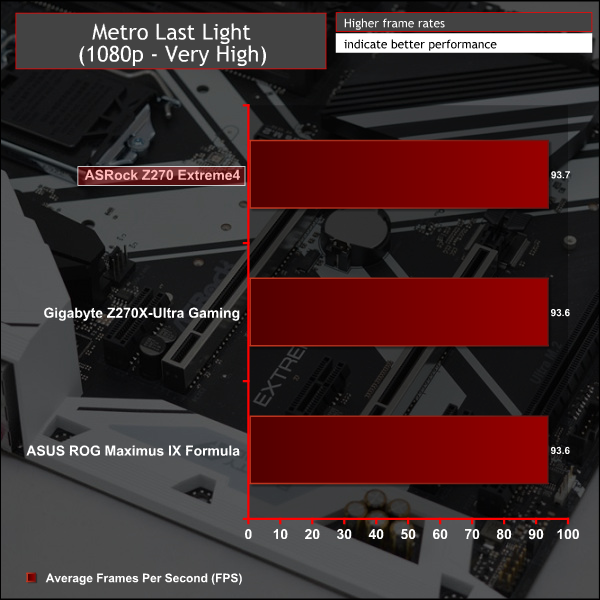 GPU performance is fairly consistent, there are only small fluctuations between motherboards on test likely attributable to other things such as background operating system processes.
The CPU overclock achieved by ASRock was the same as other motherboards on test since, as far as we can observe, the maximum OC is CPU-limited. 4.9GHz is easily achievable with 1.375 volts though this did drop to around 1.36 with the default LLC behaviour.
3600MHz XMP Memory:
We test the motherboard's ability to run G.Skill's high-speed 16GB DDR4 Trident Z kit at a 3600MHz XMP setting. High-speed XMP settings can prove a challenge for motherboard designers when optimising the settings for stability at the intended DRAM frequency.
ASRock's Z270 Extreme4 executed the XMP 3600MHz profile of our G.Skill Trident Z 16GB (2 x 8GB) memory kit with no hesitation.
Overclocked Performance

As a performance comparison, we have included the results from two other Z270 motherboards. The maximum overclocked configuration achieved with each board was a 4900MHz (49 x 100MHz) processor frequency whilst using 3200MHz CL16 memory.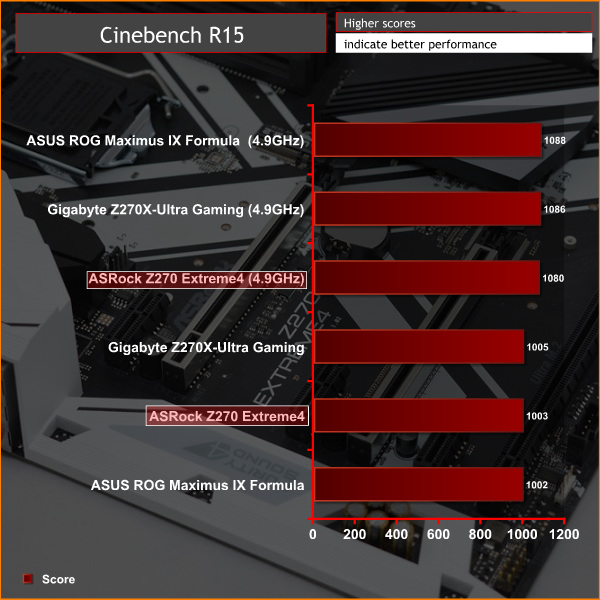 Power
We leave the system to idle on the Windows 10 desktop for 5 minutes before taking a reading. For CPU load results we run AIDA64 CPU, FPU, and Cache stress tests and take a reading. The power consumption of our entire test system (at the wall) is shown in the chart.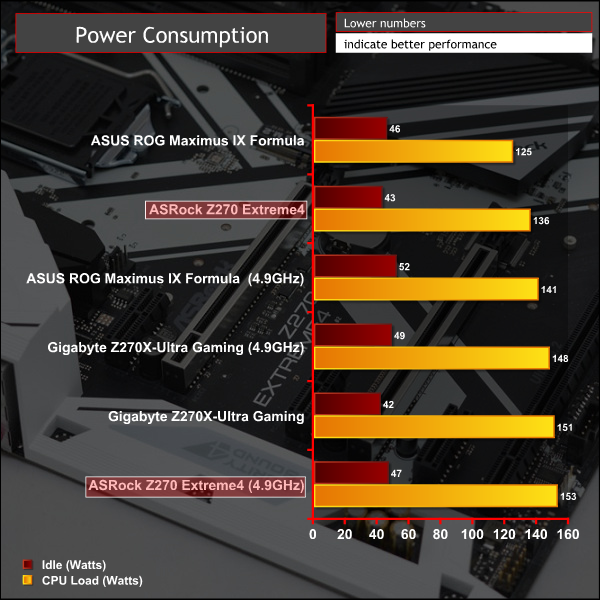 Power consumption was fairly typical for the ASRock motherboard, increasing around 15-watts with overclocking. Idle power consumption was the lowest among all motherboards on test which will likely have the most impact on power bills.
ATTO Disk Benchmark

The ATTO disk benchmark is a Windows-based utility for testing storage performance of any storage drive or controller. We use the default benchmark setup.
M.2 PCIe Performance
For M.2 testing we use a Toshiba OCZ RD400 256GB M.2 PCIe NVMe SSD.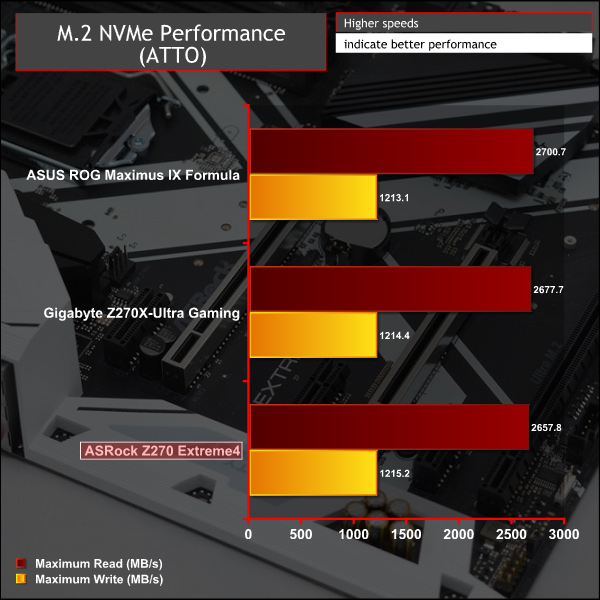 As with all Z270 motherboards we've tested so far the M.2 drive throttles in an environment with low airflow. Depending on the number of fans inside your case and the configuration of those fans you may be able to mitigate thermal throttling to an extent. However, ASRock provides no specific mechanisms for doing this and isn't alone – only MSI has thus far developed a thermal aid for the M.2 area on a motherboard in this price segment.
USB Performance
We test USB 3.0 and 3.1 performance using a pair of Transcend SSD370S 512GB SSDs in RAID 0 connected to an Icy Box RD2253-U31 2-bay USB 3.1 enclosure powered by an ASMedia ASM1352R controller.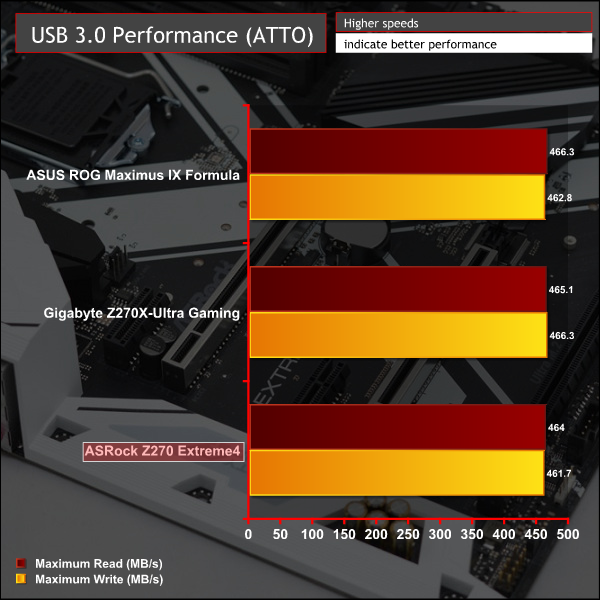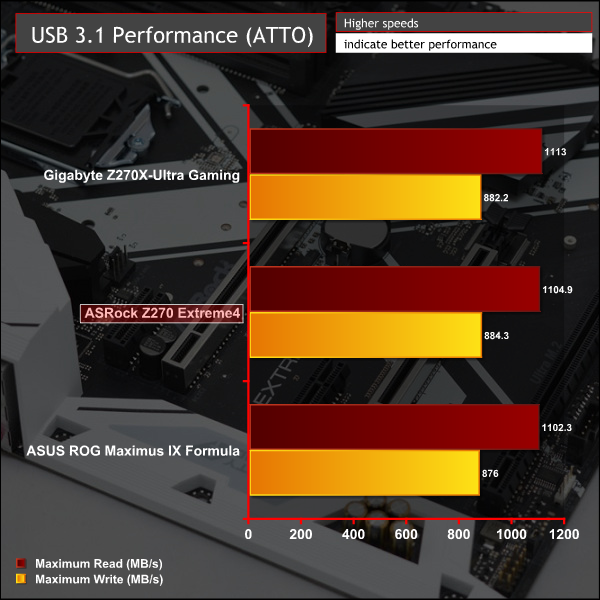 USB performance across both 3.0 and 3.1 interfaces falls in-line with expectations for the respective controllers, Z270 and ASM2142.
SATA 6Gbps Performance
For SATA 6Gbps testing we use an OCZ Trion 150 480GB SSD.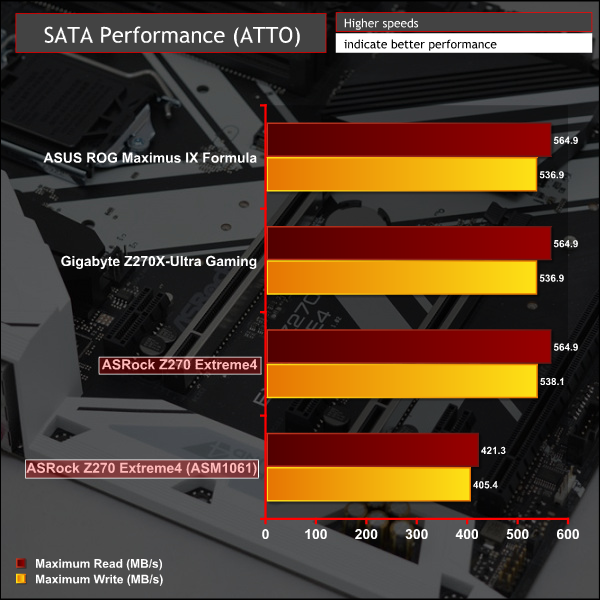 Chipset SATA performance is right where it should be while the third party chip ASRock includes is about 25% slower for SATA throughput.
Audio

Rightmark Audio Analyser is a freeware benchmarking utility designed to objectively test the performance characteristics of audio solutions. We setup a line-in line-out loop and execute the record/playback test before generating the results report you see below. A sampling mode of 24-bit, 192 kHz was tested.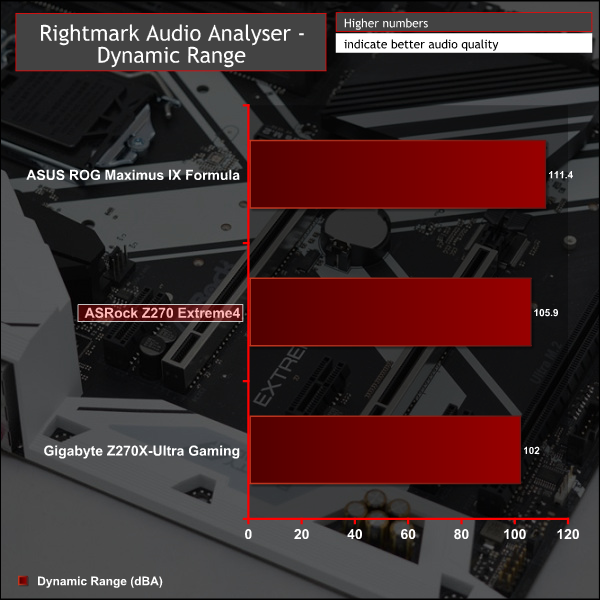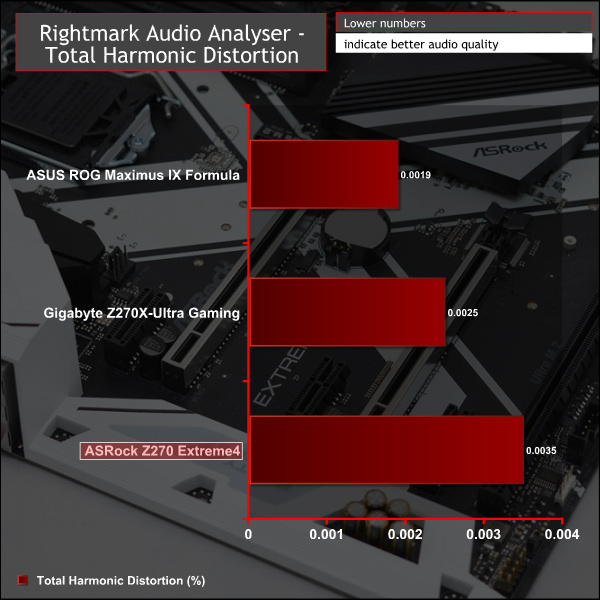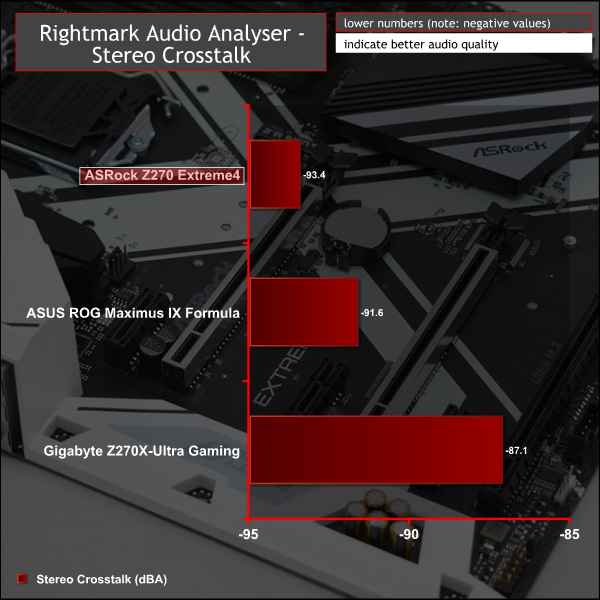 Audio performance is roughly in between the ASUS and Gigabyte boards in respect to the results recorded, but all three boards returned Very Good overall results from the Right Mark Audio Analyser test.
Differences in the synthetic tests struggle to play out in the real world nonetheless ASRock does very well with features like impedance detection and headset amplification.
With there being so much variety in the Z270 motherboard market it is particularly important for consumers to try and identify which motherboard best suits their needs. Performance is largely indistinguishable between all motherboards in the same price brackets since motherboard manufacturers will often use an identical set of controllers and connectivity to remain within cost constraints.
Horses for courses, the idea that different things are better suited to different jobs than others, is important to keep in mind for the motherboard selection process. ASRock's Z270 Extreme4 is a solid motherboard for consumers looking for a flexible high-performance system with excellent storage potential.
What the Z270 Extreme4 isn't, is a motherboard targeting keen overclockers or multi-GPU fiends. Not to say the Z270 Extreme4 cannot overclock or run multi-GPU configurations, it can, but it is better suited for other purposes. ASRock isn't particularly going after gamers either, though the idea that a motherboard is specifically better for gaming than another is still slippery. ASRock would direct avid gamers towards its Fatal1ty series which has a wider complement of gaming-specific features and gamer-inspired styling cues.
The Z270 Extreme4 is a polished and well-balanced motherboard that should satisfy any consumer who has grown sceptical of the gaming motherboard. ASRock ticks nearly all the boxes expected for a mid-range motherboard and at a competitive price. The Z270 Extreme4 has a lot in common with the highly-regarded ASRock X99 Taichi and is one of the best motherboards in its price segment.

The ASRock Z270 Extreme4 is available at Overclockers UK for £159.95.
Discuss on our Facebook page, over HERE.
Pros:
Excellent connectivity options for storage and peripherals
Clean and unique styling
Extensive UEFI options
Easy to use RGB LED lighting system
Improved audio system
Cons:
No integrated WiFi
Lacking onboard buttons and debug code reader or LED
Display outputs could be improved
BIOS OC Profiles are rudimentary
KitGuru says: A smart blend of connectivity and functionality, the ASRock Z270 Extreme4 is an excellent performer in its class.

Be sure to check out our sponsors store EKWB here