Overclocking
Overclocking with Ryzen 5 is a practically identical procedure to that of Ryzen 7. The main settings worth tweaking for CPU overclocking are the CPU VCore, loadline calibration, and SOC voltage to aid stability especially with higher-speed memory kits. If your motherboard has the option in its UEFI, bumping NB voltage up to around 1.10-1.15V can aid stability.

With that said, the number of adjustable voltage options on B350 motherboards is far more limited compared to X370, based on our experience with the ASRock Fatal1ty AB350 Gaming K4. This motherboard had no options for loadline calibration control and SOC voltage adjustment was not clear. That's not a major negative, necessarily, because the overclocking procedure is far more straightforward if CPU frequency and CPU voltage are the only worthwhile adjustable options.
Default voltage for manual tuning should start at around 1.3625V, according to AMD (though we noticed the Ryzen 5 1500X default to a lower voltage around 1.2xV in the UEFI). Users should be fine pushing to 1.40V with a decent CPU cooler and up to 1.45V with a high-end dual-tower heatsink or dual-fan AIO radiator. At 1.45V, however, AMD suggests that processor longevity could be affected according to their models.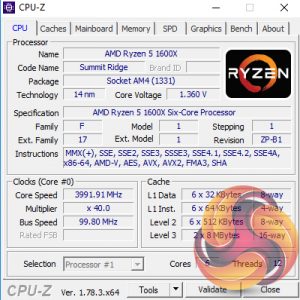 In short, our final Ryzen 5 1600X overclocking settings using an ASRock Fatal1ty AB350 Gaming K4 motherboard were:
1.40V CPU VCore.
Multiple Cinebench R15 multi-core runs to validate stability, as well as AIDA64 CPU stress test.
DDR4-3200MHz 14-14-14-34 @ 1.35V (XMP).
The best frequency that we could achieve with these settings was 4.0GHz with 1.40V (1.36V under Cinebench loading due to a lack of loadline calibration settings on the ASRock AB350 Gaming K4 motherboard).
We tried to push to 4100MHz using a BIOS-set voltage of 1.425V (1.424V under initial Cinebench loading) but this proved unstable. Upon backing down to the reasonable level of 1.40V in the UEFI, we could not achieve stability past 4000MHz. 4025MHz was very close to stable for our five continuous runs of Cinebench but it failed part way through the fifth run.
The overclocking results for the Ryzen 5 1600X look to be similar to those that have been accepted with the Ryzen 7 chips. Ryzen 7's 1800X seems to overclock a little further, which is understandable given the likelihood of it being the most potent silicon in AMD's inventory. However, it is a little disappointing to see the same limits for Ryzen 5 as Ryzen 7. The reduction in core count gives a greater power budget per core but this seems to have little influence at sensible voltage levels where the silicon simply does not like to operate much further than 4GHz.
Our superb kit of G.SKILL Trident Z DDR4 worked flawlessly at its 3200MHz C14 XMP settings on the ASRock motherboard. Temperatures were fine at a 1.36V load voltage even when using the inexpensive Cooler Master Hyper 212X CPU cooler.