Cinebench
Cinebench is an application which renders a photorealistic 3D scene to benchmark a computer's rendering performance, on one CPU core, all CPU cores or using the GPU. We run the test using the all-core CPU and single-thread CPU modes.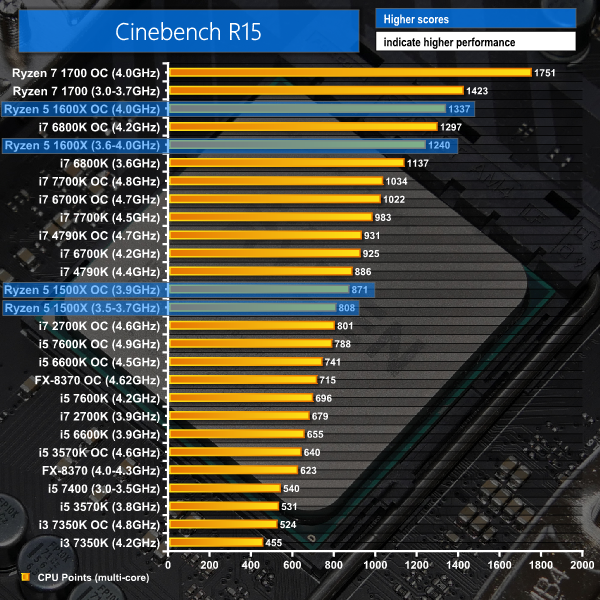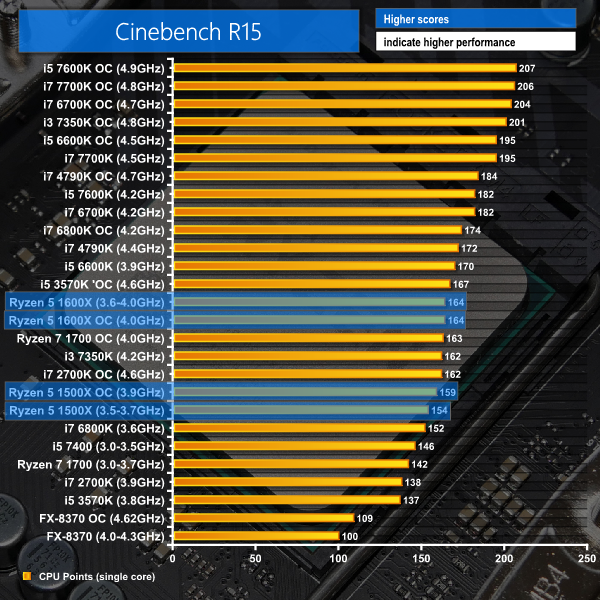 A dozen threads thrown at Cinebench R15 results in superb multi-threaded performance for the 1600X. AMD is putting Intel's circa-£400 Broadwell-E Core i7-6800K to shame by outperforming it at stock and when ovcerclocked, despite the Ryzen 5 flagship costing around £150 (37.5%) less. AMD's own £330 octa-core Ryzen 7 1700 is around 31% faster than the six-core 1600X when both are overclocked to 4GHz. Understandable, given the 33% increase in thread count.
Changing perspective to Ryzen 5 1600X's price competitor, the roughly £240 Core i5-7600K, AMD's part is 78% faster at stock clocks. Overclocking both chips reduces that gap to 70%, thanks to the significant frequency boost to Intel's chip by comparison to the 1600X. 70%+ speed increases for the same money are sizeable differences in any language. Even the fastest mainstream part Intel has to offer – the speedy Kaby Lake Core i7-7700K – cannot compete with Ryzen 5 1600X and its twelve threads.
Single-threaded performance is less flattering for the Ryzen 5 flagship. Intel's Kaby Lake architecture is the simple recipe for market-leading single-threaded performance to today's buyer. So, it comes as no surprise to see the price-competitive Core i5-7600K outperforming Ryzen 5 1600X both at stock and when overclocked.
Out-of-the-box frequencies put the 4.2GHz MCT i5-7600K 11% ahead of Ryzen 5 1600X, despite the latter's ability to boost to 4.1GHz under XFR conditions. The 1600X cannot gain ground with an overlock due to the all-core limitation of 4.0GHz. This gives the 4.9GHz Core i5-7600K a performance advantage of 20% over both 1600X configurations.
Handbrake Conversion
Handbrake is a free and open-source video transcoding tool that can be used to convert video files between different codecs, formats and resolutions. We measured the average frame rate achieved for a task of converting a 6.27GB 4K video using the Normal Profile setting and MP4 container. The test stresses all CPU cores to 100% and shows an affinity for memory bandwidth.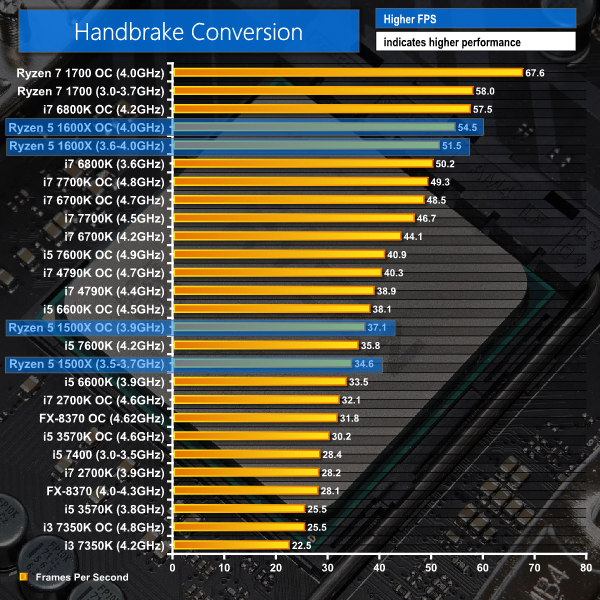 Handbrake is a clean-sweep for the 6C12T Ryzen 5 1600X against its 4C4T price competitor. Stock versus stock, the 1600X is 44% faster. That lead stands at 33% with both processors overclocked. The Core i7-7700K is also swept aside by the cheaper 1600X and a stock i7-6800K's performance is also surpassed. Impressive for a $249 chip.
x265 Encoding

x265 Encoding tests system performance by encoding a 1080p test file using the x265/HEVC format.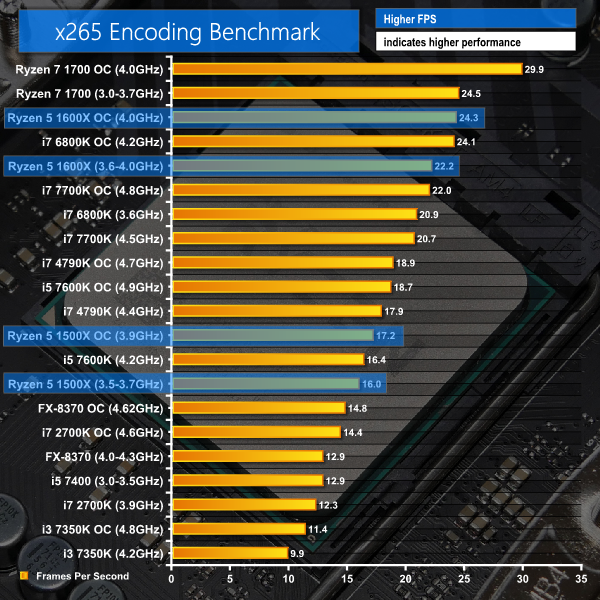 The x265 encoding benchmark likes frequency alongside thread count. As such, 1600X takes a commanding lead over the i5-7600K at both stock and overclocked frequencies. The performance improvements versus a 7600K are significant and even the speedy i7-7700K only manages to hit 1600X-level performance with a 1.1GHz frequency advantage (due to Ryzen 5 1600X's 3.7GHz all-core Precision Boost). With both processors overclocked, the $249 1600X is a little faster than Intel's HEDT i7-6800K.
CPU-related testing overview:
Put simply, six physical cores combined with twelve threads, thanks to AMD's SMT, allow the Ryzen 5 1600X to destroy the 4C4T Core i5-7600K in heavy computational tasks. The Core i7 chips are also beaten in several tasks. However, Kaby Lake is still the best architecture to opt for if you require high frequency and the best IPC performance.