Codenamed Picasso and combining a four-core, eight-thread Zen+ CPU with an 11 CU slice of Vega graphics, AMD's £140 Ryzen 5 3400G is an evolution from the Ryzen 5 2400G of last year. Boosting up to 4.2GHz on the single-CCX CPU component and 1400MHz for the Vega 11 GPU, clock speed increases are the most noteworthy change from last year's Ryzen 5 2400G. Another important adjustment is the reduction in MSRP by $20, making the Ryzen 5 3400G slightly more affordable.

Despite the Ryzen 3000 naming scheme, it is important to remember that the current APUs are not Zen 2 architecture and are fabbed using a 12nm Global Foundries process, not the 7nm TSMC FinFET technology of their CPU brothers.
Is £140 for a four-core Zen+ CPU with simultaneous multi-threading, an on-chip Vega 11 GPU, plus the 95W-rated Wraith Spire cooler a solid deal for budget buyers and HTPC gamers?

Watch via our Vimeo Channel (Below) or over on YouTube at 2160p HERE
Most of the information from our review of the Ryzen 5 2400G from last year still holds true with the Ryzen 5 3400G. As this update from Zen to Zen+ is more of a die-shrink with minor adjustments than the evolution to Zen 2 (which will perhaps arrive in 2020), the differences will be minor. Check out that review for additional details HERE.
It is important to understand the position of an APU in today's market. Last year, the high GPU prices and supply issues driven by the cryptocurrency mining boom meant that even low-end GPUs were either severely overpriced or hard to come by. This year, however, those issues are non-existent (for now) and the APU regains its position as an entry-level option to cash-strapped gamers.
Another key market for APUs is for those who are looking for a stop-gap gaming machine before upgrading to a discrete GPU in the future. Of course, HTPC usage is also an ideal environment for APUs, thanks to the on-chip GPU's media decoding capabilities.
AMD is clearly targeting 1080P gamers on a budget with the Ryzen 5 3400G. I don't think it's reasonable to expect 60 FPS at 1080P in modern AAA titles. However, less-demanding games, older AAA titles, and those that simply aren't too graphically intensive should all run fine. That's more than can be said for the iGPU capabilities of competing Intel chips at this price point. The word 'competing' there is perhaps slightly misused as there is realistically no Intel competition for these APUs.
For £140, the six-thread Intel Coffee Lake Core i5-9400F should net you higher CPU performance but lower GPU performance that translates into largely unplayable gaming experiences. If you want a balance between a decent level of CPU performance and an integrated GPU that allows for gaming, the AMD APUs are the only real option without going down the discrete GPU route.
According to AMD, video encode and decode is handled by the Video Core Next, or VCN for short, silicon present in the Vega GPU. Video decode of common resolutions and media formats, such as 4K60 MPEG2, 4K60 H.265, and 4K60 HEVC are all supported.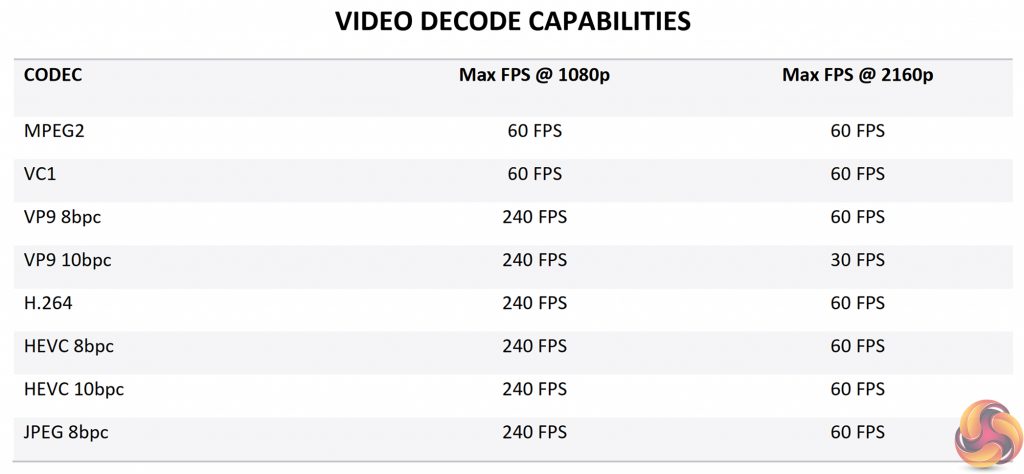 AMD's table highlights that VP9 8 bits per channel and VP9 10 bits per channel are both supported at up to 4K60. HDCP 2.2 is supported by the APU, though keep an eye on this specification when choosing a motherboard with built-in video outputs.
We tested video content relating to these formats, resolutions, and frame rates and found media playback to be perfectly fine in general. Our 4K30 100Mbps H264 content played without hiccups through VLC media play on Windows 10. The same can be said for 1440P60 50Mbps H264 media and also 4K60 80Mbps H265 footage taken from a GoPro Hero 6.
Testing with YouTube, 1080p60 and 1440p60 ran smoothly. 4K30 was also perfectly fine using Google Chrome and 4K60 had dropped frames here and there but they were generally induced by me messing about with the monitoring software at the same time.
8K footage on YouTube was not smoothly playable. That is perhaps something to bear in mind for those hoping to keep this APU for a long time. By comparison, the Intel UHD iGPU generally handles 8K30 and 8K60 YouTube footage fine, based on our testing with a Whiskey Lake-equipped Dell XPS 13 and the Intel UHD 630 on a Core i5-8600K.