Ghost Recon Wildlands

We run the built-in benchmark using the Lowest quality preset.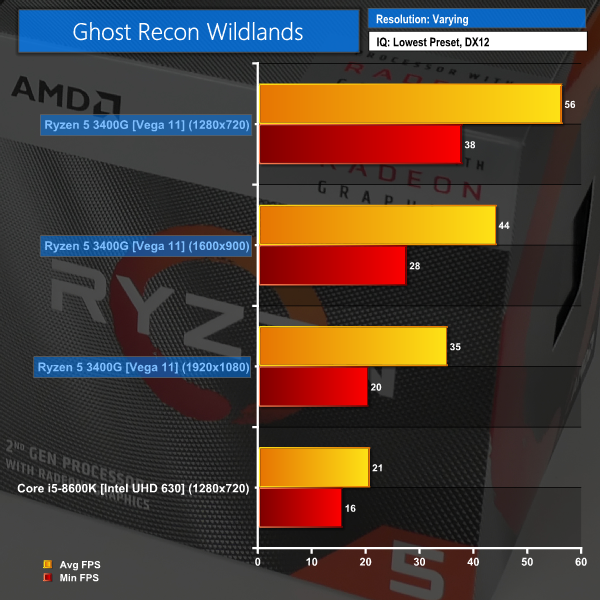 With Ghost Recon Wildlands on its lowest settings, 1920×1080 is, as we have seen from other games, playable but not a particularly smooth experience. The mid-30s average frame rate and lows around the 20 mark aren't ideal but they are solid enough performance for an integrated GPU.
1600×900 pushes the frame rate up to the mid-40s on average, with low sitting around the mid-20s level. This is more playable and may be preferable to the higher frame rate but lower resolution of 720p.
1280×720 is where we see enjoyable frame rates with an average of 56 FPS and minimums of 38. Image quality isn't great at this level, but the gaming experience is perfectly adequate for such a low-cost offering.
Shadow of the Tomb Raider

We run the built-in benchmark using the DirectX 12 mode, anti-aliasing disabled, and the Lowest quality preset.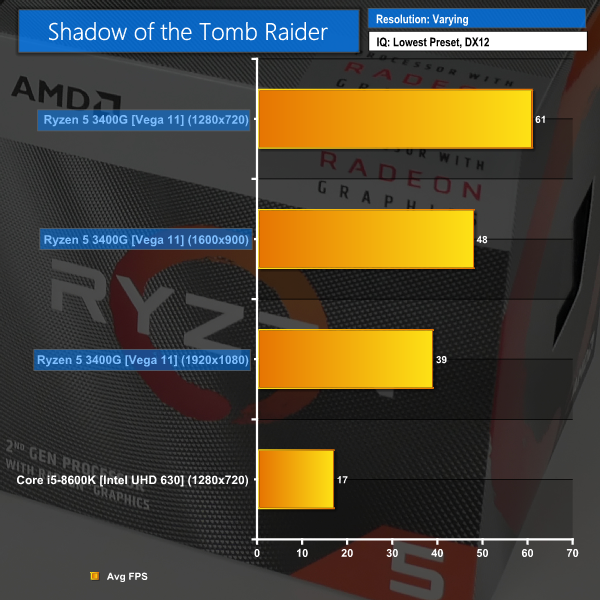 This game continues the same trend that we have seen previously, with average frame rates at 1080P being a playable but certainly less-than-ideal 39 FPS.
Switching to 1600×900 pushed the frame rate up to 48 FPS on average, and this is territory where the gaming experience starts to become more enjoyable.
1280×720 delivered 61 FPS on average and this was a decently smooth gaming experience, even if we did see drops down to around the 50 FPS mark. This is a good range for use with a FreeSync monitor.
Be sure to check out our YouTube video for further gaming performance running APEX Legends, Rocket League, CS:GO, and GTA V.