We will be outlining the Ryzen 5 3400G APU's performance while using the ASRock B450 Steel Legend socket AM4 B450 motherboard. The latest BIOS revision is used with AGESA code 1.0.0.3. A 16GB (2x8GB) kit of 3200MHz CL14 DDR4 memory serves our test system, as does the bundled Wraith Spire CPU cooler.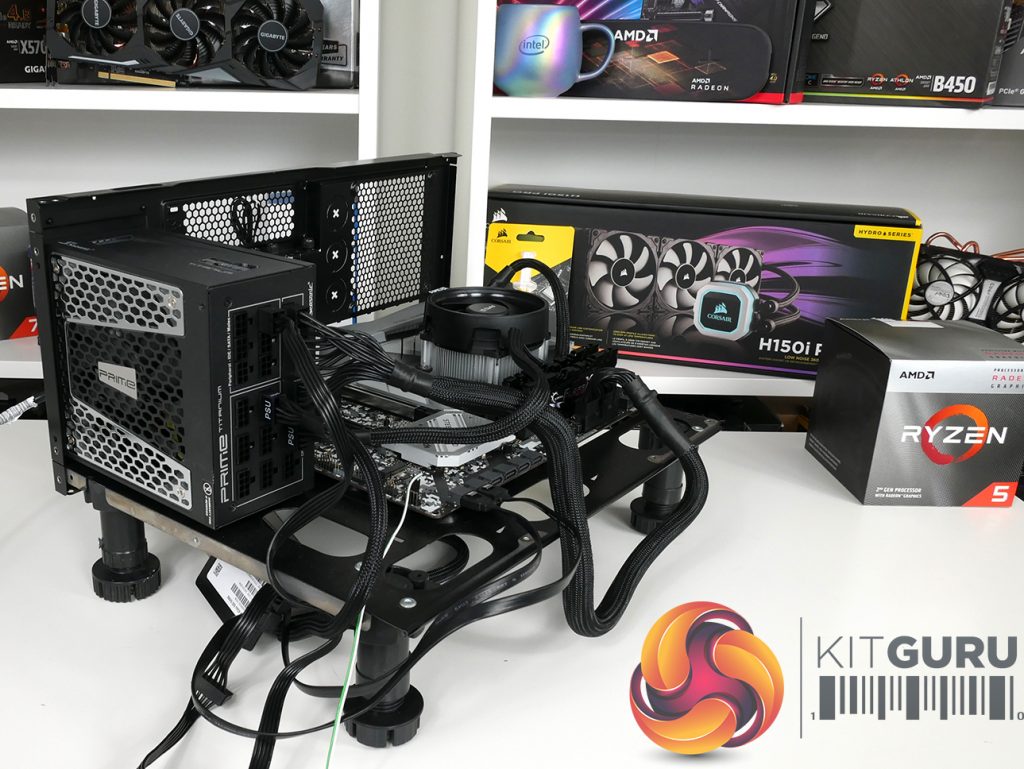 Today's comparison processors come in the form of:

Coffee Lake i5-8600K (6C6T), i7-9700K (8C8T).
Matisse Ryzen 7 3700X (8C16T).
Pinnacle Ridge Ryzen 7 2700X (8C16T) and Ryzen 5 2600X (6C12T).
Summit Ridge Ryzen 7 1800X (8C16T).
Each processor is tested at its default out-of-the-box settings. We also include reasonable overclocking performance data where relevant. For the Intel Coffee Lake CPUs, multi-core turbo is disabled but testing is not conducted with the processors locked to their default TDP values. All-core load frequencies for the tested chips are as follows:
Ryzen 5 3400G = 3.95-4.0GHz.
Ryzen 5 3600X = 4.125GHz.
Ryzen 7 3700X = 3.95-4.1GHz.
Core i7-9700K = 4.6GHz.
Core i5-8600K = 4.1GHz.
Ryzen 7 2700X = Around 3.95GHz.
Ryzen 5 2600X = Around 3.975-4.0GHz.
Ryzen 7 1800X = 3.65GHz.
For more information relating to our test systems, see the details HERE.
Software:
AMD Chipset Drivers v1.07.07.0725.
Tests:

Productivity-related:
Cinebench R15 – All-core & single-core CPU benchmark (CPU)
Cinebench R20 – All-core & single-core CPU benchmark (CPU)
Blender 2.79b – All-core rendering of the BMW benchmark (CPU)
HandBrake x264 – Convert 1440p60 H264 video to 1080p60 H264 using the YouTube HQ 1080p60 preset (CPU)
7-Zip – Built-in 7-Zip benchmark test (CPU & Memory)
SiSoft Sandra – Memory bandwidth (Memory)
AIDA64 – Memory bandwidth, memory latency, memory & cache latency (Memory)
Gaming-related:
Deus Ex: Mankind Divided – Built-in benchmark tool, 1920 x 1080, 1600×900, 1280×720, Lowest quality preset, no AA, DX12 version (Gaming)
Far Cry 5 – Built-in benchmark tool, 1920 x 1080, 1600×900, 1280×720, Lowest quality preset, DX12 (Gaming)
Ghost Recon: Wildlands – Built-in benchmark tool, 1920 x 1080, 1600×900, 1280×720, Lowest quality preset, DX12 (Gaming)
Grand Theft Auto V – Built-in benchmark tool, 1920 x 1080, Varying quality settings, Minimum Advanced Graphics, DX11 (Gaming)
Shadow of the Tomb Raider – Built-in benchmark tool, 1920 x 1080, 1600×900, 1280×720, Lowest quality preset, no AA, DX12 version (Gaming)