Ryzen 5 3400G Frequencies: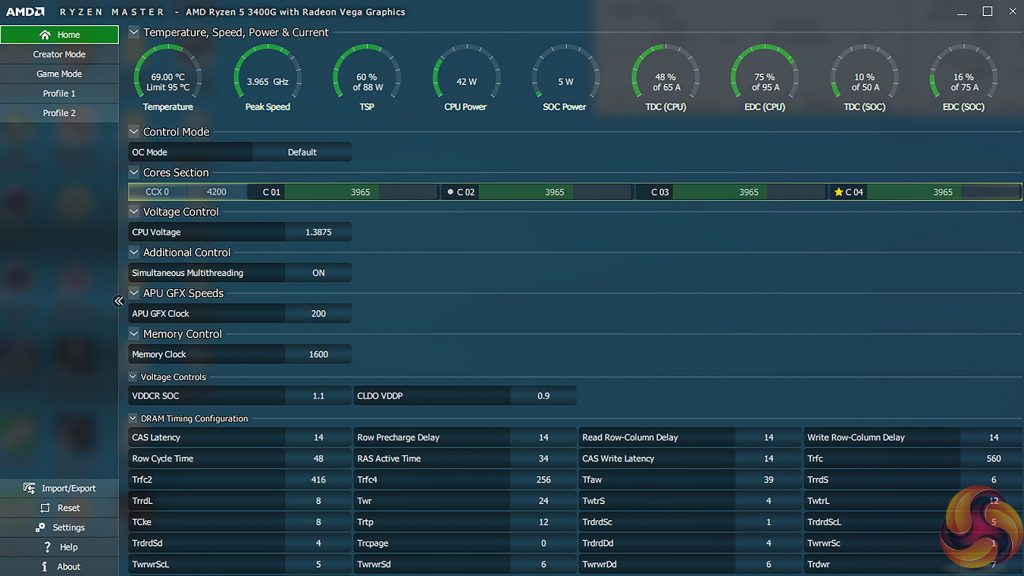 With respect to clock speeds through Precision Boost 2, we observed a general all-core frequency of around 3950MHz using the Wraith Spire cooler. Single-core frequencies climbed up to 4075MHz in our Cinebench 1T test, but we never observed the maximum boost frequency of 4200MHz in our HWInfo-recorded data.

We did, however, observe occasional spikes up to 4200MHz in our 3DMark testing but these short-term jumps were few and far between.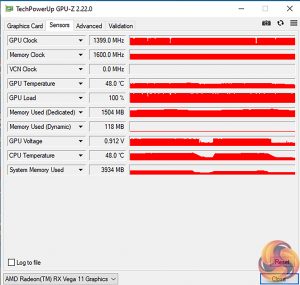 Throughout the vast majority of our game testing, the GPU was pinned at its maximum clock speed of 1400MHz. We did not observe any occasions where the clocks throttled down below 1400MHz during gaming.
PBO + Auto OC Overclocking comments:
Automatic Overclocking settings in Ryzen Master were limited on our test system. The maximum package power (PPT) value that we could set stayed at 88W and the EDC current was only able to go as high as 75 Amps. This limited our success with the Auto OC function.
We did, however, push all of the settings to their maximum values, including aiming for plus 200MHz on the CPU and GPU frequencies. This proved to be of minor success on the CPU front – allowing us to maintain an all-core boost clock in Cinebench R20 for a few extra seconds before settling down to 3950-3975MHz.
The GPU gained a little more in our testing and was able to run at around 1470-1499MHz in our Unigine Valley testing while also hammering the CPU fully with Blender. The GPU frequency eventually dropped towards 1400MHz after a few minutes of sustained loading, primarily due to the motherboard and Precision Boost resources being hogged by the CPU. Loading the GPU on its own in Unigine Valley saw its frequency hit 1499MHz and stay there for sustained periods.
We tried out PBO on its own, which focuses on removing the shackles of the Precision Boost algorithm, thus allowing the CPU and GPU to flex its muscle. Increasing the values to their maximum levels delivered no improvement to performance in our CPU testing. The same can be said for the GPU. Ryzen Master's PBO implementation is not well designed to handle the GPU as the default clock was maintained at 1400MHz and therefore the Vega 11 GPU did not try to boost higher, despite additional power budget being made available.
A small improvement to the 3DMark Sky Diver result was registered, thanks in large to the increased GPU frequency. Cinebench R20 performance stayed roughly the same.