3DMark
Deus Ex: Mankind Divided

Despite its age, Deus Ex: Mankind Divided remains a demanding title even for modern hardware. We use the game's built-in benchmark with quality set to Low, MSAA disabled, and DX12 mode.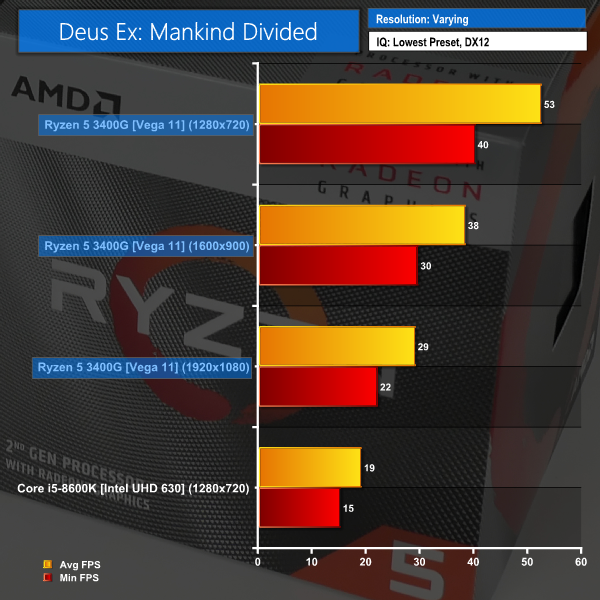 Running at the lowest settings level with MSAA off and the DX12 API, Deus Ex Mankind Divided is barely playable at 1080p with an average frame rate just shy of 30 FPS.
Cranking the resolution down to 1600×900 – a 30% reduction in display pixels – sees the average FPS number increase to 38, with the minimum just shy of 30. This is perhaps playable at a push, but it isn't a great experience.
Reducing the resolution again to 1280×720 – a pixel count less than half that of 1080P – sees a perfectly playable 53 FPS on the average, with lows in the region of 40 FPS. This level of performance would be playable in a demanding title like Deus Ex Mankind Divided.
Far Cry 5
We use the Far Cry 5 built-in benchmark with quality set to Low.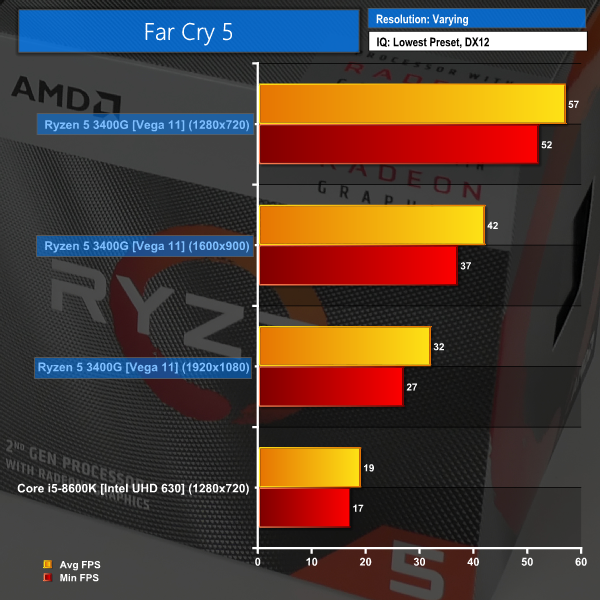 Far Cry 5 on its low preset is playable at 1920×1080 but the experience won't be particularly smooth or enjoyable with an average barely above 30 FPS.
Reduced down to 1600×900 and the frame rates climb to a more palatable low-40 FPS average with minimums in the high-30s. Still not ideal for PC gamers, but not bad for such an entry-level CPU+GPU combination.
1280×720 allows an average frame rate just shy of 60 FPS. The minimums are also pushed past 50 FPS, here, so the experience is certainly more than playable and would run nicely on a FreeSync monitor.
Grand Theft Auto V

Grand Theft Auto V remains an immensely popular game for PC gamers and as such retains its place in our test suite. The DX11-built game engine is capable of providing heavy stress to a number of system components, including the GPU, CPU, and Memory.
We run the built-in benchmark using a 1080p resolution and generally Lowest/Normal/High quality settings (including Advanced Graphics).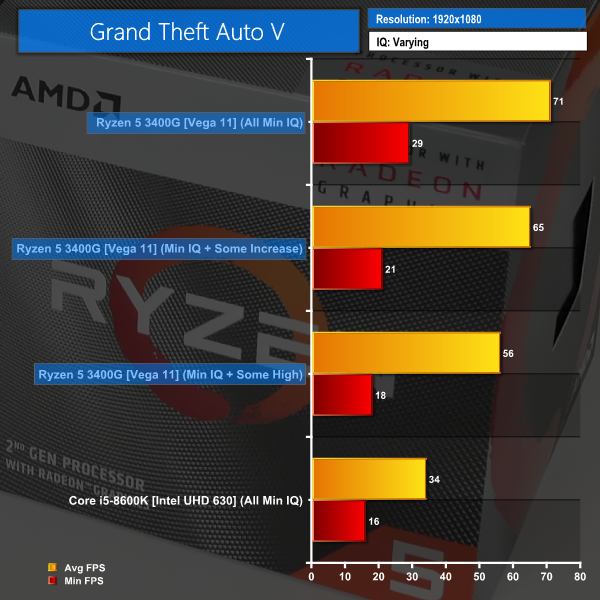 According to our benchmark numbers, GTA V ran happily at 1920×1080 with the lowest image quality settings. The average frame rate of just over 70 FPS was higher than we anticipated, so we took the opportunity to increase some IQ settings.
Turning on FXAA, increasing population density, variety, and distance scaling to 50%, turning on Tessellation to Normal, and increasing AF to 2x were our initial increased settings. These resulted in an average frame rate of 65 FPS through the built-in benchmark when at 1080P. This was more than playable, and enjoyable, so we pushed up the IQ settings again.
This time, the previous settings were maintained and we increased Texture Quality to High, Shader Quality to High, and Ambient Occlusion to Normal. This resulted in a suggested VRAM usage of 1915MB from GTA V's built-in estimator. Average frame rates were now 56 FPS which, again, we were perfectly happy with.