Our objective with CPU overclocking is to hit frequencies that we think will be achievable for daily use by the platform's buyers. As such, we test with sensible cooling hardware in the 240mm Corsair H100X with two 2435 RPM SP120L fans. We also aim to use sensible voltages that lead to manageable thermal results.
Stability is confirmed by running multiple Cinebench tests, Handbrake video conversion, and extended Blender rendering runs. We do not use Prime95 as we have found it to be overly demanding as a stress test application with the more recent AVX-capable versions.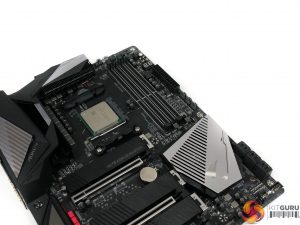 The partnering hardware of choice is the Gigabyte X570 Aorus Master motherboard, 16GB of 3200MHz CL14 DDR4, and a Seasonic Prime 1000W Titanium PSU.
AMD Ryzen 9 3950X Stock Frequencies:
We observed boost clocks pushing up against the 4700MHz quoted figure in Cinebench R20 single-threaded testing. Additionally, HWMonitor and HWINFO reported maximum core clocks as 4700MHz following our batch of gaming tests (we actually saw some readings of 4725 and 4750MHz). These were single-core boost clocks for the preferential core on our sample, which happened to be Core 0.
Stock all-core frequencies in Cinebench R20 were generally around 3900MHz. Blender tended to be a little higher at 3950MHz. We saw certain tests where the all-core boost clocks would drop below 3.9GHz, but staying above 3.8GHz was generally a safe bet.
AMD Ryzen 9 3950X Precision Boost Overdrive + 200MHz Auto OC Frequencies:
Using PBO plus the 200MHz Auto OC, all-core loaded boost clocks jumped to around 4050-4100MHz. Single-core maximum boost clocks didn't really change, as expected, with peaks of around 4675MHz regularly observed on Core 0.
AMD Ryzen 9 3950X Manual Overclocking Frequencies:
We were able to hit a quick-and-dirty 4.3GHz when manually tuning with 1.35V and Turbo LLC in our Gigabyte motherboard's UEFI. This proved stable for a few runs of Cinebench R20 but temperatures were clearly too high to run for any extended period of time.
If you want to overclock manually with a static all-core value, make sure your cooling hardware is up to scratch. Otherwise, PBO is a smart option thanks to its ability to keep the potential boost capability.