With the Ryzen 9 3950X, AMD has delivered a high-performance 16-core processor to the cost-effective, mainstream AM4 platform. And in doing so, AMD positions itself well to compete against Intel's current and upcoming HEDT lines.
You get out-of-the-box performance that generally beats Intel's current HEDT prosumer flagship – the 36-thread Core i9-9980XE that launched at almost $2000. That's remarkable for a $750 chip. And in theory, the just-under-$1000 Cascade Lake-X Core i9-10980XE that Intel is prepping for release isn't really going to offer the level of performance that can change that position, but we will need to confirm that point with a full review.
Factor in gaming performance, if that's important, and the Ryzen 9 3950X generally beats out Intel HEDT contenders thanks to advantageous boost frequencies and Intel's mesh architecture for Skylake-X. Of course, the Coffee Lake Core i9-9900K is still the go-to processor for enthusiast gamers who value high refresh rates and the Ryzen 9 3950X doesn't change that. With that said, the compute performance difference between the 3950X and 9900K is night and day.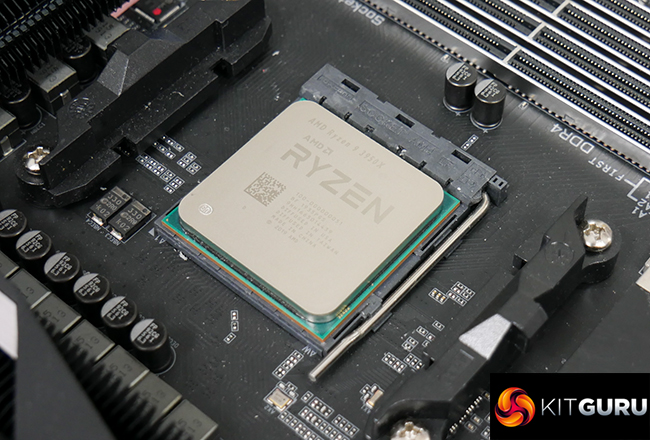 Aside from the excellent all-out-performance of the Ryzen 9 3950X, its power efficiency is remarkable. AMD and Intel HEDT parts from yesteryear cannot catch AMD's new 16-core mainstream chip, based on Cinebench data, yet they consume significantly more power. The smart Zen 2 architecture design and deployment of TSMC's superb 7nm process technology are the key contributing factors.
There are areas where Intel's HEDT parts remain competitive versus the more cost-effective Ryzen 9 3950X. Any workloads or situations that love memory bandwidth will likely be faster on the quad-channel parts, as we saw with 7-Zip compression. You also get a larger set of PCIe lanes with the Skylake-X processors, and the HEDT platform entry cost is far more reasonable than AMD's upcoming TRX40 platform.
Arguably the greatest advantage for Intel, however, is its superb frequency capability thanks to the refined 14nm process technology. On lower core count Ryzen parts, this shows itself as better frame rates in games. The situation is different with processors of this ilk, however, as one would assume that buyers splashing out on 16-core or HEDT parts will know that their workloads scale well with threads. That point somewhat diminishes the value of Intel's superior all-core clock speed benefits.
The Ryzen 9 3950X is a superb processor that will send a significant message to the market. Remember when the solid advice for users and freelancers who do heavy tasks such as rendering, or video encoding, or 3D design was to buy a HEDT part so that you have high performance in the day and gaming capability at night? The Ryzen 9 3950X now, single-handedly, takes over that recommendation pretty much unchallenged.

The MSRP is set at $749 USD, which we would expect to translate to around £750. While pre-orders are not yet live, you can view the product page at Overclockers UK HERE.
Discuss on our Facebook page HERE.
Pros:
Excellent multi-threaded capability.
Brings HEDT levels of performance to a cost-effective mainstream platform.
Strong single- and lightly threaded performance thanks to Precision Boost 2.
Completely unparalleled power efficiency.
Native PCIe Gen 4.0.
Scalable costs thanks to the broad AM4 platform.
Excellent value versus HEDT competitors and HEDT platform costs.
Compatibility with the feature rich X570 chipset.
Cons:
Not as strong value as some of the other Ryzen 3000 offerings.
Extra PCIe lanes and quad-channel memory can benefit HEDT competitors.
KitGuru says: AMD has delivered a performance king for the cost-effective, mainstream AM4 platform that is powerful enough to wipe out much of AMD's and Intel's HEDT offerings. All that whilst maintaining laughably good power efficiency.