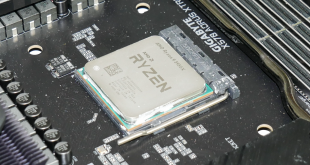 AMD's new Zen 3 processors are finally upon us and they bring to the market a brand-new architecture that is touted as an impressive 19% IPC improvement over a single generational upgrade. We examine the brand new AM4 flagship processor in AMD's 16-core Ryzen 9 5950X. Can it offer up the same balance of performance that we saw from Zen 2 whilst also closing the important gaming gap to Intel?

Watch via our Vimeo Channel (Below) or over on YouTube at 2160p HERE
The AMD Ryzen 9 5950X is a 16-core, 32-thread processor that operates with a 3.4GHz base frequency and 4.9GHz maximum boost with a 105W TDP. MSRP is set at $799 and that converts into £750 in the UK. That's a roughly £40-50 increase in price over the Zen 2 Ryzen 9 3950X it replaces.

AMD's chosen process node is still TSMC 7nm, but it is the tweaked design logic as applied with the frequency enhanced Ryzen 3000XT chips launched in July 2020. That should help reach and sustain higher boost clocks versus original Zen 2 Ryzen 3000X chips.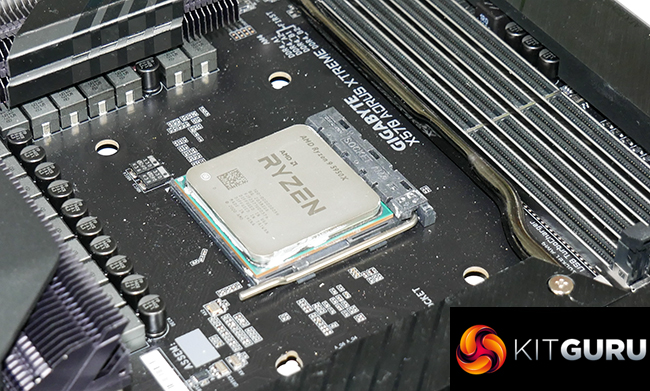 A pair of the new Zen 3 CCXs are deployed in the Ryzen 9 5950X to make up the 16-core total. This means that the cores have access to 64MB of L3 cache split across the two CCXs in CCD chiplet form, and you get the same 0.5MB of L2 cache per core as we saw with Zen 2.
In terms of other connectivity, AM4 platform support, physical CPU packaging, memory compatibility and everything else, it all stays that same as with Zen 2. That's because AMD is using the same 12nm IO die used on Zen 2. The chiplet approach that Zen is built around allows AMD to simply plug-and-play the new Zen 3 chiplets with the 'old' Zen 2 IO die.
The discrete IO die and core chiplet approach really does continue to look like a stroke of genius from AMD.
With the same IO die used, we get the same generic connectivity. Most notably, you get 16+4+4 PCIe Gen 4 lanes, with four of those reserved for communication between the chipset and CPU. On-chip USB and SATA connectivity are the same, so check back to our previous content if you've forgotten what's on offer.
And you also get the same support for dual-channel DDR4 memory with 3600MHz continuing to be the hassle-free sweet spot. The same memory rules as Zen 2 apply though – the memory controller and Infinity Fabric clock will run in the optimal 1:1 mode up to DDR4-3600MHz – a 1800MHz IF clock. Higher than 1800MHz Fabric clock will necessitate manual overclocking.
AMD does, however, highlight that 2000MHz Infinity Fabric clock is likely to be better achievable via overclocking, thus bringing the relevance of 4000MHz DIMMs into play.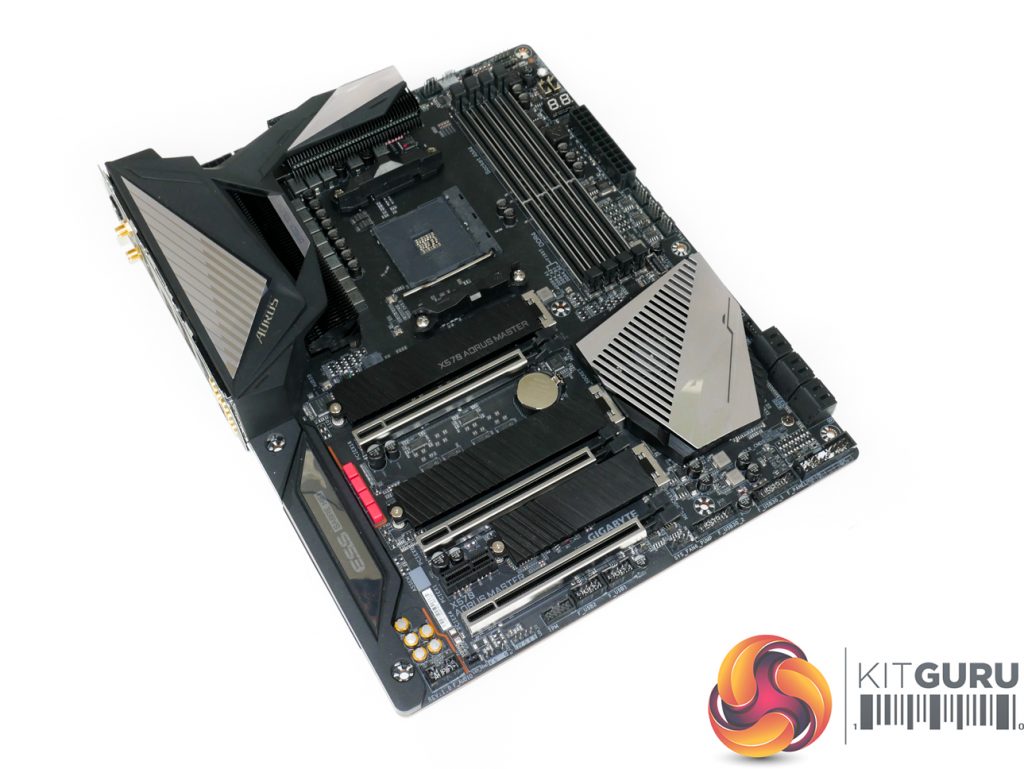 In case it wasn't obvious, you'll need an AM4 motherboard for use with Ryzen 5000. X570 and B550 motherboard owners can update the BIOS and drop in the new chip underneath their same old cooler. Older 400-series motherboard compatibility is likely to come in future BIOS updates.
Notable competition for the £750 Ryzen 9 5950X comes from, well … nothing, other than the now £70-80 cheaper 3950X it replaces. Intel has no logical competitors at this price point as X299 is a less desirable platform except in niche edge cases.
Let's have a closer look at the Zen 3 architecture and the similarities and differences to Zen 2.
A key difference versus Zen 2 is that with Zen 3 we now get an 8-core CCX with ring architecture, rather than the 4-core CCX of Zen 2. This gives 32MB of L3 cache that is directly accessible by all eight cores on the Core Complex (CCX). Previously, the 4-core Zen 2 CCX needed a data transfer via Infinity Fabric to get to the neighbouring CCX when accessing more than 16MB of L3 cache on the CCD chiplet.
This doubling (depending on the specific chip, of course) in on-CCX cores and cache, in addition to many other under-the-hood adjustments made by AMD, have a benefit in improving latency performance. AMD also highlights how the larger, easier to access pool of L3 cache will help performance by reducing the reach out to memory operations, which can be particularly useful for gaming.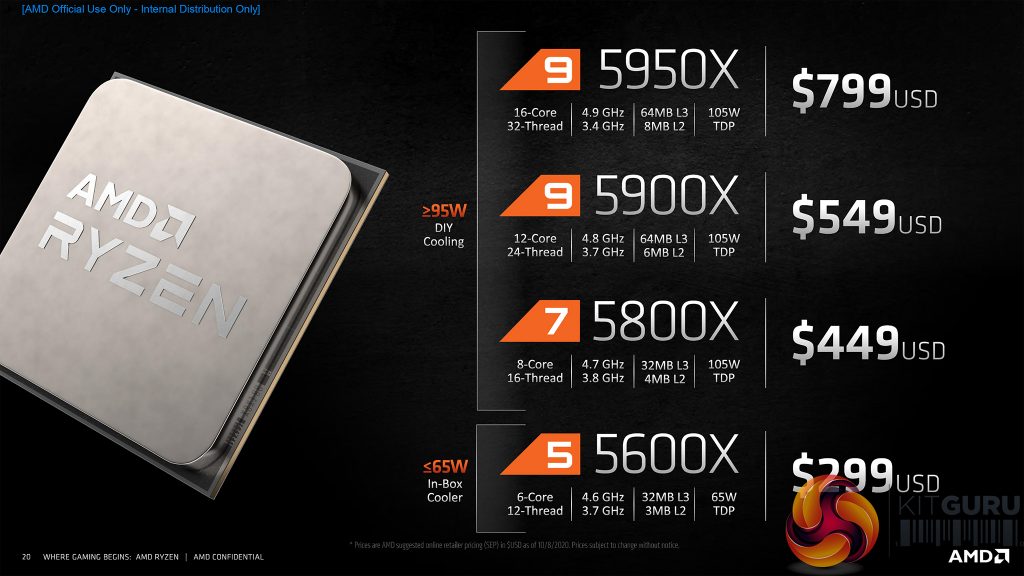 Another area where Zen 3 improves is clock speed. Now, the 16-core chip gets a maximum boost of 4.9GHz and the 12-core is rated for up to 4.8GHz. Of course, this will have the same previous caveats – it will be single- or very lightly-threaded workloads only that will see such clock speeds.
But the more recent AGESA revisions have proven successful from a boost clock standpoint, even though the max clock speed number is limited to light workloads.
Base frequencies show no notable increase in terms of rating, though. The 5950X is actually 100MHz slower base speed than the 3950X and the 5900X sees the same deficit versus the 3900XT. AMD's use of the same TSMC 7nm process node, but with the design tweaks implemented for the Ryzen 3000XT processors, should push actual Precision Boost frequencies well above the rated base clock.
Operating clocks will probably be higher than the early Zen 2 Ryzen 3000X processors.
Other architectural improvements for Zen 3 include a larger L1 branch target buffer, improved branch prediction, reduced latency for select float and int operations, and higher load and store bandwidth.
The critical point for AMD's architectural improvements with Zen 3 is the suggested IPC increase of 19%. That's a sizable performance gain for a single generation improvement that still fits into the same platform.
Frequency, especially in all-core scenarios, was historically the area where people found issue with Ryzen 3000X/XT and Zen 2. Intel managed to push significantly higher clock speeds from its Skylake-based chips on the heavily refined 14nm process technology. That's especially true when looking at all-core operating frequencies for Intel versus Zen 2 in power unlimited scenarios.
As such, we were hoping to see the new, optimised Ryzen 5000 chip operate at higher all-core frequencies when running at stock, PBO, and when overclocked.
Stock-Clocked Operating Frequencies:
We see the 5950X hitting around 3.85-4.0GHz all-core frequency in the demanding Cinebench workload. This clock speed value holds up well using air or AIO cooling. This is a very similar clock speed to the 3950X and looks to be held back by one of the default Precision Boost 2 limits.
Interestingly, we see the 5950X operating above its rated maximum boost frequency. In the case of the 5950X, we observed clock values as high as 5050MHz, even if only for small periods of time. The usual maximum boost clock was around 4.95GHz, which is an impressive delivery from AMD.
Ryzen 9 5950X PBO Overclocking:
The 5950X boosts to around 4.45GHz using PBO. The peak is slightly higher, but after a few minutes of all-core loading, 4.45GHz looks to be a good stable point for PBO.
These PBO numbers are very strong, especially for the roughly 0.5GHz increase seen on the 16-core 5950X.
Ryzen 9 5950X Manual Overclocking:
We managed to overclock the Ryzen 9 5950X CPU to 4.7GHz all-core frequency using 1.35V (around 1.32-1.33V delivered). This was tested on both the ASUS and Gigabyte motherboards with AIO and air cooling and worked very well throughout our testing. We didn't tweak voltages down any further as the temperatures were fine for our testing.
Ryzen 9 5950X Infinity Fabric Overclocking:
We could not get past 1867MHz 1:1 during our quick testing with the 5950X, despite AMD highlighting that 2GHz Fabric Clocks are likely to be achievable with this generation of processors.
AMD highlighted that they are currently seeing some issues hitting 2000MHz Fabric Clocks with the AGESA 1.1.0.0 BIOS revisions, but they are expecting that this can be fixed with a BIOS update. We will have to wait to see if that is indeed the case.
Overclocking Outcome:
4.7GHz all-core from a 16-core processor is highly impressive. It implies that the frequency benefits brought about from the enhanced design in the TSMC 7nm process node of the Ryzen 3000XT CPUs are present for Ryzen 5000.
We were also very fond of the PBO operation as this traded a roughly 250-300MHz lower all-core clock speed for the preferential boost clocks up to around 5GHz. This is the mode that I would personally run for my own usage.
We will be outlining the AMD Ryzen 9 5950X CPU's performance while using X570 motherboards from ASUS and Gigabyte with the latest AGESA – 1.1.0.0 – BIOS version. A 32GB (2x16GB) kit of 3600MHz CL16 DDR4 memory serves our test system.
Today's comparison processors come in the form of:
Comet Lake Core i9-10900K (10C20T).
Matisse 'Zen 2' Ryzen 9 3900XT (12C24T) and Ryzen 9 3950X (16C32T).
Vermeer 'Zen 3' Ryzen 9 5900X (12C24T) and Ryzen 9 5950X (16C32T).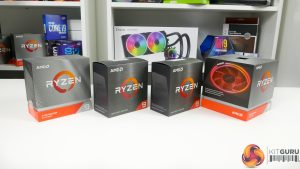 Each processor is tested at its default out-of-the-box settings. For the Intel CPUs, unlimited turbo duration as set by the motherboard with XMP enabled is the operating mode. All-core load frequencies for the tested chips are as follows:
Core i9-10900K = 4.9GHz.
Ryzen 9 3900XT = around 4.05GHz.
Ryzen 9 3950X = around 3.875GHz.
Ryzen 9 5900X = around 4.3-4.4GHz.
Ryzen 9 5950X = around 3.85-4.0GHz.
CPU Test System Components:
Graphics Card: Gigabyte RTX 3080 Eagle OC.
Memory: 32GB (2x16GB) Corsair Vengeance LPX 3600MHz 16-18-18-36 DDR4 @ 1.35V.
CPU Cooler: Fractal Celsius+ S28 Prisma 280mm AIO at full pump and fan speed
OS SSD: WD_Black SN750 NVMe SSD.
Games SSD: Aorus 2TB PCIe Gen 4 M.2 SSD.
Power Supply: Seasonic Prime TX-1000.
Chassis: Lian Li T60 Open Air Test Bench.
Operating System: Windows 10 Pro 64-bit.
AM4 Motherboards: ASUS ROG Crosshair VIII Hero & Gigabyte X570 Aorus Master.
Z490 Motherboard: MSI MEG Z490 ACE.
Tests:

Productivity-related:
Cinebench R20 – All-core & single-core CPU benchmark (CPU)
Blender 2.90 – All-core rendering of the Classroom benchmark (CPU)
V-Ray Render Benchmark – All-core CPU render benchmark test (CPU)
HandBrake H264 – Convert 1440p60 H264 video to 1080p60 H264 using the YouTube HQ 1080p60 preset (CPU)
HandBrake H265 – Convert 4K30 100Mbps H264 video to 1080p30 40Mbps H265 using the H.265 MKV 1080p30 preset (CPU & Memory)
7-Zip – Built-in 7-Zip benchmark test (CPU & Memory)
SiSoft Sandra – Memory bandwidth and Cache & Memory Latency Test (Memory)
AIDA64 – Memory bandwidth & memory latency (Memory)
Gaming-related:
F1 2020 – 1920 x 1080 & 2560 x 1440, Ultra High quality preset with TAA, DX12
Grand Theft Auto V – 1920 x 1080 & 2560 x 1440, Maximum quality settings, no AA, DX11
Metro Exodus – 1920 x 1080 & 2560 x 1440, Ultra quality preset, PhysX and Hairworks off, DX12
Red Dead Redemption 2 – 1920 x 1080 & 2560 x 1440, High settings manually applied, DX12
Shadow of the Tomb Raider – 1920 x 1080 & 2560 x 1440, Highest quality preset, no AA, DX12
Tom Clancy's The Division 2 – 1920 x 1080 & 2560 x 1440, Ultra quality preset, no AA, DX12
Cinebench R20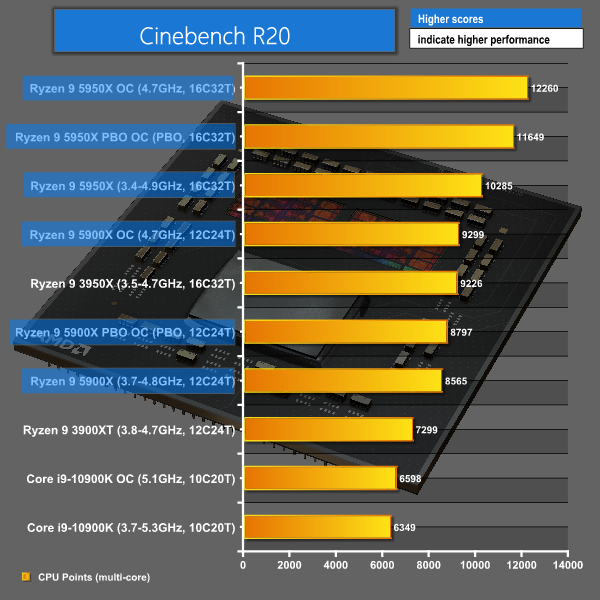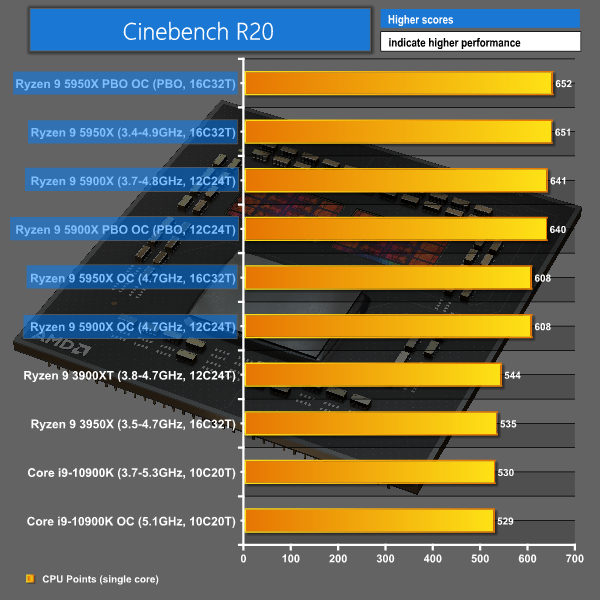 Cinebench nT sees the Zen 3 chips setting a new tier of performance for mainstream platform options.
The 5950X is 11% faster than the 3950X it supersedes, and that performance gap widens drastically when the clock speed limiting shackles are removed. Overclocked to 4.7GHz all-core, AMD's 16-core 5950X is not too far from double the performance of Intel's mainstream flagship Core i9-10900K. Just let that point settle in for a second.
For 1T operating, nothing can come close to the Zen 3 architecture in this test, and when the improvements to boost clock frequency and residency are coupled in, Zen 3's performance lead is colossal. This result bodes well for performance in lightly threaded tasks, including games, going forward.
Blender Classroom Benchmark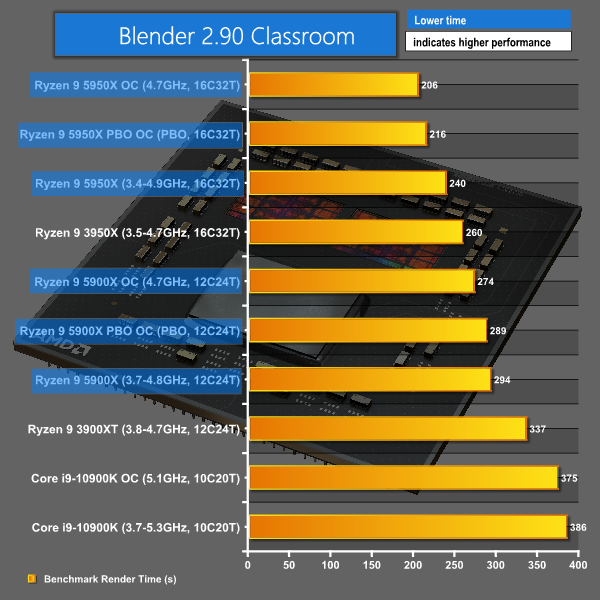 The new 5950X renders the frame 20 seconds quicker than the Zen 2 16-core 3950X. This represents a 7.7% render time decrease which is very respectable. Unlocking the clock speed shackles boosts the 5950X performance by another couple of big notches.
V-Ray CPU Benchmark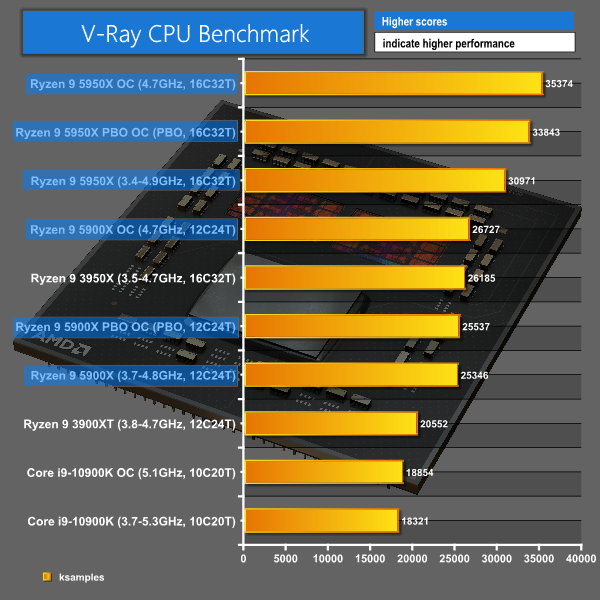 The 5950X is 18% faster than the 3950X it succeeds but the Zen 3 flagship adds a further 14% to its own performance numbers via overclocking. Impressive!
7-Zip Compressing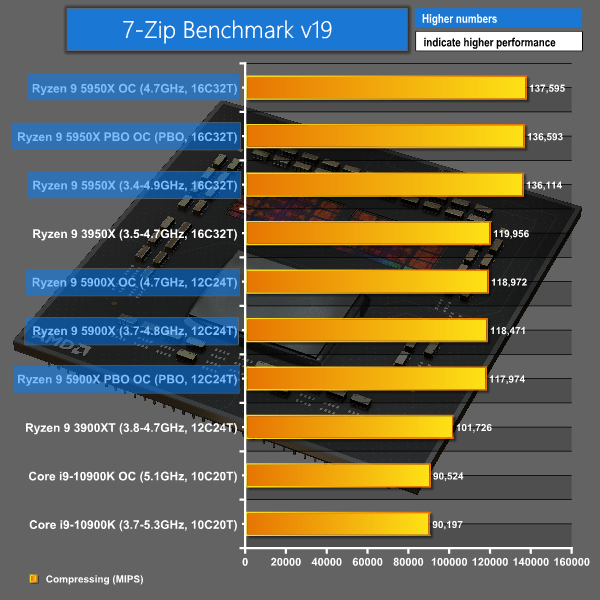 7-Zip Decompressing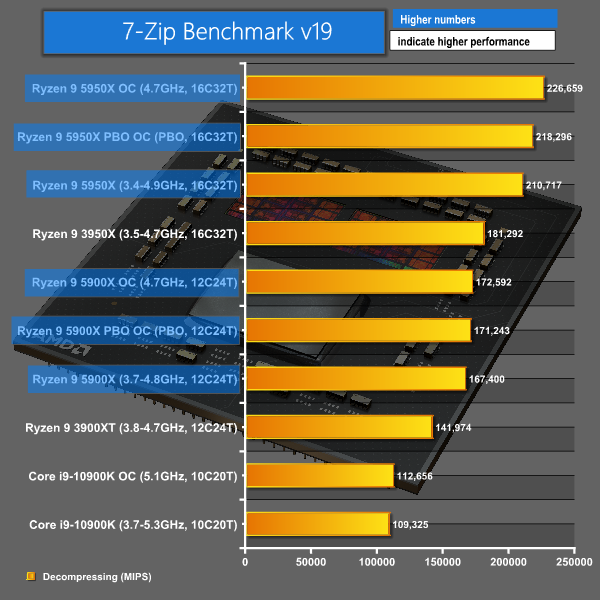 Architectural enhancements, most notably the larger slab of directly accessible L3 cache on each CCX, result in strong performance for Zen 3 in 7-Zip compression. The Ryzen 9 5950X is chart-topping with a 13% performance uplift over the Ryzen 9 3950X.
Decompression performance shows a similar trend, but it is more core count biased. The 5950X shows a 16% performance uplift over the stock 3950X. Overclocking the Zen 3 16 core even via PBO delivers sizable performance increases that heavy decompression users will respect.
Handbrake H264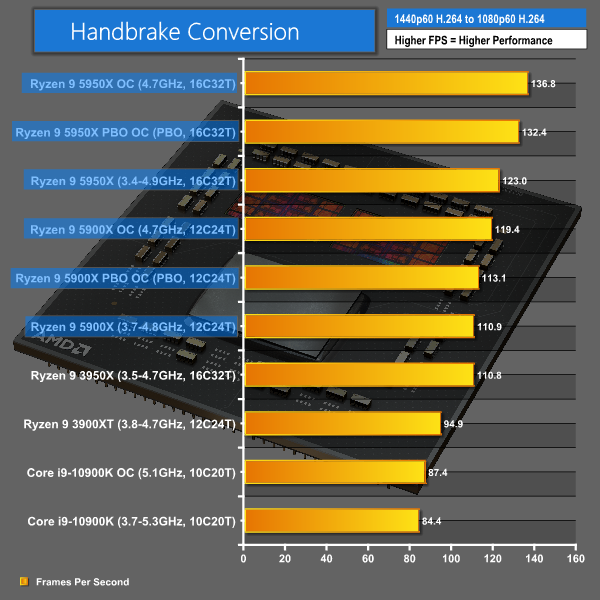 Handbrake in our H264 test configuration struggles to leverage all cores on the 12- and 16-core parts. This brings architecture and boost clocks more into the picture and that is why we see very strong Ryzen 5000 performance numbers.
The 5950X takes a convincing position at the top of our chart by outperforming the 3950X to the tune of 11% at stock. Turn on PBO and the 16-core Zen 3 chip's performance flies up by 8%.
Handbrake H265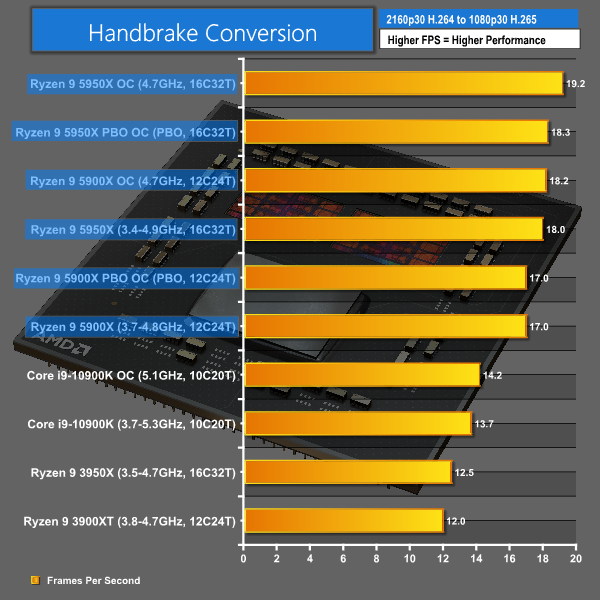 Our Handbrake H265 test is more cache and clock speed sensitive as it often lingers at sub-60% core utilisation on a 16-core chip, for example. That is why we see Zen 2 struggle previously. Nevertheless, the architectural improvements for Zen 3 do a superb job at delivering new heights for our H265 test setup.
Sandra Memory Bandwidth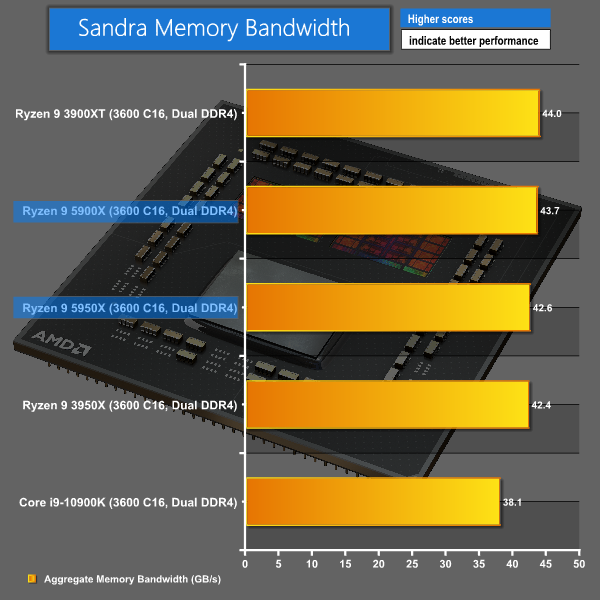 AIDA64 Memory Performance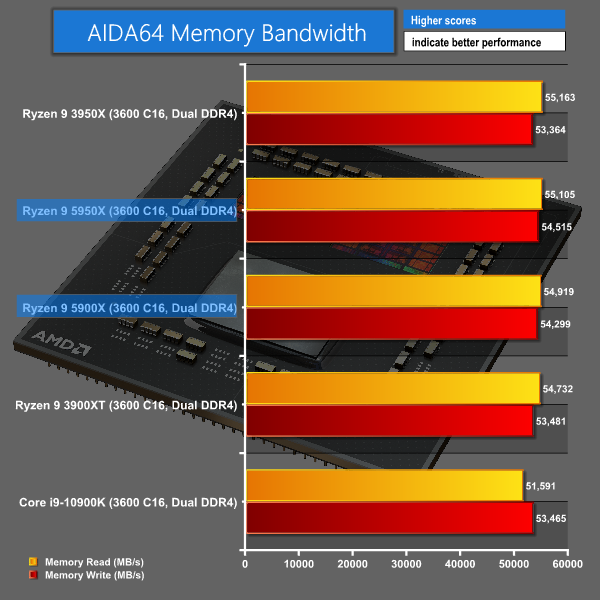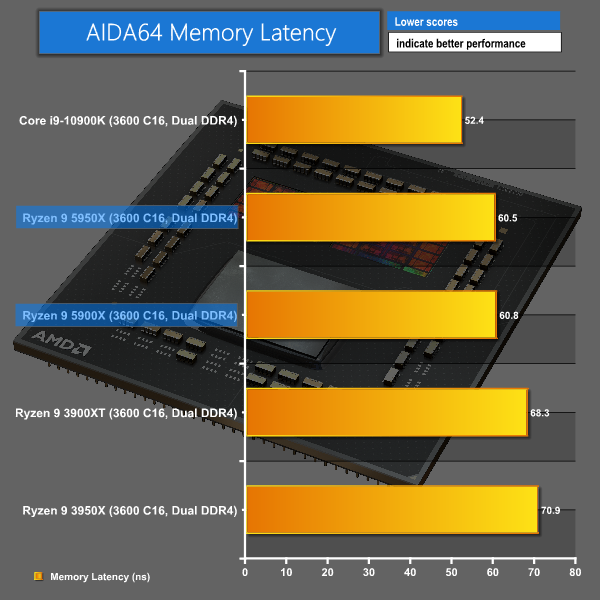 Memory bandwidth numbers for Zen 3 are basically the same as with Zen 2. That comes as no surprise given the use of the same IO die and DDR4 subsystem. DDR4-3600MHz is still the sweet spot according to AMD, but future BIOS revisions may allow for a 2000MHz Fabric Clock that increases the relevance of 4GHz memory modules on AM4.
Memory latency performance, however, looks to have improved for Zen 3 versus Zen 2. This is likely to be another latency benefit that helps gaming performance. Intel's Comet Lake Core i9-10900K is still slicker when it comes to raw memory latency numbers, though.
3DMark Time Spy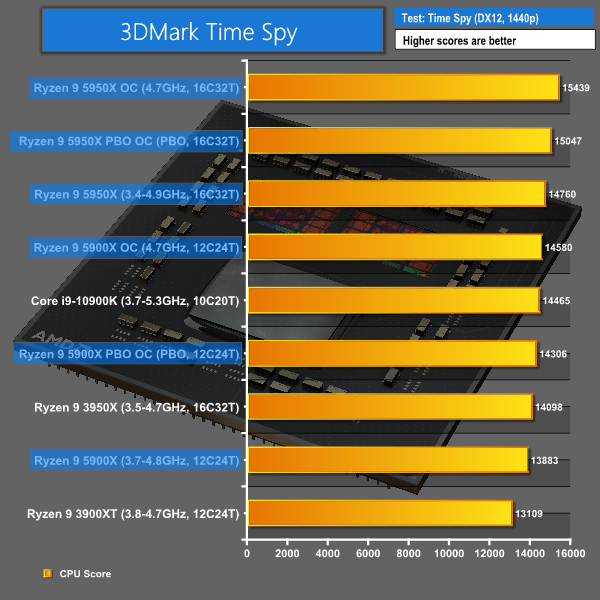 In 3DMark Time Spy performance, AMD does well with Zen 3 in the 16-core form.
F1 2020
We use the DirectX 12 mode, TAA, and the Ultra High quality preset.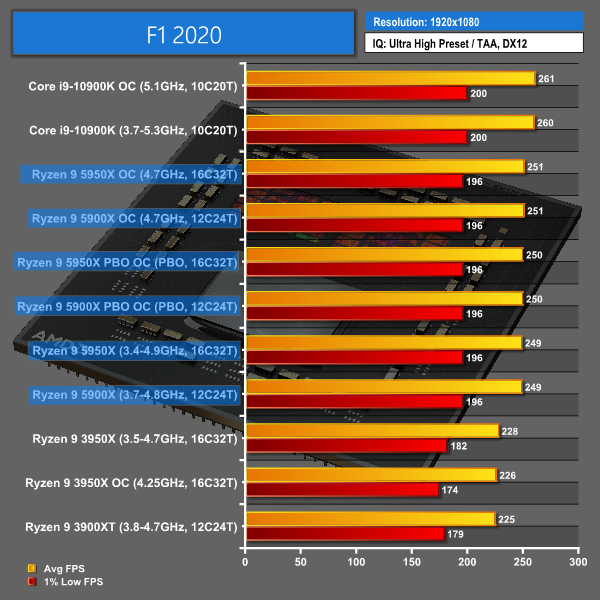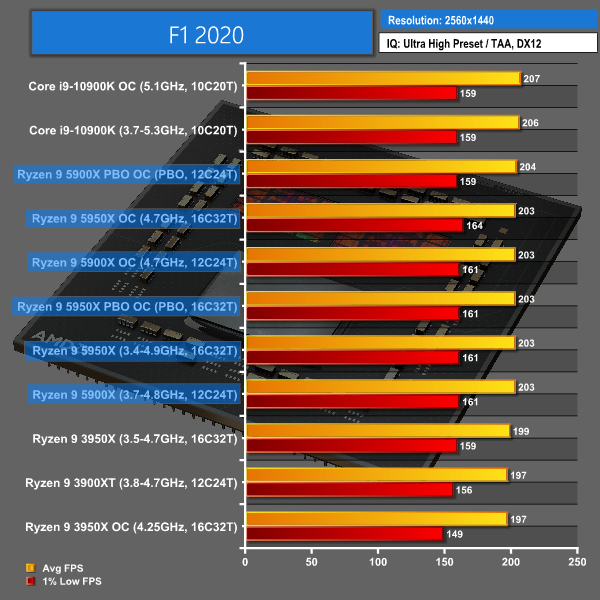 F1 2020 sees AMD making a positive start in gaming performance. At 1080p with an RTX 3080, the performance increases for Zen 3 over Zen 2 are evident, especially to high refresh rate gamers. Intel is still slightly faster at the top of the chart with the 4.9GHz+ 10900K. But AMD's Zen 3 chips have reduced the Intel margin of victory convincingly.
At 1440P, we see the margins of performance difference narrow and all options are fine in this game.
Grand Theft Auto V
We use the DirectX 11 mode, anti-aliasing disabled, and the Maximum quality settings.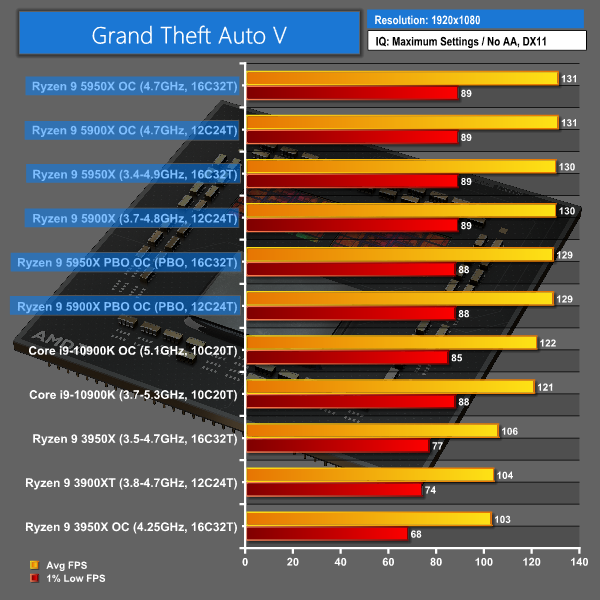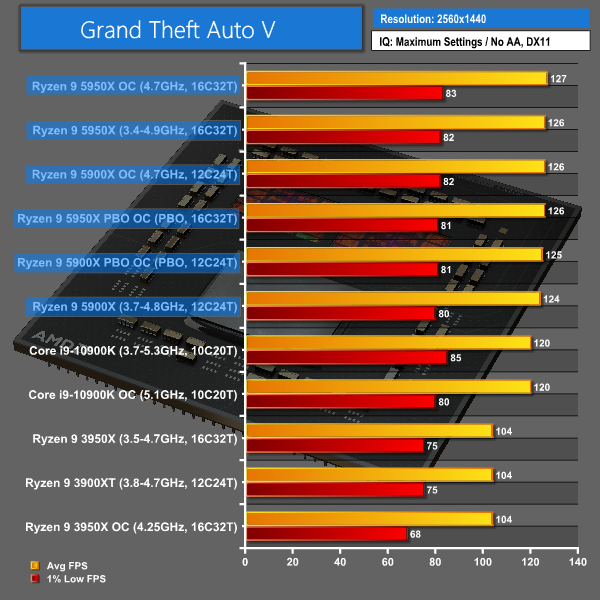 GTA V spells our first victory for AMD with Zen 3 and this is a noteworthy one. GTA V is an old, but still immensely popular and demanding DX11 title. AMD's Zen 3 chips beating the Core i9-10900K in this test is notable given AMD's historic struggles in the Intel-favouring GTA title.
Equally important is the sizable performance increase for Zen 3 versus Zen 2. This now makes the new Ryzen 5000 series chips an excellent choice for high refresh rate gaming with GTA V, whereas previously, Intel was the superior option in that use case.
Increasing the graphics workload to 1440P sees the same trend hold true. Zen 3 is still a little faster than the Core i9-10900K and the performance improvement over Zen 2 is sizable.
Metro Exodus
We use the DirectX 12 mode, PhysX & Hairworks disabled, and the Ultra quality settings.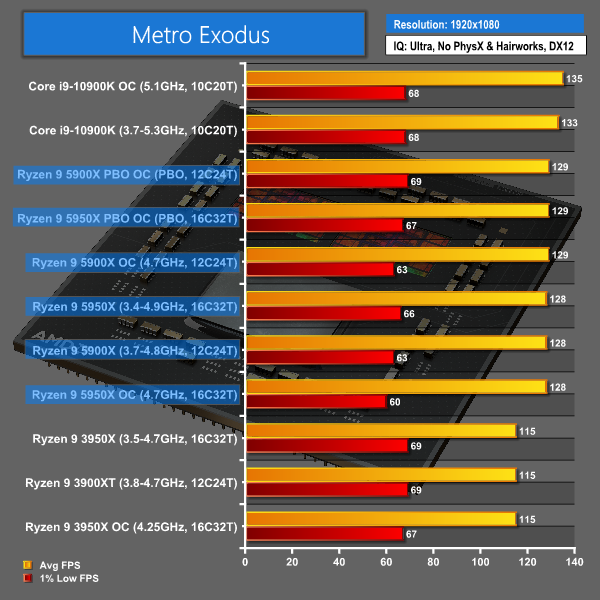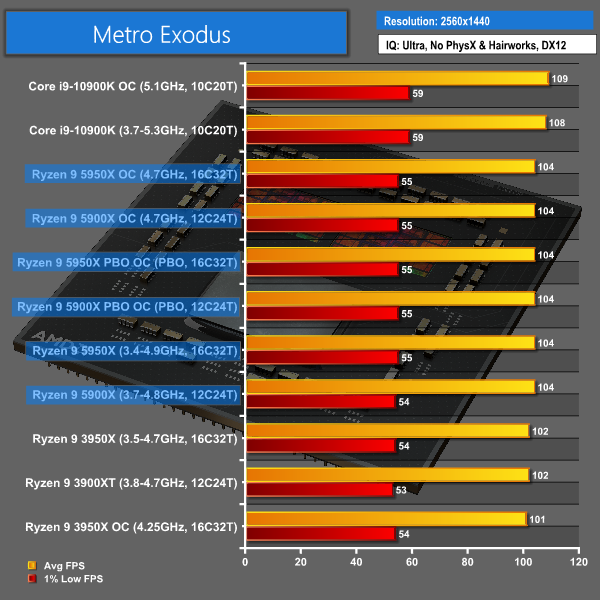 Metro Exodus flips the chart-topping position back to Intel's Core i9-10900K. Here, Zen 3 shows another strong performance uplift versus Zen 2, but the Intel offering is slightly faster.
The key takeaway for Zen 3 is that it is now close enough to the 10900K's performance levels to be considered a smart option for high refresh rate gaming, whereas that was not necessarily the case on Zen 2.
1440P shows the same performance trend, but the margins are constricted to the point where Zen 2, Zen 3, and Comet Lake all do well.
Red Dead Redemption 2

We run the game with image settings manually set to High and the DirectX 12 mode enabled.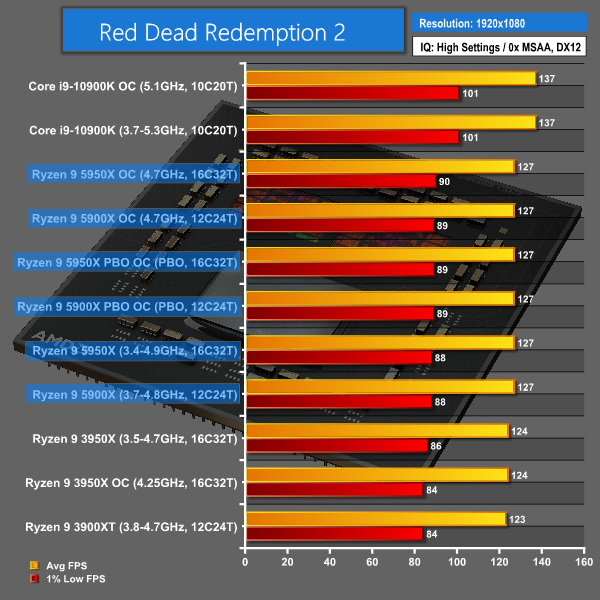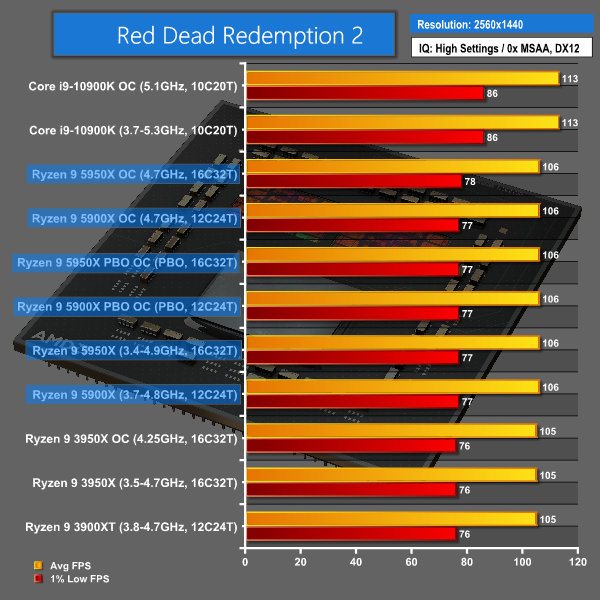 Red Dead Redemption 2 using the DX12 API sees Intel maintain another top-spot performance result. In this modern title, Zen 3 is barely any quicker than Zen 2 using our chosen performance settings. High refresh rate gaming snobs, including myself, may be better impressed by the 10900K's performance behaviour in this title.
At 1440P, Intel still maintains the performance lead with the 10900K and there is little difference in Zen 2 and Zen 3 FPS numbers.
Shadow of the Tomb Raider

We use the DirectX 12 mode, anti-aliasing disabled, and the Highest quality preset.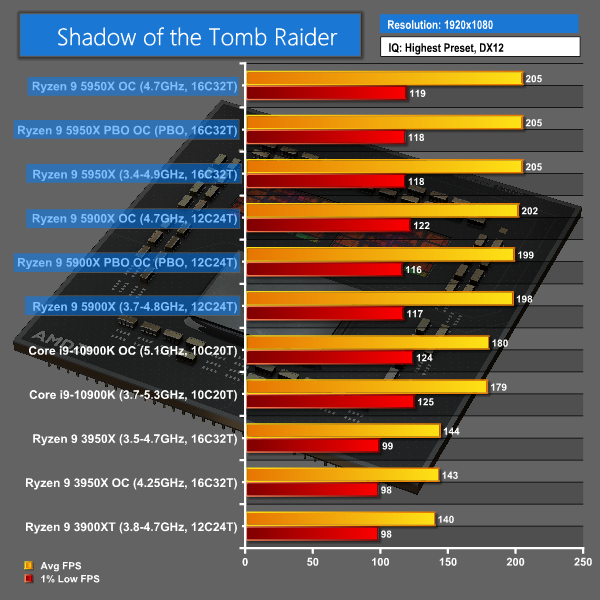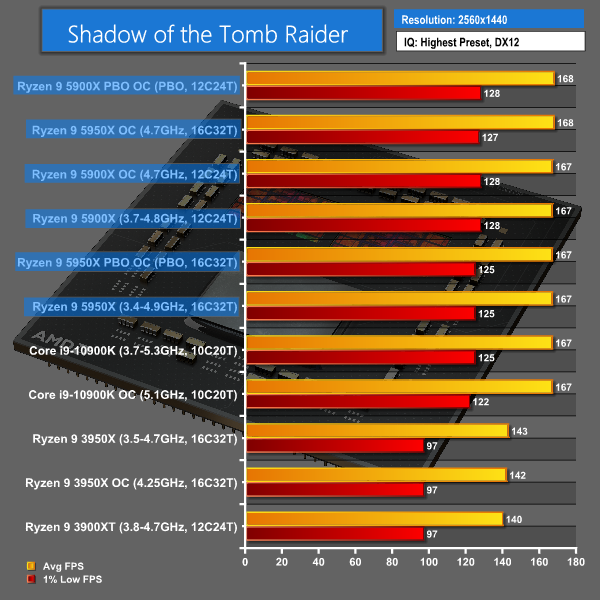 Shadow of the Tomb Raider flips AMD Zen 3 back into another chart-topping result, and this time by a notable margin. This game clearly likes the cache and latency enhancements made to Zen 3, as proven by the drastic performance uptick versus Zen 2.
At 1440p, the graphics workload is demanding enough to close the Zen 3 performance lead versus Intel. But AMD's new Ryzen chips still prove a better option for high refresh rate gamers than Zen 2.
The Division 2
We run the game with quality set to Ultra, VSync disabled, and DX12 mode.
In the Division 2, Intel manages to switch the picture again with a chart-topping result from the Core i9-10900K. AMD's Zen 3 options deliver marginally lower FPS than the Intel mainstream offering, but the performance difference is unlikely to disappoint any potential buyers. Versus Zen 2, Zen 3 shows another reasonable performance uplift in both average FPS and 1% low FPS values.
1440P increases the graphics workload to the point where all chips perform basically the same.
We leave the system to idle on the Windows 10 desktop before taking a power draw reading. For CPU load results, we read the power draw while producing five minutes' worth of loading in the Cinebench R20 nT rendering test.
The power consumption of our entire test system (at the wall) is shown in the chart. The same test parameters are used for temperature readings.
Power Consumption
Power draw readings are accurate to around +/-5W under heavy load due to instantaneous fluctuations in the value. We use a Titanium-rated Seasonic 1000W Prime PSU.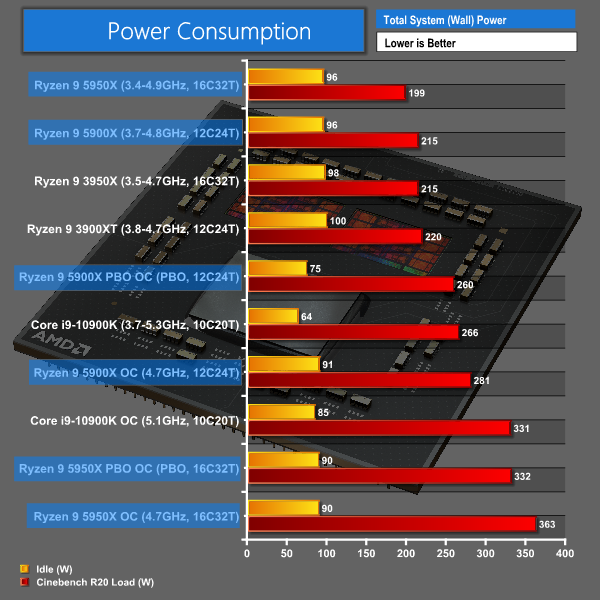 Power consumption still proves to be an area where AMD does very well with Zen 3. The 16-core 5950X does not use its full 142W PPT allocation at stock and therefore results in an impressive wall power draw number of less than 200W for the system.
Removing the frequency shackles by applying PBO or a manual overclock highlights how the 16-core chip can indeed guzzle power if you let it do so. But this power draw increase is backed up rather convincingly with higher clock speeds and performance results.
Performance per Watt
It comes as absolutely no surprise to see the 5950X setting a new tier of performance per Watt thanks to its Zen 3 IPC improvements at similar power draw levels. If you're interested in efficient delivery of compelling performance, the 5950X delivers in spades.
Temperatures
Temperature recordings were taken using the Fractal Celsius+ S28 Prisma 280mm AIO CPU cooler at full fan and pump speed. Ambient temperatures were around 22°C.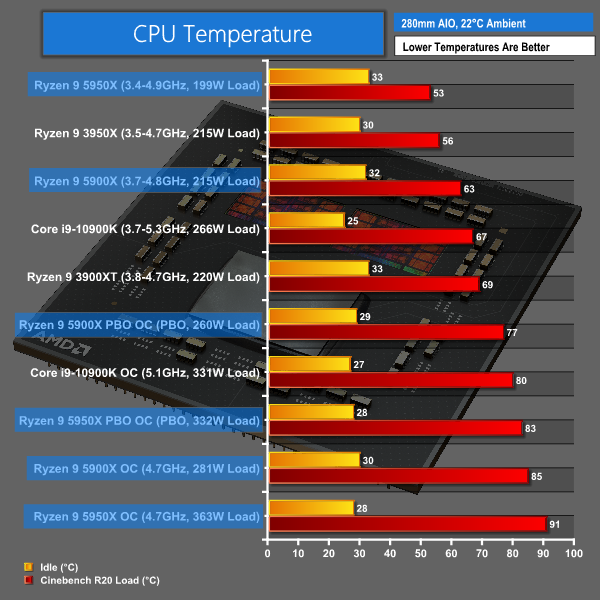 Load temperature numbers from the 5950X were surprisingly low, so much so that we re-checked the data with a different motherboard and an air CPU cooler. The numbers held true.
AMD has done an excellent job in allowing the 16-core chip to run at easy-to-handle temperatures thanks to the modest operating clocks and low power consumption. Of course, PBO increases the operating temperature, as expected, but even that automatic overclock and our hefty manual overclock were fine with a 280mm AIO cooler.
From a temperature perspective, it looks like AMD's Zen 3 will not push you to extremes. This is a very good point, especially with Intel upping their thermal game with the 10900K's redesigned heatspreader. We'd be happy to use big AIO coolers with the 5950X, but our testing also proved that air coolers will do a very good job.

Performance per £ Value
Price increases have been noted with Ryzen 5000 versus Ryzen 3000 and 3000XT. However, the performance per £ metrics highlight that the price increases are in line with performance increases for the 12- and 16-core chips.
Couple in the fact that performance improvements outside of Cinebench workloads, such as in lightly threaded or gaming scenarios, are even higher and Ryzen 5000 actually looks to be very good from a value perspective.
Performance from the new Zen 3 AMD Ryzen 9 5950X 16-core processor is highly impressive. The architectural improvements of Zen 3, in the form of the new 8-core, 32MB CCX and under-the-hood latency enhancements have really delivered in a variety of workloads, including gaming.
Further performance uplift versus its predecessors and competition is delivered via the higher operating clocks for Ryzen 5000, despite still using the same TSMC 7nm process node, albeit with silicon design tweaks from AMD.
A reasonable gaming performance summary would be that AMD is no longer left lagging behind Intel in terms of gaming performance. In our testing, the Core i9-10900K at 4.9GHz+ remains a stellar option for high refresh rate gaming, but AMD has made significant strides with Zen 3 to close the performance gap.
Technically, the Intel chip still looks a little faster based on our testing, but with victories trading back and forth between the 10900K and Zen 3, I do not think it would be unfair to highlight both options as strong, market-leading gaming processors. The Zen 3 gaming performance improvement over Zen 2 is sizable and welcomed.
Overclocking has been improved by a substantial margin in both the manual OC and PBO forms. PBO is a good balance for this generation and is a justifiably good way to run the chip as we saw around 4.45GHz all-core whilst maintaining a 5GHz maximum 1T boost clock.
We get the same power efficient performance that we have come to expect from Zen and the obvious benefit of AM4 platform compatibility is maintained. Power efficiency for the 5950X is actually improved versus its predecessor thanks to better IPC.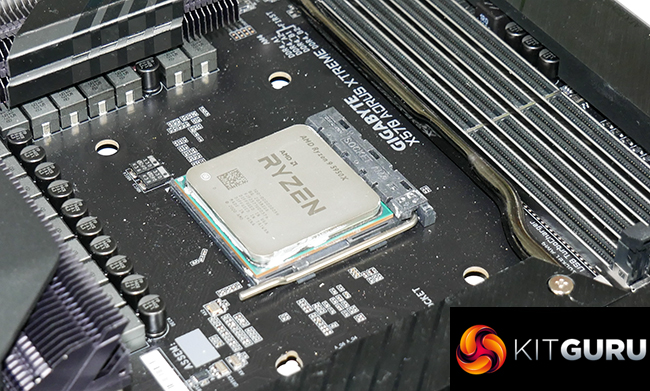 I think AMD's improvements for the 16-core 5950X have delivered a pretty easy-to-declare winner. At its price point of around £750, there is no reasonable, justifiable competitor from Intel, so the new Zen 3 part only really goes up against its Zen 2 predecessor. At around £80 higher current pricing for the 5950X versus the 3950X, I feel that the Zen 3 part is a worthy upgrade thanks to superior IPC, better clock speed behaviour, and enhanced gaming performance.
I know a lot has been said about AMD's price increases with Ryzen 5000 and the potential erosion of some of the value factor. But for the Ryzen 9 5950X, the price increase is absolutely justified by its performance improvements and extremely strong market position.
Zen 3 represents a significant addition to AMD's product stack and really hammers home the point that AMD is still, without question, the dominant force in the desktop CPU market. The flagship of AMD's new-and-improved mainstream line-up – the Ryzen 9 5950X – offers superb productivity performance, high gaming frame rates, and excellent power efficiency. This is a superb high-end processor without any notable weaknesses.

The AMD Ryzen 9 5950X MSRP is $799 USD and £749.99 in the UK. The Ryzen 9 5950X is currently available at Overclockers UK HERE.
Discuss on our Facebook page HERE.
Pros:
Excellent performance in a variety of workloads – multi-threaded productivity, lightly threaded tasks, and high refresh rate gaming.
Impressive boost clock speeds up to 5GHz.
Strong gains from PBO and manual overclocking.
Excellent thermal performance with off-the-shelf CPU coolers.
Remarkable power efficiency.
Drop-in upgrade for current 500-series AM4 owners.
Superior value versus more expensive HEDT solutions.
Cons:
Stock all-core clock speeds not improved versus Ryzen 9 3950X.
More expensive than its predecessor but justified with higher performance.
KitGuru says: The Zen 3 Ryzen 9 5950X takes the mainstream flagship status away from its Zen 2 3950X predecessor. In doing so, it offers a new tier of performance in a variety of scenarios to buyers with £750 to spend on a processor. The Ryzen 9 5950X truly is a fantastic product.