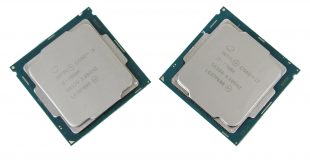 Kaby Lake is upon us. With Intel killing off its Tick-Tock product cycle in 2016, Kaby Lake ushers in the new 'Optimisation' phase of a Process-Architecture-Optimisation strategy. What does that mean? Kaby Lake is effectively a barely tweaked version of Skylake which uses Intel's optimised 14nm+ process technology resulting in improved frequencies.

Reading between the lines, this means that significant performance improvements are not Kaby Lake's goal (spoiler: that's effectively how the performance is). What the optimised 14nm+ process node brings to the table is improved frequency performance which sees the Kaby Lake Core i7-7700K shipping as Intel's fastest out-of-the-box consumer chip. And that improved frequency ability stays when overclocking the chips past their rated speeds and voltages.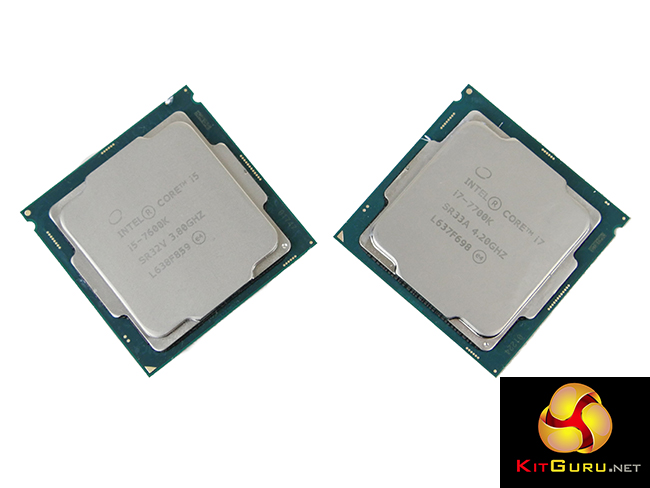 The Skylake Core i5-6600K and Core i7-6700K have generally been received well by the enthusiast market since their launch in August 2015. Aided by a feature-rich platform that offered temptation for users interested in high-speed storage and connectivity pipelines, Skylake adoption rates seemed very good, anecdotally speaking.
Kaby Lake's 3.8GHz (4.2GHz turbo) Core i5-7600K and 4.2GHz (4.4GHz turbo) Core i7-7700K basically aim to pick up where the Skylake predecessors have left off. The CPUs are joined by the new Z270 chipset which brings with it additional IO lanes and support for Intel Optane Memory but the same LGA 1151 socket is used so Skylake works with Z270 and Kaby Lake works on Z170 (with a BIOS update). Oh, and there's Intel 's new HD 630 iGPU under-the-hood which runs up to 1150MHz for the unlocked i5 and i7 (not that gamers or discrete GPU users will care).
So, to be brutally honest, there's little for desktop enthusiasts to get particularly excited about with Kaby Lake from a CPU perspective. The exception to that statement is a hoped increase to upper-end frequencies achievable via overclocking thanks to the optimised process technology. On the desktop side of things, this is basically a case of making the fastest architecture faster simply because the process node optimisations are there for the taking.
Note: Please ignore the pricing numbers in the above images as they are incorrect.
Core i7-7700K and Core i5-7600K represent the multiplier-unlocked launch party for Kaby Lake. There's an unlocked dual-core, hyper-threaded Core i3-7350K on the horizon but that part is unlikely to show up for another few weeks.
The 7700K and 7600K are both rated as 91W TDP parts due to their multiplier-unlocked statuses. The i7-7700K is a 4 core, 8 thread part that operates at 4.2GHz base frequency and boosts as high as 4.5GHz. Hyper-threading is not enabled with the i5-7600K, making it a 4 core, 4 thread part that runs at 3.8GHz base and 4.2GHz maximum turbo boost speed. Those boost speeds are using Turbo Boost 2.0, not 3.0 as seen on Broadwell-E CPUs. 8MB of Intel Smart Cache (L3) is used for the i7-7700K while the i5-7600K chip gets that cut down to 6MB.
Both CPUs use Intel's new up-to-1150MHz HD 630 integrated GPU which we will discuss in further detail shortly (and test). The same dual-channel DDR3L/DDR4 memory capability seen on Skylake is present with Kaby Lake but this time DDR4 frequency support is increased to 2400MHz natively.
The highlighted pricing for the 7700K and 7600K is lower than that of both Skylake predecessors; the Core i7-7700K is $305 (vs the 6700K's $350) while the Core i5-7600K is $217 (vs the 6600K's $243). Update 03/01/2017: it has come to our attention that pricing information in the above images is for 1ku tray pricing, which is not comparable to the retail pricing numbers for Skylake. Suggested retailer pricing for the Core i7-7700K is $339 and the i5-7600K is $242. The Great British Pound has depreciated significantly since Skylake's August 2015 launch so don't expect to see much difference in the pricing for Kaby Lake compared to Skylake (there'll probably be a slight increase, in fact).
We expect the i7-7700K to retail towards the £350 mark and the Core i5-7600K to sell towards £240. Update 05/01/2017: the Core i7-7700K is now available for £349.99 and the Core i5-7600K is £239.99 from Overclockers UK.

Jumping through the ages (from left to right): Devil's Canyon i7-4790K, Skylake i5-6600K & i7-6700K, Broadwell-E i7-6800K, Kaby Lake i5-7600K & i7-7700K.
Features (Core i7-7700K):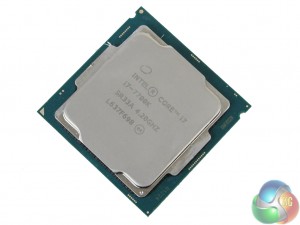 4.2GHz base frequency (up to 4.5GHz turbo frequency).
Unlocked core ratio multiplier.
BCLK overclocking capability.
4 cores, 8 threads.
8MB Intel Smart Cache.
Dual-channel DDR4-2400MHz and DDR3L-1600MHz native memory support.
16 PCIe 3.0 lanes.
Intel HD 630 GPU (up to 1150MHz).
91W TDP.
LGA 1151 socket.
$339 pricing.
Features (Core i5-7600K):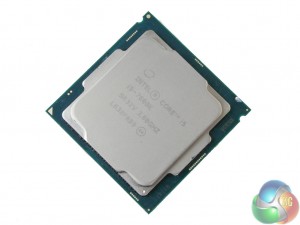 3.8GHz base frequency (up to 4.2GHz turbo frequency).
Unlocked core ratio multiplier.
BCLK overclocking capability.
4 cores, 4 threads.
6MB Intel Smart Cache.
Dual-channel DDR4-2400MHz and DDR3L-1600MHz native memory support.
16 PCIe 3.0 lanes.
Intel HD 630 GPU (up to 1150MHz).
91W TDP.
LGA 1151 socket.
$242 pricing.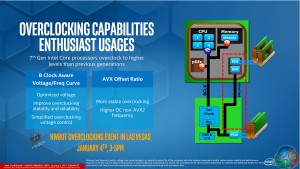 So, what exactly is new with Kaby Lake other than its iGPU? Well there are two overclocking tricks which are likely to prove useful. First is a BCLK-aware voltage/frequency curve which effectively allows the CPU to run at a given frequency with a more optimised voltage than the Skylake predecessor would, in theory.
There's also the AVX offset ratio which is also present on Broadwell-E CPUs. This allows the CPU to operate at a user-defined frequency when overclocked, but then back off by a chosen number of multiplier ratios when an AVX workload is applied.
This is a smart feature as AVX-based workloads can put greater (different) stress on the CPU than those of an SSE variety and represent a challenge in achieving 24/7 stability. You may find with Kaby Lake that your chip is generally stable at a 5.0GHz but AVX software cripples your system into a BSOD past 4.8GHz. In this case, the CPU could be set to operate at 5.0GHz but then a -2x multiplier AVX offset would back the clock speed down to 4.8GHz. This would enhance stability for AVX-based workloads without reducing performance for other operations (which can run at the higher frequency).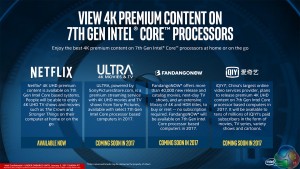 One of Kaby Lake's most noteworthy features is its ability to play a variety of 4K streaming content using the iGPU. In fact, you need Kaby Lake to stream 4K content using Netflix on a PC. Intel's HD 630 GPU found in Kaby Lake features an improved media engine with hardware support for the VP9 codec and HEVC 10-bit.
Infuriating as it may be to desktop enthusiasts, the HD 630 iGPU's ability to stream 4K content is good for SFF media players and laptops. Of course, that doesn't help purchasers of K-series SKUs who will almost certainly use a dedicated graphics card in their system.
Subtle changes have been made to the Z270 chipset launching alongside Kaby Lake. The maximum number of PCIe 3.0 lanes from the chipset is increased to 24, up from Z170's 20. There's still a limitation to how many PCIe lanes can be allocated alongside a specific number of SATA and USB 3.0 lanes. The point is that four more PCIe 3.0 links effectively gives motherboard vendors freedom to add in a secondary M.2 PCIe 3.0 x4-capable slot 'free of charge' without stealing valuable CPU PCIe lanes.
Three independent displays are still supported by Z270 and Intel RST still supports up to 3 PCIe 3.0 storage ports (up to x4 bandwidth). DDR4 and DDR3L are both technically support by the chipset but it is highly unlikely that vendors will release Z270 boards which support DDR3 memory rather than DDR4.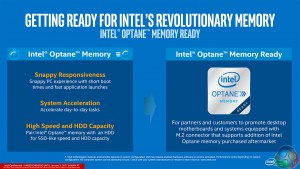 Z270 also supports Intel's new Optane Memory technology. Intel has been very unclear with details on Optane Memory and seemed very reluctant to answer direct questions relating to the feature.
The feature seems to be somewhat similar to Smart Response Technology (SRT) introduced with the Z68 chipset which allowed an SSD to act as a cache device for a larger mechanical HDD. This solution potentially looks to be taking that one step further by using an Optane-based device to cache a larger mechanical or NAND flash storage drive. Alternatively, this could just be SRT rebranded under a new guise to reflect the adoption of small but fast M.2 SSDs.
If that latter point is true, it wouldn't be particularly surprising. SRT was largely laughed out of the marketplace by an enthusiast audience that quickly identified its flaws (yes, because everybody wants to open their content 5 times so that it can finally get a speed boost!) in addition to falling NAND pricing making adequately-large SSDs more affordable.
As was the case with Skylake, overclocking with Kaby Lake is fun! The voltage regulator is still separate from the CPU and the BCLK is completely open to be tweaked. Add in the process node optimisation and higher out-of-the-box frequencies and Kaby Lake starts to refresh fond memories of the old Sandy Bridge days of overclocking.
We gravitate our overclocking testing around adjusting the core ratio route with a static 100MHz BCLK. This is the most straightforward way of overclocking and is likely to be used by those who want quick, simple gains without the significant effort expenditure that BCLK tweaking requires.
Kaby Lake's new AVX Offset Ratio feature is another factor to consider when overclocking. We decided against using it when overclocking our chip in case it caused issues with gathering data from the overclocked chip (though later testing highlighted its ability to function correctly). However, we would certainly advise readers to find a stable non-AVX frequency and a stable AVX frequency and then use the offset ratio to link the two together. This will allow the chip to operate at its maximum stable speed all the time without BSODing under AVX operations.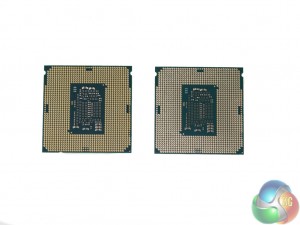 We initiated testing using a 1.40V CPU VCore for the overclocking tests. Using a strong CPU cooler (such as the Noctua D14 or Corsair H100i) is important when pushing Kaby Lake to 1.35V and above. Using a Corsair H110i GT we observed unusual thermal performance that seemed to be driven by Kaby Lake's reaction to operations at certain stages of the Prime 95 v28.10 in-place large FFTs stability test.
Power consumption would spike by more than 50W and CPU temperatures would almost instantly shoot up to more than 90°C. When this unusual period of stress was complete, the CPU would drop back down to temperatures in the 70°C range. This is important as it effectively ruled out extended 1.4V testing without opting for custom liquid cooling or de-lidding the processor.
As such, the voltage level was quickly reduced to 1.35V CPU VCore, LLC Mode 4 was applied using our MSI Z270 Gaming Pro Carbon test motherboard as this delivered a continuous voltage close to 1.35V without significant drop or overshoot under load. Stability at the given frequency was confirmed once more than 1 hour of Prime 95 in-place large FFTs testing was completed without thermal throttling.
In short, our i5-7600K and i7-7700K overclocking settings were:
1.35V CPU VCore (retail CPUs)
Mode 4 LLC (1.344-1.360 VCore in OS)
Prime 95 in-place large FFTs 1+ hour stability test
XMP-3200 DDR4
Cache frequency maintained at 4.2GHz forced-turbo value
Intel Core i7-7700K Overclocking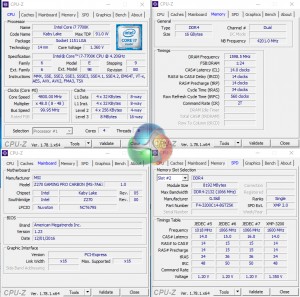 The best Prime-stable overclock that we could achieve using 1.35V was 4.8GHz (48 x 100MHz). This is as expected for a 1.35V VCore as bumping up to 5GHz with Prime-stability will generally require more than 1.4V and a very good chip (not to mention cooling), based on information we received.
Around 4.8GHz should be a safe bet for most 7700K users. Those who insist on Prime 95 stability and want to stick below 1.35V, as we did, may have to settle for 4.7GHz but it's unlikely that anything lower will be necessary. At this level of voltage and stability testing, a strong AIO liquid cooler is effectively a must as air coolers will struggle unless very high speed fans are used.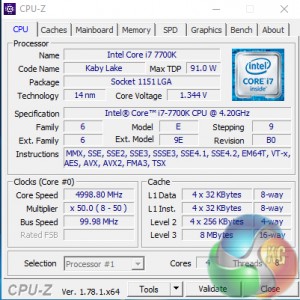 We pushed the chip to its limit at 1.35V which was 5.0GHz. This was not Prime 95 stable (workers would drop out) although it did pass an extended period of AIDA 64 stability testing as well as multiple Cinebench and Handbrake runs. It was effectively all-but Prime stable.
This is where the AVX offset ratio for Kaby Lake will prove useful. Our CPU is stable at 5.0GHz with 1.35V provided AVX workloads or Prime 95 are not loaded. In this case, we could easily set the CPU to 5.0GHz and then set a -2x multiplier AVX ratio offset to back the chip down to 4.8GHz when anything AVX-related is loaded.
Simply put, 5.0GHz without Prime 95 or harsh AVX stability should be achievable for 7700K users while also staying at around 1.35V or less. A good chip may push to 5.1GHz but that's likely to require closer to 1.40V (or higher) to maintain stability.
Intel Core i5-7600K Overclocking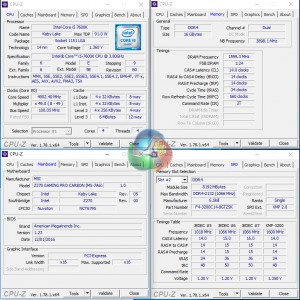 Superb overclocking performance continued down the scale to the i5-7600K. We managed to take our retail 7600K sample to 4.9GHz with complete Prime 95 stability. 5GHz should be achievable if Prime 95 stability is not required.
Similar temperature fluctuation behaviour was observed with the i5-7600K, though not to the same level as the i7-7700K. The chip would still spike to 90°C and higher using a Corsair H110i GT CPU cooler but the time spent at those higher temperature levels was lessened.
Pairing a £100+ AIO liquid cooler with a ~£200 CPU is unlikely. If you are using something more moderately priced to cool the i5-7600K, either backing off on the applied voltage or not using Prime 95 for stability testing would be good suggestions for keeping temperatures in check.
We will be outlining the Kaby Lake Core i7-7700K and Core i5-7600K CPUs' performance while using an MSI Z270 Gaming Pro Carbon motherboard.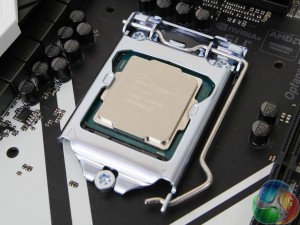 We expect the Kaby Lake 7700K to show slight performance improvements over the Skylake 6700K it replaces thanks to the new chip's higher clock speeds. It will be interesting to see how the i7-7700K competes with the Core i7-6800K which uses inferior Broadwell microarchitecture but offers six physical cores with hyper-threading and 15MB of cache.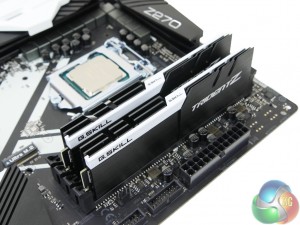 A 16GB (2x8GB) kit of G.Skill's Trident Z DDR4 memory serves our test system. The kit's rated frequency of 3200MHz with CL14 timings should ensure that memory-induced bottlenecks are removed.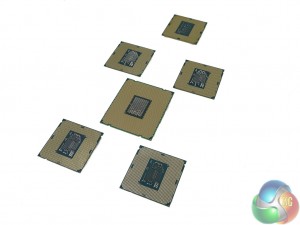 Today's comparison processors come in the form of a Devil's Canyon i7-4790K, Broadwell-E i7-6800K, and Skylake's i5-6600K and i7-6700K. These form some of the best and most popular CPUs in their respective pricing ranges and product hierarchies. They also give a solid overview of where Kaby Lake slots into the current market in terms of performance.
We test using the forced turbo (multi-core turbo – MCT) setting that most motherboard vendors now enable by default or when using XMP memory. This feature pins all of the CPU's cores at the maximum turbo boost frequency (4.5GHz for the 7700K and 4.2GHz for the 7600K) all of the time. The voltage is bumped up to enhance stability but this results in greater power consumption and higher temperature readings which are important to remember when testing those parameters.
We tested using MCT settings for all of the CPUs. We also tested all CPUs' achievable overclocked frequencies so that you can see how your overclocked chip compares to another overclocked chip.
CPU Test System Common Components:
Graphics Card: Nvidia GeForce GTX Titan X Pascal (custom fan curve to eliminate thermal throttling).
CPU Cooler: Corsair H110i GT.
Power Supply: Seasonic Platinum 760W.
Operating System: Windows 10 Pro 64-bit (Anniversary Update).
Corsair's H110i GT and the Seasonic 760W Platinum provide ample cooling and power to really push the CPU overclocks. Nvidia's GTX Titan X Pascal is the fastest gaming GPU on the planet, making it ideal for alleviating GPU-induced bottlenecks and putting the onus on CPU performance.
Kaby Lake & Skylake LGA 1151 System (7600K, 7700K, 6600K, 6700K):

7600K CPU: Intel Core i5-7600K 'Skylake' (Retail) 4 cores, 4 threads (4.2GHz stock MCT & 4.9GHz @ 1.35V overclocked).
7700K CPU: Intel Core i7-7700K 'Skylake' (Retail) 4 cores, 8 threads (4.5GHz stock MCT & 4.8GHz @ 1.35V overclocked).
6600K CPU: Intel Core i5-6600K 'Skylake' (Retail) 4 cores, 4 threads (3.9GHz stock MCT & 4.5GHz @ 1.35V overclocked).
6700K CPU: Intel Core i7-6700K 'Skylake' (Retail) 4 cores, 8 threads (4.2GHz stock MCT & 4.7GHz @ 1.375V overclocked).
Motherboard: MSI Z270 Gaming Pro Carbon (LGA 1151, Z270).
Memory: 16GB (2x8GB) G.Skill Trident Z 3200MHz 14-14-14-34 DDR4 @ 1.35V.
System Drive: SanDisk Extreme II 240GB.
Broadwell-E 6800K System:

CPU: Intel Core i7 6800K 'Haswell-E' (Retail) 6 cores, 12 threads (3.6GHz stock MCT & 4.2GHz @ 1.275V overclocked).
Motherboard: ASRock X99 Taichi (LGA 2011-v3, X99).
Memory: 16GB (4x4GB) G.Skill Ripjaws 4 2666MHz 15-15-15-35 DDR4 @ 1.20V.
System Drive: SanDisk Ultra Plus 256GB.
Devil's Canyon 4790K System:

CPU: Intel Core i7 4790K 'Devil's Canyon' (Engineering Sample) 4 cores, 8 threads (4.4GHz stock MCT & 4.7GHz @ 1.30V overclocked).
Motherboard: ASRock Z97 OC Formula (LGA 1150, Z97).
Memory: 16GB (2x8GB) G.Skill Trident X 2400MHz 10-12-12-31 DDR3 @ 1.65V.
System Drive: Kingston SM2280S3/120G 120GB.
Software:
MSI Z270 Gaming Pro Carbon BIOS v1.23 (pre-release).
GeForce 376.19 VGA drivers.
Tests:

Productivity-related:
Cinebench R15 – All-core & single-core CPU benchmark (CPU)
HandBrake 0.10.5 – Convert 6.27GB 4K video recording using the Normal Profile setting and MP4 container (CPU)
WPrime – 1024M test, thread count set to the CPU's maximum number (CPU)
SiSoft Sandra 2016 SP1 – Processor arithmetic, cryptography, and memory bandwidth (CPU & Memory)
7-Zip 16.04 – Built-in 7-Zip benchmark test (CPU & Memory)
Gaming-related:
3DMark Fire Strike v1.1 – Fire Strike (1080p) test (Gaming)
3DMark Time Spy – Time Spy (DX12) test (Gaming)
VRMark – Orange room (2264×1348) test (Gaming)
Ashes of the Singularity – Built-in benchmark tool CPU-Focused test, 1920 x 1080, Extreme quality preset, DX12 version (Gaming)
Grand Theft Auto V – Built-in benchmark tool, 1920 x 1080, Maximum quality settings, Maximum Advanced Graphics (Gaming)
The Witcher 3: Wild Hunt – Custom benchmark run in a heavily populated town area, 1920 x 1080, Maximum quality settings, Nvidia features disabled (Gaming)

Rise of the Tomb Raider – Built-in benchmark tool, 1920 x 1080, Low quality preset, AA disabled (iGPU)
Cinebench
Cinebench is an application which renders a photorealistic 3D scene to benchmark a computer's rendering performance, on one CPU core, all CPU cores or using the GPU. We run the test using the all-core CPU and single-thread CPU modes.
Note: The asterisk next to the Haswell-E Core i7 5820K and 5960X is because their data has been taken from a previous review using a slightly different test platform. Performance differences will be minimal hence why the data is used again but we deemed it important to point out the fact.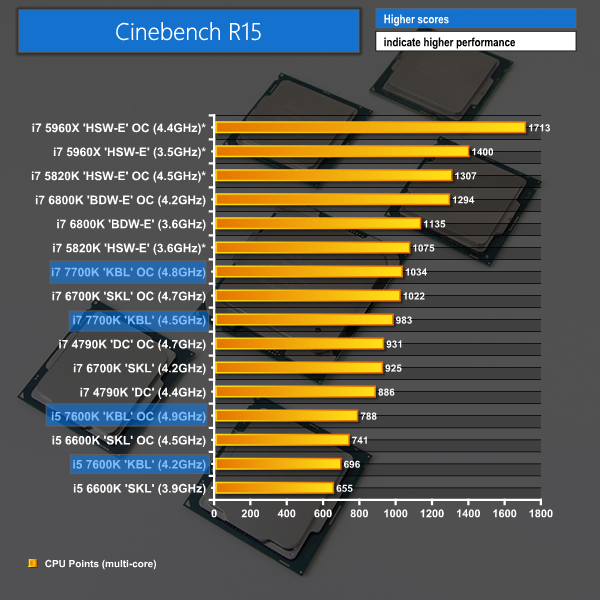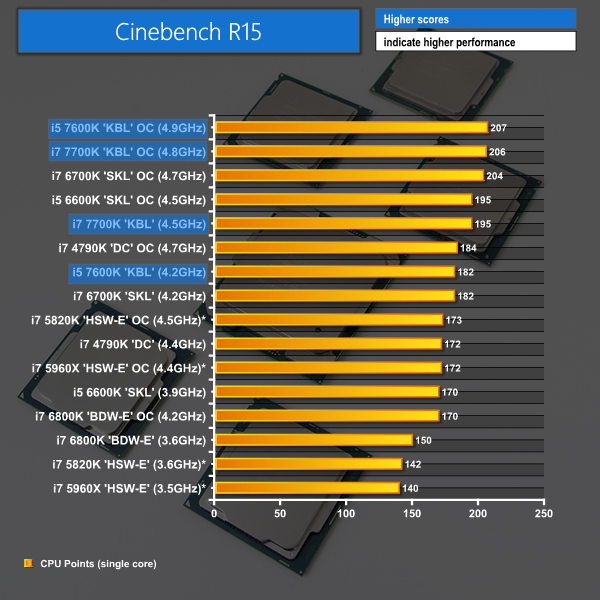 The recipe for success in Cinebench is a known – vast amounts of threads balanced with a good clock speed and architectural performance win the day. It's unsurprising to see the 12- and 16-thread HEDT parts congregating at the top of the chart.
That doesn't deter from the fact that the overclocked 7700K put in a stellar performance that sees it very close to matching a stock-clocked 5820K in the multi-thread test. The stock-clocked 4.5GHz 7700K is around 7% faster than the stock-clocked 4.2GHz 6700K it replaces. This comes as no surprise whatsoever given the Kaby Lake model's 7% higher clock speed while using practically identical architecture.
Focussing on the i5 chips, their 4-core, 4-thread status leaves them battling at the bottom of the table, unable to compete with hyper-threaded i7 chips. Kaby Lake's 7600K is around 6% faster than the stock Skylake 6600K. The new i5 opens up a greater lead when overclocked thanks to its superior frequency headroom making 4.9GHz a stable frequency. At 4.9GHz, Kaby Lake Core i5-7600K narrows the gap to a stock-clocked Devil's Canyon 4790K quite significantly and is 'only' slower by around 11%.
No surprises when it comes to single-threaded performance; Skylake architecture (also used in Kaby Lake) sits at the top of the chart and is ordered in terms of frequency. The exception is where a 4.7GHz Haswell-powered 4790K sits between the 4.2GHz i5-7600K and 4.5GHz i7-7700K – a 500MHz clock speed boost for the Haswell i7 is just enough to let it outperform the 4.2GHz 7600K.
If the software you are using relies heavily on single-threaded performance, there is nothing faster in the consumer space than a high-frequency chip with Skylake microarchitecture. And that point about the chip being fast gives Kaby Lake the upper hand over original Skylake thanks to the optimised process technology allowing for generally higher top speeds. For perspective, overclocked Kaby Lake is 22% faster than overclocked Broadwell-E in single-threaded performance.
WPrime

WPrime is a leading multithreaded benchmark for x86 processors that tests your processor performance by calculating square roots with a recursive call of Newton's method for estimating functions. We use the 1024M test in WPrime to analyse processor calculation performance.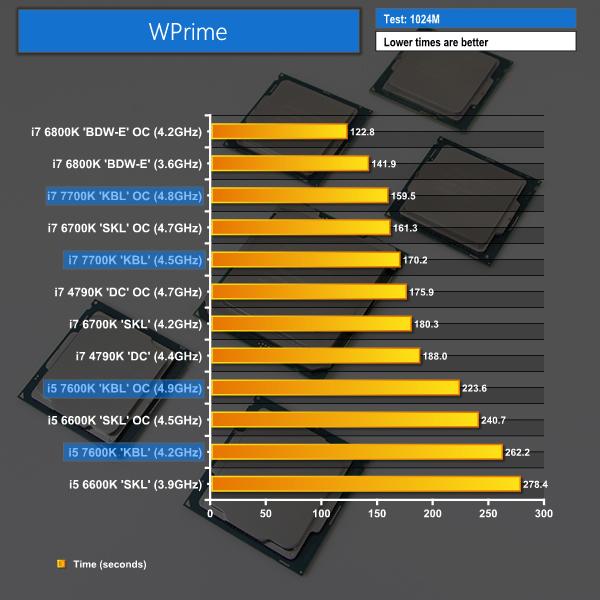 WPrime likes threads and speed with a sprinkle of microarchitecture. 12-threads for the Broadwell-E 6800K wins the day, even considering its 1.2GHz clock speed disadvantage against the overclocked 8-thread Kaby Lake i7. Kaby Lake generally beats out Skylake by virtue of its higher clock speed and greater overclocking potential.
The Devil's Canyon 4790K sits at the bottom of the Core i7 hierarchy due to its older Haswell microarchitecture and 8 threads. Even with a 200MHz clock speed disadvantage, the Kaby Lake 7700K still outperforms the 4790K by just over 3%.
Handbrake Conversion
Handbrake is a free and open-source video transcoding tool that can be used to convert video files between different codecs, formats and resolutions. We measured the average frame rate achieved for a task of converting a 6.27GB 4K video using the Normal Profile setting and MP4 container. The test stresses all CPU cores to 100% and shows an affinity for memory bandwidth.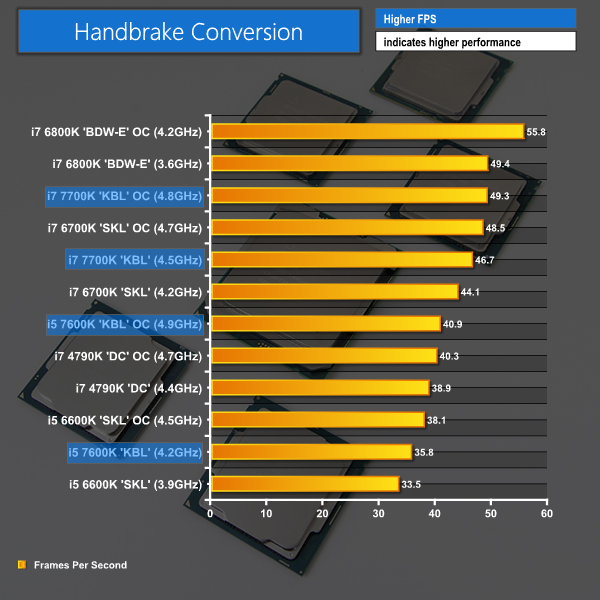 Our Handbrake test procedure allows all available threads to be fully loaded on each of the CPUs. Broadwell-E wins thanks to its six hyper-threaded cores but overclocked Kaby Lake is practically level with the stock-clocked 6800K (aided by KBL's uses of DDR4-3200 dual-channel RAM vs BDW-E's DDR4-2666 quad channel memory). This speaks volumes for the performance of the Skylake microarchitecture because a 1.2GHz (33%) clock speed advantage can offset the 6800K's four additional (50% more) threads.
The 4.9GHz overclocked Core i5-7600K puts in a superb showing managing to outperform both the stock-clocked and overclocked Devil's Canyon i7-4790K. Higher-bandwidth DDR4 RAM also helps the Kaby Lake chip.
If you are a movie aficionado who uses Handbrake to convert films and load them onto a Plex media server, the high frequency potential of Kaby Lake chips make them a good choice using a price vs performance metric.
7-Zip
7-Zip is an open source Windows utility for manipulating archives. We measure the Total Rating performance using the built-in benchmark tool. The test stresses all CPU cores to 100% and shows an affinity for memory bandwidth.
Note: The asterisk next to the Haswell-E Core i7 5820K and 5960X is because their data has been taken from a previous review using a slightly different test platform. Performance differences will be minimal hence why the data is used again but we deemed it important to point out the fact.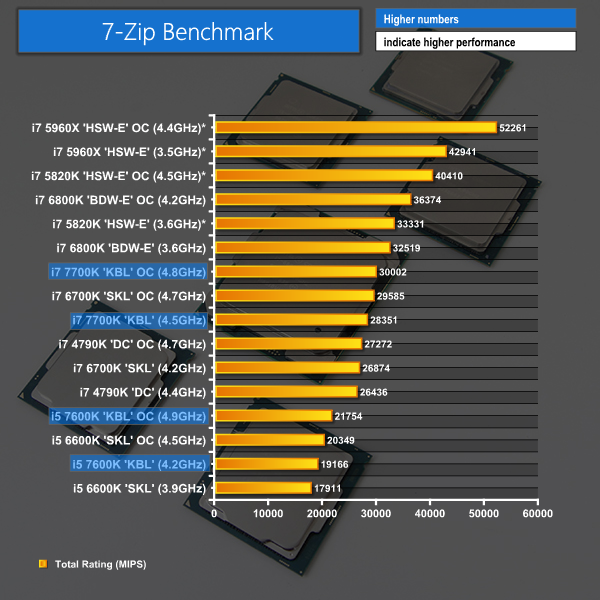 Balancing load across multiple threads is the best solution to tackling significant amounts of file compression and decompression using 7-Zip. The quad-core Kaby Lake i7 is outperformed by Broadwell-E's six-core even when the latter is giving up 1.2GHz in clock speed.
As expected, Kaby Lake is slightly faster than Skylake thanks to its ability for higher clock speeds. Stock-clocked i7-7700K is 5.5% faster than stock-clocked i7-6700K. The gap is slightly widened to 7% when focusing on the stock-clocked i7s but there's also margin of error in the test procedure at play.
CPU-related testing overview:
Kaby Lake is faster than Skylake thanks to its higher clock speeds. Greater overclocking potential for the Kaby Lake chips also keeps them in front of Skylake when both CPUs are overclocked. The superb overclocking potential of our Kaby Lake i5-7600K sample sees it giving some higher-priced chips a decent fight when it isn't at a serious multi-threading disadvantage.
Broadwell-E is faster than Kaby Lake when its high core count can be properly utilised. But there is also evidence in some tests that the overclocked 7700K's significantly higher core frequency can practically eliminate the performance gap to a 12-thread 6800K operating at stock speeds.
If you run a large amount of multi-thread rendering or file compression and decompression, Kaby Lake will be at a disadvantage to the currently-available six-core Broadwell-E 6800K (although that chip is more expensive). If your operations rely heavily upon single-threaded performance, where microarchitecture plays a big part in the performance hierarchy, Kaby Lake is a good option that looks even more impressive thanks to its high clock speeds.
Sandra Processor Arithmetic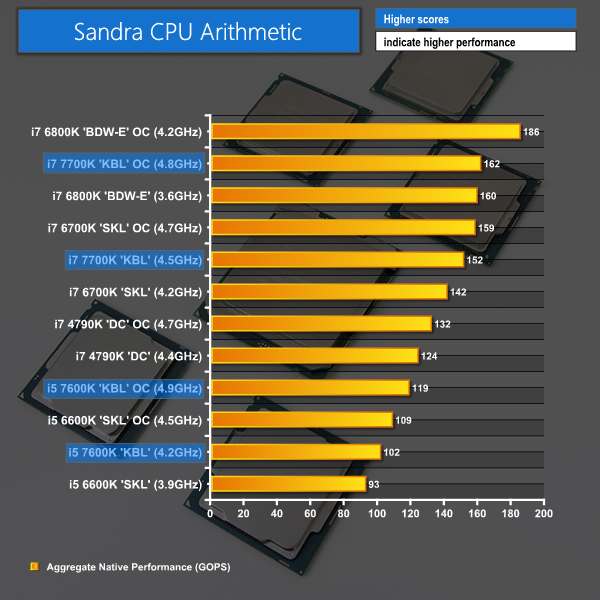 Sandra Cryptographic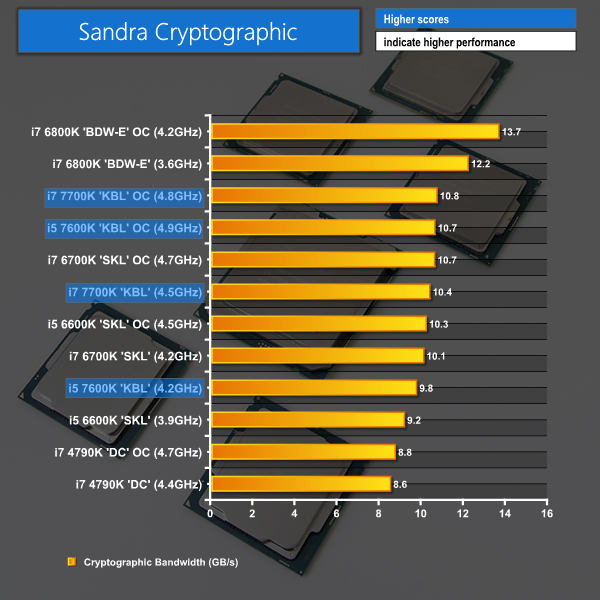 Sandra Memory Bandwidth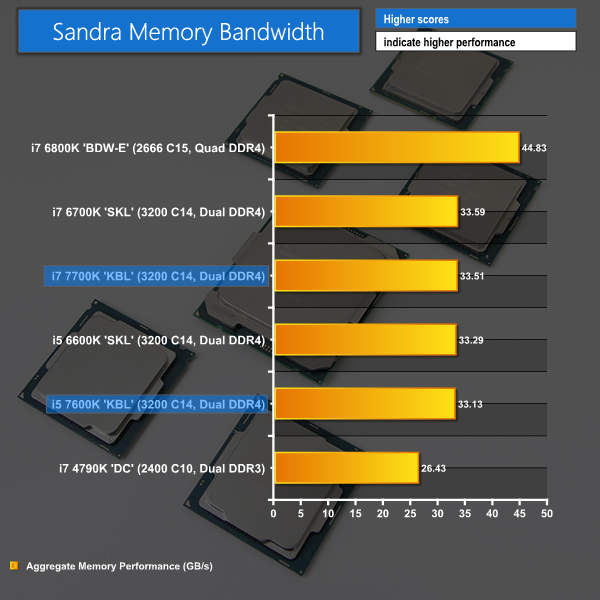 The synthetic tests conducted by SiSoft Sandra give an indication of where each processor should fall in an ideal test scenario.
Performance in the Processor Arithmetic test is interesting as the overclocked i7-7700K manages to overcome its core count disadvantage and outperform a stock-clocked 6800K. Other than that, performance is still generally how we would expect it to be – Kaby Lake is faster than Skylake by virtue of its higher clock speeds.
The Cryptographic benchmark shows tendencies for liking architecture performance, clock speed, and also core count. Kaby Lake chips perform better than their core count would suggest (against BDW-E and DC) by virtue of the well-designed Skylake microarchitecture and high clock speeds.
Memory bandwidth is essentially a proxy for showing the performance of memory modules. With that said, the HEDT BDW-E chip's ability to use quad-channel DDR4 nets it the performance lead. Higher-speed DIMMs than the 2666MHz modules that we used would easily break the 50GBps bandwidth barrier. Kaby Lake hits 33GBps of memory bandwidth when using a pair of 3200MHz G.Skill DIMMs. Devil's Canyon is left lagging behind due to the use of dual-channel 2400MHz DDR3 memory.
3DMark
3DMark is a multi-platform hardware benchmark designed to test varying resolutions and detail levels of 3D gaming performance. We run the Windows platform test and in particular the Fire Strike benchmark, which is indicative of high-end 1080p PC Gaming. We also test using the Time Spy benchmark which gives an indication of DirectX 12 performance.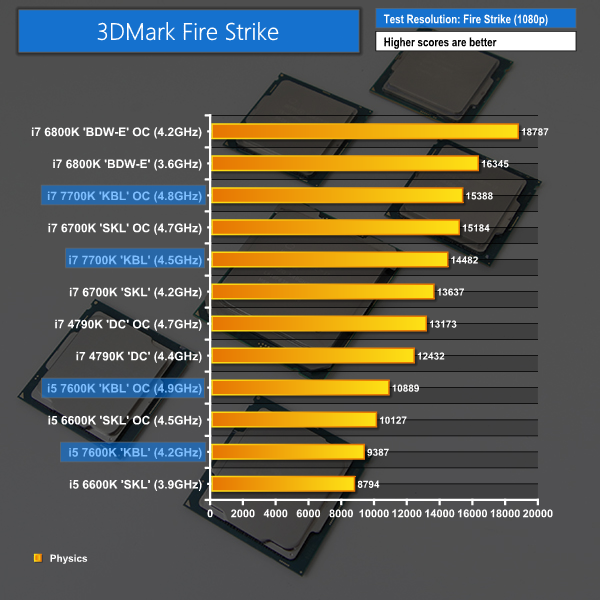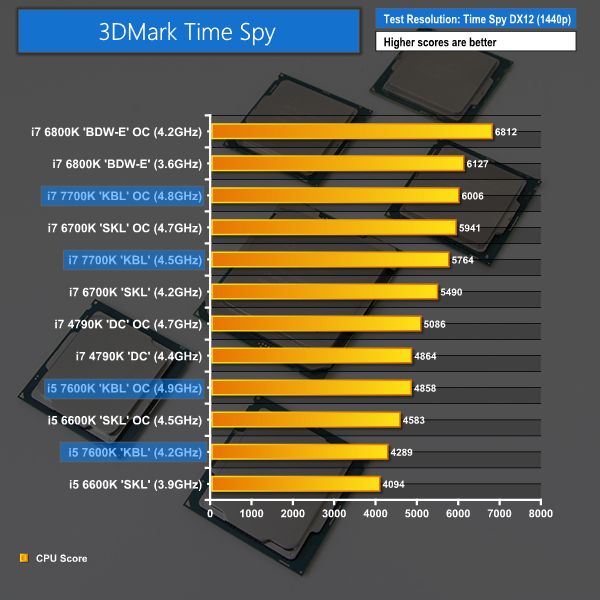 The ability of Fire Strike to leverage a high thread count in its Physics test shoot the BDW-E 6800K to the top of the performance chart, beating out the overclocked 7700K. As is the trend, Kaby Lake is faster than Skylake only due to its higher clock speeds.
Worth noting is the 4.8GHz 7700K's ability to outperform a 4.7GHz 4790K by more than 2000 points (17%). A similar margin is observed at stock speeds. But of course, this test is not entirely representative of real-world gaming performance.
Time Spy narrows the gap to the 12-thread 6800K. Skylake architecture and a high clock speed (as seen in Kaby Lake) put in good performance showings. A 4.9GHz Core i5-7600K is right on the heels of the Core i7-4790K.
VRMark
The recently-released VRMark benchmark aims to score systems based on their VR performance potential by using rendering resolutions associated with VR devices of today and the future. We test using the Orange Room benchmark which uses a rendering resolution of 2264×1348 to analyse the capability of hardware with current devices such as the HTC Vive and Oculus Rift.
VRMark is more of a system-wide test that also puts heavy load on the graphics card. As such, it is hard to draw conclusions from the results. However, Kaby Lake does consistently put in solid performance numbers that sit it near the top of the chart when overclocked.
Ashes of the Singularity

Ashes of the Singularity is a Sci-Fi real-time strategy game built for the PC platform. The game includes a built-in benchmark tool and was one of the first available DirectX 12 benchmarks. We run the CPU-focused benchmark using DirectX 12, a 1080p resolution and the Extreme quality preset.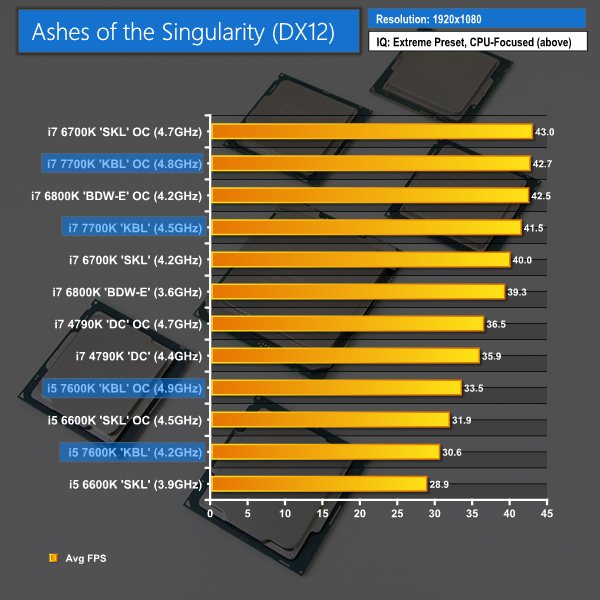 DirectX 12 and a CPU-punishing benchmark tool make Ashes of the Singularity a good way of testing gaming performance offered by different processors. The Skylake-powered i7s congregate towards the top of the chart thanks to their high frequencies and fast microarchitecture. The overclocked Skylake-based i7s perform similarly to the overclocked 12-thread 6800K.
The 4.8GHz 7700K is 17% faster than a 4.7GHz 4790K. A similar performance difference is observed at stock speeds. Kaby Lake's i7-7700K outperforms the 3.6GHz 12-thread 6800K even when without overclocking. Four cores and no hyper-threading leave the i5s battling at the bottom of the chart. Higher speeds put the Kaby Lake 7600K in front of its Skylake 6600K predecessor. A 4.9GHz i5-7600K is not too far behind i7-4790K performance levels.
If you like to play Ashes of the Singularity, the Kaby Lake Core i7-7700K (and, by extension, Skylake's i7-6700K) is a superb choice of CPU given its performance metrics and cost saving over the 6800K.
Grand Theft Auto V

Grand Theft Auto V remains an immensely popular game for PC gamers and as such retains its place in our test suite. The well-designed game engine is capable of providing heavy stress to a number of system components, including the GPU, CPU, and Memory, and can highlight performance differences between motherboards. We run the built-in benchmark using a 1080p resolution and generally Maximum quality settings (including Advanced Graphics).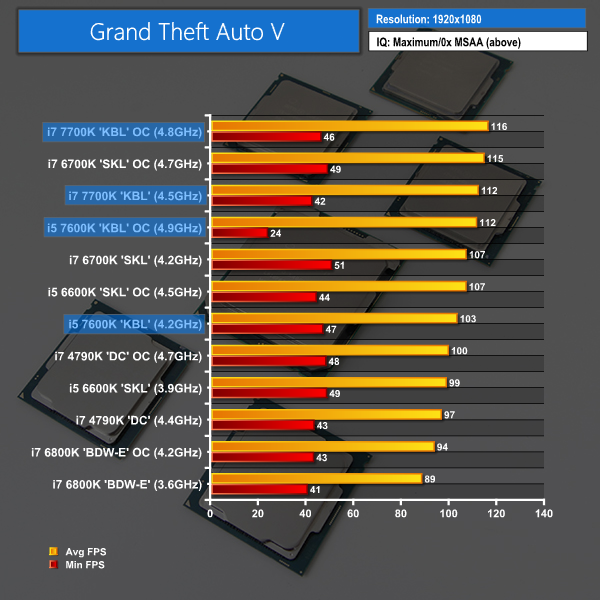 GTA V will happily use a double-digit number of threads if the processor has such capacity. But architecture and clock speed are of greater importance when trying to achieve high frame rates in GTA V. Kaby Lake takes the win when the i7-7700K is overclocked to 4.8GHz, beating out a 4.7GHz 6700K by a slim margin. The 4.5 stock-clocked i7-7700K also puts in a superb performance showing.
Highlighting the importance of clock speed to GTA V, the 4.9GHz overclocked 4-thread Kaby Lake i5-7600K shows the same average performance as the 8-thread 7700K clocked at 7700K. With that said, the overclocked 7600K consistently stuttered at certain points in the benchmark test which resulted in a reduced minimum frame rate. This was partially due to the chip being pinned at 100% load across all four threads, whereas the 8-thread i7s had a little more spare capacity (though there may also be a GTA V dislike for the overclocked configuration given the stock-clocked 7600K's smooth performance). It is worth noting that there is a relatively high level of variation in GTA V's minimum frame rates.
If you plan on pushing past 100 FPS in GTA V using the same settings as us, you are going to want a CPU powered by Skylake microarchitecture and the faster it can run, the better. That recipe spells out Kaby Lake thanks to its process node optimisation bumping up clock speeds in comparison to Skylake. An i5 will net you solid performance, especially when overclocked, but all of its cores will be pinned close to 100% load. If you want high frame rates and the ability to have some programs running in the background, a Skylake-powered i7 is a good choice thanks to GTA V's ability to use all eight of its threads.
The Witcher 3: Wild Hunt

The Witcher 3 is a free-roaming game which can feature heavy interaction from NPCs in densely-populated urban areas, making it ideal for testing CPU performance. The well-designed game engine is capable of providing heavy stress to a number of system components and will happily use more than four CPU threads when such hardware is available. We run a custom benchmark which is located in a heavily populated section of an urban town area. A 1080p resolution and Maximum quality settings are used (Nvidia Hairworks settings are disabled).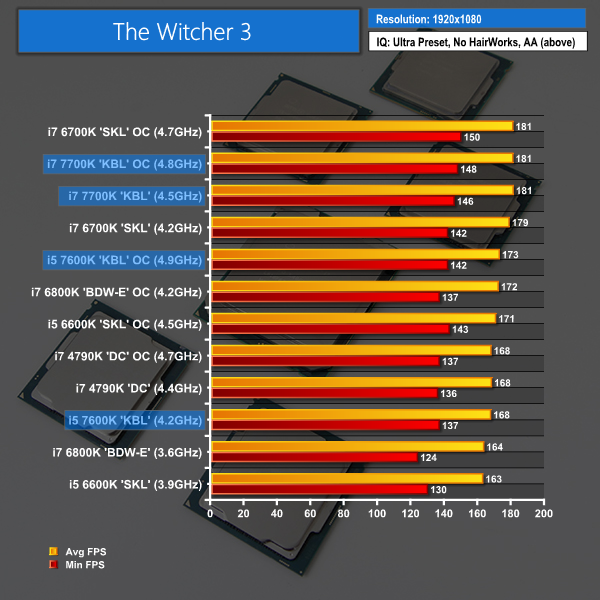 The Witcher 3 is another game that rewards clock speed and architecture performance but it has more of a liking for thread count than GTA V. Skylake-powered i7s rule the roost with the 4.5GHz+ chips all sitting at 181 FPS on average.
Things start to mix up a little more once the Skylake-powered i7 group is left. The 4.9GHz Kaby Lake i5-7600K puts in a solid performance thanks to its architecture and clock speed. Overclocked Broadwell-E is close behind, aided by its six physical cores that offset a frequency deficit.
Devil's Canyon's Core i7-4790K sits behind the overclocked Skylake-powered i5s and level with the stock 7600K in terms of average FPS. The interpretation here suggests that a bottleneck exists elsewhere in the LGA1150 chip's platform (likely the 2400MHz dual-channel DDR3 memory) as performance doesn't change after a 300MHz speed bump.
And if you want a visual interpretation of why an i7 could be a valid purchasing decision for The Witcher 3, this is it. The above screenshot shows the CPU load of a 4.9GHz Kaby Lake 4-thread Core i5-7600K. Ignoring the later ends of the chart where the game was closed, it is easy to see that the CPU is pinned at 100% load while running the game.
If you plan to stream over Twitch or do anything else in the background while running this game with an i5, you are likely to experience lower frame rate as CPU resources are reallocated away from the game. With that said, it is unlikely that Core i5 buyers will be using a £1100 Titan X Pascal graphics card capable of almost 200 FPS.
But given the rate at which GPU performance is increasing, combined with the number of years many people will retain their CPU, it is not unreasonable to envisage such a scenario in the near future.
CPU-related testing overview:
Kaby Lake (the i7-7700K, specifically) is about as fast as it gets for gaming thanks to its use of the excellent Skylake microarchitecture and the optimised process technology's allowance for higher clock speeds. The Core i5-7600K also puts in a very strong showing overall but there are scenarios where the 4-thread chip simply cannot keep pace when running at very high frame rates.
If you are in the market for a high-performance gaming system, the quad-core Core i7-7700K is a better choice than the 6-core Core i7-6800K. The former is generally faster thanks to its higher clock speeds and that frequency boost, in addition to newer microarchitecture, is more than able to offset the lower core count against the Broadwell-E chip.
Plus, there's a decent platform cost saving to be had when opting for Z270 and Kaby Lake which can then be reinvested into a faster graphics card and even better gaming performance.
We test the iGPU to see how its performance has matured since the Haswell-era 4790K CPU. This also gives an indication of the type of gaming performance achieved by the iGPU and whether it is sufficiently playable or not.
3DMark Fire Strike (iGPU)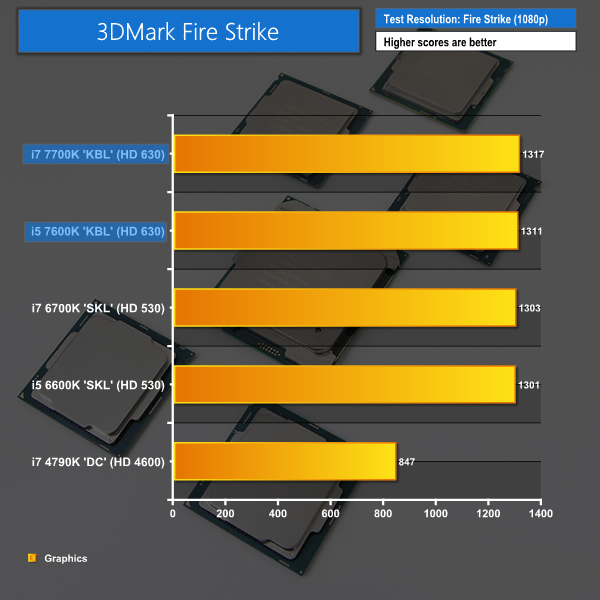 Rise of the Tomb Raider (iGPU)

The Low (not Lowest) preset and a 1920×1080 resolution are selected.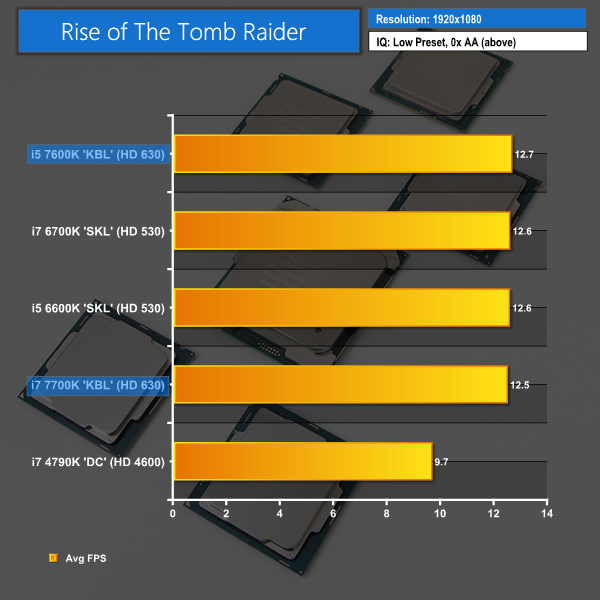 Don't expect to do any form of meaningful gaming on the iGPU of Kaby Lake CPUs. The average frame rate in Rise of the Tomb Raider is less than 13 FPS across-the-board. Lowering the resolution to 720p is an option but this still likely to be insufficient for achieving playable frame rates in modern titles.
The HD 630 iGPU used in Kaby Lake is more than 50% faster than the 4790K's HD 4600 iGPU. Kaby Lake has a ~30% lead in Rise of the Tomb Raider. Those performance increases are significant and are worthy of credit. But percentage increases are of little relevance if the absolute performance is still inadequate for smooth gaming frame rates.
Worth noting is the performance difference (or lack of) between the HD 530 GPU for Skylake and the HD 630 for Kaby Lake. This doesn't come as much surprise given that the latter is only really improved by virtue of its media engine and codec support for 4K content consumption.
We leave the system to idle on the Windows 10 desktop for 5 minutes before taking a power draw reading. For CPU load results we run the Prime 95 in-place large FFTs test and take a reading after 5 minutes. The power consumption of our entire test system (at the wall) is shown in the chart.
The same test parameters were used for temperature readings.
Power Consumption
I have had to remove the power consumption chart from this section due to the sporadic behaviour of the Kaby Lake CPUs while operating under Prime 95 in-place large FFTs load.
The i5-7600K would generally draw around 120W at its stock-clocked (MCT) load which dropped to 41W when idling. The stock i7-7700K drew 40W when idling (within margin of error of the 7600K reading) and increased to around 140W under Prime 95 load. These numbers were fairly consistent and the load value didn't change significantly throughout the Prime 95 test period.
It's when overclocking is thrown into the mix that power draw levels show unusual behaviour and rapidly change by significant margins.
The overclocked 7600K would draw 55W when idling and around 160W under load. But that load value would frequently jump as high as around 190W and then drop back down to around 160W before jumping back up again. Similar behaviour was observed with the overclocked Core i7-7700K which would idle at 56W but then jump between 160W and 190W under Prime 95 load (sometimes over 210W).
As a comparison, the stock-clocked i5-6600K operated at 38W idle and around 125W load and the stock i7-6700K was 42W idle and around 140W load. Overclocked to 1.35V, the i5-6600K operated at 55W idle and around 145W load and the 1.375V i7-6700K operated at 59W idle and around 170W load.
Temperatures
Temperature recordings were taken with the Corsair H110i GT CPU cooler's fans running at full speed. Ambient temperature was maintained at 20°C. As was the case with power draw, I have had to remove the temperature chart from this review due to the sporadic behaviour of the Kaby Lake CPUs while operating under Prime 95 in-place large FFTs load.
The stock-clocked i5-7600K would generally idle at around 30°C and ran at around 60°C when loaded. The stock-clocked i7-7700K would generally idle at around 30°C and ran at around 70°C when loaded. Load temperature readings were generally consistent throughout the Prime 95 test run when the chips were at stock-clocked levels.
As was the case with the power draw testing, temperatures readings would spike by significant margins when the chips were overclocked and being tested using Prime 95. This makes perfect sense as higher power draw attributed to the CPU means more energy to dissipate which results in a higher operating temperature.
The 1.35V overclocked i5-7600K would generally idle a little over 30°C and operated around 70°C when loaded. But that load value was incredibly dynamic and would jump from around 65°C to as high as 85 or 90°C in very short periods of time (seconds). Similar behaviour was observed with the i7-7700K which would idle around 30°C then jump from around high-60s to as high as almost 90°C under Prime 95 load.
That represents a stability problem because those temperature readings were taken while using a Corsair H110i GT 280mm AIO cooler with its fans locked at full speed. In other words, we were using one of the best off-the-shelf CPU coolers on the market. A lower-performance cooler would have allowed the chip to hit 99°C and thermal throttle (as we observed when testing with 1.40V CPU VCore).
Our results tie in with the suggestion that replacing Kaby Lake's TIM can significantly improve temperatures.
These issues look to perhaps be a potential bug with early motherboard BIOS revisions (we tested three different vendors' boards) or the management engine software. It could also be the way in which Kaby Lake reacts to Prime 95's extremely strenuous loading conditions. Whatever the issue, it is something that we will examine in the near future when release-level software revisions are available.
In the meantime, early Kaby Lake adopters are going to want to ensure that they use a high-performance CPU cooler when pushing into the realms of 1.35V and stability testing with Prime 95.
On the face of it, Kaby Lake looked to be arguably one of Intel's most boring processor launches in a long time. The CPUs are effectively Skylake with faster out-of-the-box speeds, thanks to process node optimisation, and an iGPU enhanced for 4K media consumption. In years gone by, these chips may have been released as appendages to the Skylake product stack in the same way that the i7-2700K was a higher-clocked i7-2600K and the i7-3970X was a speed-bumped i7-3960X.
OK, so that final point is a little harsh given that there is more to Kaby Lake than a simple speed bump. But the point still stands in some respects. Tick Tock is dead and the new three-step strategy seems to have paved the way for even smaller performance improvements when jumping between certain successive CPU generations.
Let's first focus on thermals. Sporadic behaviour was observed in our testing, resulting in frequently changing power draw and temperature readings. What was consistent, however, was Kaby Lake's ability to push past 70°C (make that 85°C if it was undergoing a temperature spike) when being overclocked using 1.35V but also using a high-performance Corsair 280mm AIO liquid cooler. We actually saw the 99°C Tjmax hit when using Prime 95 for stress testing a 7700K at 1.40V.
Great overclocking capability is clearly a feature of Kaby Lake but it comes with the compromise of thermals that will be a challenge to tame for mid-range CPU coolers. It looks like those reports of de-lidding Kaby Lake making a huge improvement to temperatures had at least some truth behind them. Based on my testing, I wouldn't call the temperatures a major issue just yet but I wouldn't be surprised to see a surge in high-end CPU coolers following Kaby Lake's launch, either.
The saving grace for Kaby Lake is the superb frequency performance that the optimised 14nm process technology permits. With the i7-7700K coming in as Intel's fastest out-of-the-box consumer chip, there is a decent jump in performance available to those who choose not to overclock.
Importantly, that superb frequency capability is maintained as voltage is increased and the chips are overclocked. 4.7-4.8GHz with Prime 95 stability should be comfortable for many Core i7-7700K CPUs, provided ample cooling is available. And if you aren't concerned about Prime 95 stability, 5GHz on air cooling is certainly within reach.
There's another feature that will help Kaby Lake appeal to enthusiasts and that is the AVX Offset Ratio ability first introduced with Broadwell-E. This is a useful feature that allows overclocking users to better tune their system for the highest speed operation more of the time.
With previous chips, 5.0GHz non-Prime and 4.8GHz Prime-stability would have resulted in many 24/7 users backing the system down to 4.8GHz for more continuous stability. That is not the case with Kaby Lake as the chip can be set to run at 5.0GHz and then drop down 2 multiplier ratios to 4.8GHz when an AVX load such as Prime 95 is applied. This allows the processor to spend more of its time at its highest frequency without affecting overall stability, rather than being limited to a lower AVX-stable clock for the sake of more complete 24/7 stability.
It is easy to criticise Kaby Lake because it is such a minor upgrade to Skylake. On the positive perspective, Kaby Lake is as fast as it gets for gaming thanks to its use of the Skylake microarchitecture and fast clock speeds provided by the process node optimisation. The AVX Offset Ratio also helps to allow the chip to operate at its highest speeds for more of the time. But taking a less positive perspective, Kaby Lake has zero performance improvement over a Skylake predecessor clocked at the same speed. And those who purchase the unlocked 'K' SKU are unlikely to care about 4K media consumption through the iGPU as they will be using a discrete graphics card.
To summarise, if you are building a gaming system right now, Kaby Lake is a superb choice thanks to the CPUs' well-designed microarchitecture and fast clock speeds. If you have a Skylake chip already, don't upgrade to Kaby Lake unless you did very poorly on the silicon lottery. If you can bag a Skylake bargain, Kaby Lake shouldn't stop you going for it. If you can wait a little longer, do not buy Kaby Lake now but instead hold out to see what AMD's Zen Ryzen brings to the table and how it will alter the marketplace – you may find that Kaby Lake i5-7600K sat in your electronic basket becomes a little cheaper.

Retail pricing cannot be officially discussed by retailers until January 5th due to the Intel NDA. We understand that the Core i7-7700K will sell for around £350 and the Core i5-7600K will sell towards £240. We will check the Overclockers UK pricing and update this page when the NDA lifts.
Update 05/01/2017: the Core i7-7700K is now available for £349.99 and the Core i5-7600K is £239.99 from Overclockers UK.
Discuss on our Facebook page HERE.
Pros:
Fast out-of-the-box frequencies.
Superb overclocking clock speed potential.
AVX Offset Ratio helps to deliver maximum overclocked performance for more of the time.
Excellent gaming performance thanks to Skylake microarchitecture and high operating frequencies.
4K media consumption capability may appeal to some (unlikely for K SKU buyers).
Cons:
Barely any performance improvement over Skylake (none, clock-for-clock).
Temperatures can be very high when overclocked.
Six-core Broadwell-E 6800K is faster for heavily-threaded tasks and not significantly more expensive.
The iGPU is still seen as a waste of resources and money to many K SKU buyers who will use a graphics card.
KitGuru says: High out-of-the-box frequencies and excellent overclocking capabilities allow Kaby Lake's i5-7600K and i7-7700K to create some excitement out of an otherwise terribly boring processor launch.